Wan Chai is more than just a Red Light District. Here's All You Need to Know About Living in this vibrant neighbourhood!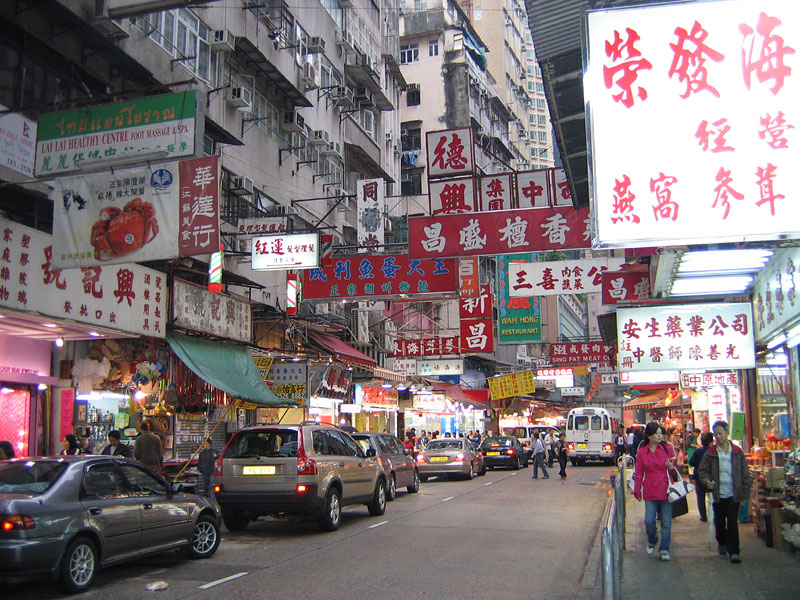 In almost every, if not all big cities in the world, there are certain famed neighbourhoods that stand out amongst the rest of its counterparts. Their fame often comes from certain attributes that characterize a neighbourhood's unique personality - whether it's the history, the shops, the bars and restaurants, the galleries, museums, art scene and public parks, or just some unidentifiable vibe that the neighbourhood and its people exudes.
Some of these neighbourhoods emerge as unique destinations for fashion, nightlife, culture, style, or some other booming subcultural factors that put a place on the map. Although Hong Kong is not geographically large, one cannot deny that our small city is packed with superstar personality traits that gives our city global recognition. Even though our city is smaller than most other world-reknowned metropolitans, what we lack in size, we make up for in character. Most definitely, we are not lacking in famous neighbourhoods that visitors from far and wide have heard of, far before ever setting foot in to Hong Kong. Neighbourhoods that are pinned as "must-sees" in every city-guide and for good reason. And one of the most famous neighbourhoods that Hong Kong boasts is none other than one that is in the thick of it all, nestled in one of the busiest and most central parts of the city, jammed pack with everything from commercial establishments to residences of every kind. This neighbourhood has been called Hong Kong's very own red light district, full of buzz from the infamous nightlife scene, but this neighbourhood haas so much more to offer than just what it's been known for over the years.
Can you guess which neighbourhood we are talking about yet?
Yes. That's right. Our focus this week is on none other than Hong Kong's very own Wan Chai, an amazing district that has much more to offer than being notorious for its after dark activities. Before we dive deep in to the nooks and crannies of this unique neighbourhood, let's start from the beginning and give you a full run down of what Wan Chai really is.
Where is Wan Chai?
Wan Chai is one of the most bustling neighbourhoods situated on the northern shore of Hong Kong Island. This area is one of the busiest commercial areas in Hong Kong filled to the brim with offices of large, medium to small-sized companies and business establishments. As one of the first areas developed in Hong Kong, this neighbourhood is densely populated with a mix of modern touches and old, classical, urban vibe that is very representative of local Hong Kong culture.
Where does the name "Wan Chai" come from?
Wan Chai wasn't always called Wan Chai. This area originally began as "Ha Wan", literally meaning "a bottom ring" or lower circuit". As mentioned already, this was one of the earliest areas to be developed in Hong Kong, alongside the Victoria Harbour, Central, and Sheung Wan (literally translated as "upper ring") and Sai Wan (literally translated as "western ring"). Wanchai is considered to be one of the "four rings" by locals, and it modern name literally means "a cove" in Cantonese, due to the shape of its coastal shoreline. Although, geographically in today's day and age, Wan Chai is no longer in the shape of a cove due to drastic city developments and continuous land reclamation over the years.
Originally, many years ago, Wan Chai was first home to Chinese fishermen villages who lived along the untouched coastlines. The reason that they chose Wan Chai to be their residence was due in large part to the area's proximity to Hung Shing Temple, which overlooked the entire harbour. Hung Shing Temple was a place of worship dedicated to Hung Shing Ye, or God of the Sea - one of the most prominent deities to be worshipped by old Hong Kong locals. This makes sense, after all, Hong Kong originated as a fisherman village.
But pretty neat tidbits of history there isn't it?
What makes Wan Chai unique now?
Wan Chai is a melting pot of arts and culture, an intersection that has seamlessly me old classical local culture with new, hip and trendy western injections. Apart from being notorious for its infamous red light district where debauchery is often found simmering at every corner, the rest of Wan Chai is a real celebration of a thriving art and culture scene - with winding streets dotted with all kinds of cute boutiques, eclectic shops that cater to every shopper's tastes, hip cafés, trendy restaurants and local fresh markets that are just so typically Hong Kong. Aside from hip trendy small businesses, Wan Chai is home to two of the city's most popular venues for theatre, cultural and performing arts, where visitors like yourself can watch concerts, dance, drama, musical and other art productions. Bet you didn't know that you can see famous Broadway musicals like Mamma Mia, Annie, Wicked, The Sound of Music and other acts outside of New York City did you?
To really get an injection of Hong Kong culture, you can even see performances from The Cantonese Opera Group, and a myriad of local talents that represent that local arts scene.
Read on to find our guide to Wan Chai district's best eating, drinking, shopping and hang out spots! Home to Hong Kong's second most famous nightlife district, did you know that Wan Chai boasts some of the best culinary finds in the city? Whatever you are in the mood for - local, western, exotic - you can bet you'll find it here. On top of having some of the best culinary digs, Wan Chai is of course most known for being a watering hole. So if you are a person who wants it all, and wants to be in the thick of it all, then Wan Chai is definitely a choice neighbourhood for you because it truly offers something for every taste, mood, occasion and budget. The following is in no way an exhaustive list, just some of the most honorable mentions and local favorites that cannot be missed in the Wan Chai neighbourhood. One would never go hungry, or bored living in Wan Chai.
Best Places to Eat and Drink in Wan Chai:
22 Ships By Jason Atherton
For fun and delicious Spanish flair, you can look no further than 22 Ships. Where else can you people watch, nibbling on delectable plates of tapas while sipping on a cool glass of sangria? This is one of the many notable restaurants that have popped up in the newly refurbished part of trendy Wanchai the last few years. From the same creators as restaurants like 208 Duecento Otto, Dudell's and Ham and Sherry, which happens to be on the same street just diagonally across the road, you will not be disappointed by the plethora of innovative and delicious dishes.
22 Ships, 22 Ship Street, Wan Chai, Hong Kong, www.22ships.hk
Deligator
A sister restaurant to the people behind other Wanchai gems - Djibouti and Ted's Lookout - The Deligator is a little slice of Havana amidst the busy streets of Hong Kong that has become a local favorite hangout offering Cuban-inspired drinks with with Deli bites. The bar's slogan is "Cuban Deli by day, good vibes by night.
Deligator, 2 Johnston Road, Wan Chai, Hong Kong
Le Pain Quotidien
A popular newcomer on Johnston Road is the first ever Le Pain Quotidien establishment in Asia, which is neatly tucked in the end corner of The Avenue. The Belgian chain's arrival in Hong Kong has been welcomed with fervent excitement, with a big emphasis on bread, tartines (Belgian open-faced sandwiches), and an extensive menu of other breakfast heavy dishes, baked goods, smoothies, fresh juices, and coffees.
Le Pain Quotidien, Lee Tung Avenue, Wan Chai, www.lepainquotidein.com.hk
Stone Nullah Tavern
Stone Nullah Tavern offers epic new American Dining in Wan Chai. Not only is the menu innovative, featuring fresh high-quality ingredients that draw in influences from all over the world, the drinks are top of the game and the service immaculate. It is no wonder that this place has quickly become a local watering hole. Stone Nullah Tavern is definitely a place that should not be missed.
Stone Nullah Tavern, 69 Stone Nullah Lane, Wan Chai, Hong Kong
Notable mentions of Wan Chai
Wan Chai is dotted with world-reknowned architecture - unique landmarks and skyscrapers - within the area. Some of these include:
Hong Kong Convention and Exhibition Centre (HKCEC)
Located in the northern part of Wan Chai, the Hong Kong Convention and Exhibition Centre is one of the two most prominent venues in the city, alongside AsiaWorld-Expo. It's location strategically built along the Victoria Harbour is a sight that simply cannot be missed. With a total of 5 exhibition halls, 2 convention halls, 2 theatres, 52 meeting rooms, function areas, 7 restaurants, a business centre, carpark spaces that can house up to 1300 cars and 50 vans, and a total capacity of 140,000 visitors per day, its no wonder that this venue has become a central hub of Hong Kong's international businesses. The venue hosts more than 45 international trade fairs for buyers from more than 100 countries each year, including everything from leather goods, watch and clock, to giftware, toys, fashion, jewellery, electronics, health products and more. HKCEC recently hosted the RISE Conference, which brings together the world's biggest brands with the world's most exciting startups. It's things like this that makes Hong Kong one of the most exciting cities to live in for young professionals, entrepreneurs, and seasoned financial veterans.
Central Plaza
Being 78-stories high, its no surprise that Central Plaza is one of the most eye-catching skyscrapers in Hong Kong. Located at 18 Harbour Road in Wan Chai, it is the third tallest tower in Hong Kong after 2 International Finance Centre (IFC 2) in Central district and the ICC in West Kowloon. Central Plaza's list of current tenants include some of the biggest heavy hitters of the World, like CNBC Asia, ExxonMobil, Chevron, The Economist, Royal Saudi Consulate of Hong Kong, just to name a few.
Hopewell Centre
Another notable building that cannot be missed, this skyscraper towers at 64 stories high, neatly stands out at 183 Queen's Road East, in Wan Chai. It is the first circular skyscraper to be built in Hong Kong and can be spotted in a few music videos and movies, if you are thinking you've sen it somewhere. This circular skyscraper was featured as the filming location for R&B group Dru Hill's music video for "How Deep Is Your Love".
Hong Kong Academy for Performing Arts
Located near the northern part of Wan Chai, The Hong Kong Academy for Performing Arts is both a education provider of the arts (Chinese opera, dance, drama, film, television, music, theatre and entertainment arts) and serves as a well-established venue for performances. Hong Kong has much more to offer than just finance, nightlife, shopping and eating. For those that crave more culture, this is one of the best places in Hong Kong to experience both Chinese and Western arts and culture.
Hong Kong Arts Centre
Hong Kong Arts Centre or (HKAC) is a non-profit, non-governmental organization aimed at promoting contemporary performing arts, visual arts, film, video arts, and a provider of arts education. The centre is the perfect place for art lovers who want to experience sculpture, photography, ceramics, design, illustrations, and sound and visual installations.
I want to live here! Let's see the homes!
Chances are if you have read this far in the article, you have developed a keen interest for possibly living in Wan Chai. Well, that's what we are here for! To help you find a place that you can comfortably cal home. It could really take months to find a home of your liking in Hong Kong, so we have done the tedious work for you by highlighting some of our best properties in the area. We have searched high and low for the best options for those who are interested in living in the Wan Chai neighbourhood and here's what we've gathered for you. We understand that you are not just investing in a property. When you say yes to a property, you are also investing in its neighbourhood. This is why we decided to give you a preview of the ins and outs of the area before showing you our properties. There's no point of looking at properties if you don't even enjoy the neighbourhood now is there?
With that being said, here are some of our best luxury home features in this neighbourhood.
Here are some properties that could potentially become your new home!
REGENT ON THE PARK
2 Bathrooms
2,072 Sqft (Saleable Area Approx)
Price - $73,000,000 HKD
Regent On the Park is currently listed as a luxury apartment for sale. The property has 3 bedrooms, 2 bathrooms, and a saleable area of approximately 2,072 Sqft. This property has a current asking price of HKD $73,000,000.
STARCREST
3 Bedrooms
2 Bathrooms
933 Sqft (Saleable Area Approx.)
Price - $40,000,000 HKD
Starcrest property was built in the year 1999. The property has 3 bedrooms, 2 bathrooms and a saleable area of approximately 933 sqft. This popular residential building is situated in one of the best locations in Wan Chai, conveniently next to Pacific Place and right near the Admiralty MTR station. It is also within walking distances to nearby trendy restaurants, and shopping areas. The residential building includes full club facilities - swimming pool, fitness gym, sauna, children's playground, golf simulator room, table tennis court and more.
THE GLOUCESTER
Luxury apartment for sale
4 Bedrooms
3.5 Bathrooms
1,719 sqft (Saleable Area Approx.)
Price - $68,000,000 HKD
This luxury apartment is located on the high floor of the residential building with spacious layout, balcony and views of the lovely harbour.
THE AVENUE
Luxury apartment for sale
2 Bedrooms
2 Bathrooms
760 sqft (Saleable Area Approx.)
Price - $20,000,000 HKD
Built in the recent 2015, this luxury apartment is brand new and located in an excellent and central location in Wan Chai. Literally situated in the heart of Wan Chai, it is close to the best restaurants, bars, cafes, shopping, and public transport lines. The residential building has a swimming pool and fitness gym for residents. The 2 bedroom flat has its own balcony as well.
If we have piqued your interest, do contact our team at Engel & Volkers for more detailed information and viewings of these luxury homes for sale. Engel & Voelkers are the leading experts in featuring real estate properties in the best areas of Hong Kong. We assure you that you will find your ideal dream home with our help.