We Bet You Didn't Know These Facts About Jardine's Lookout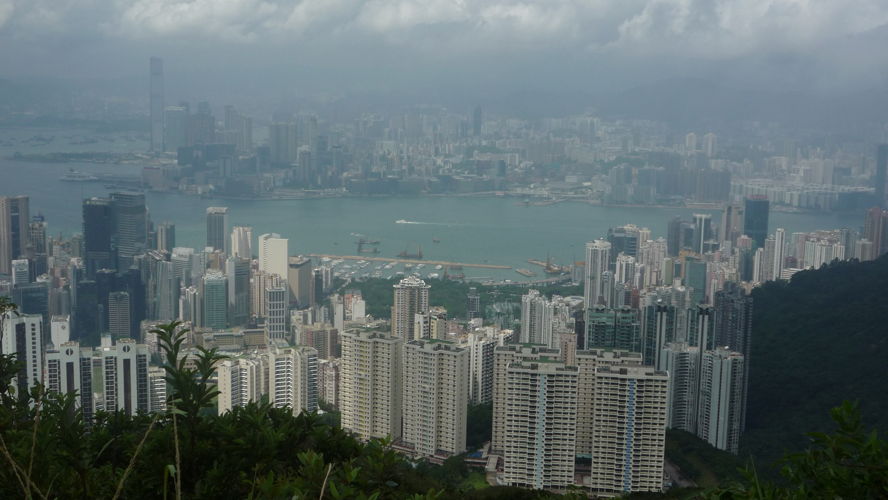 Have you ever heard of a neighbourhood in Hong Kong called Jardine's Lookout?
If you are a new visitor in Hong Kong or have never visited Hong Kong before, we don't blame you. Even locals who have heard of Jardine's Lookout may not have frequented the neighbourhood before because of its exclusivity. It's not one of those places you just go to out of nowhere. Largely residential, Jardine's Lookout is one of the most affluent neighbourhoods in Hong Kong to have a home in.
Jardine's lookout may not be the first five or even ten neighbourhoods you think of off the top of your head when home-hunting, but that does not take away from the beauty that this neighbourhood has to offer. For those of you who have never heard of Jardine's Lookout, well, you are in for a treat. There's a reason that this is one of the most loved neighbourhoods amongst locals and old Hong Kong elite families, and we're here to tell you why! Read on to find out if this neighbourhood could be the base to your new home.
First off, Where exactly is Jardine's Lookout?
Hong Kong is truly more than just towering skyscrapers and neighbourhoods with busy streets. Tucked away exclusively in the beautiful wooded hills just above Happy Valley is a mountainous luxurious residential neighbourhood by the name of Jardine's Lookout. To be exact, the area is actually located Southeast of the Wan Chai District and South of the Tai Hang neighbourhood, at an altitude of about 433 metres. Jardine's Lookout is nearby other residential areas such as Mount Nicholson, Violet Hill and Mount Butler. Jardine's Lookout is known for its wide, spacious, and leafy pedestrian walkways, which meander past standalone gated residences with large private gardens and backyards. The area is amply self-sufficient and close to many amenities like the Hong Kong Cricket Club, St Paul's and Adventist Hospitals, along with a number of International Schools and local business provisions.
Where did the name Jardine's Lookout come from?
Jardine's Lookout was originally named after a man by the name of William Jardine who is the founder of Jardine Matheson, a British Conglomerate and one of the origiginal hong Kong trading houses that date back to Imperial China.
What makes Jardine's Lookout a sought after residential neighbourhood in Hong Kong?
Due largely to its scenic views of the glittering Victoria Harbor, serene cascading woodland hills and low population density, Jardine's Lookout has long been considered one of the most sought after upper-class neighbourhoods in Hong Kong to reside in. The homes in this neighbourhood are amongst the most expensive in Hong Kong, with a resident population that mainly consists of the elite and affluent in the likes of high-seated expats, government officials, and heavily successful business families. This neighbourhood has been and is still home to many of Hong Kong's celebrities and socialites, where one can be more elusive and incognito, away from the chaos that other heavily dense Hong Kong neighbourhoods present. Jardine's Lookout area is full of localised gated communities with large detached house either within private lots secured with gated security or more moderate town homes. The other part of Jardine's Lookout is made up of low-rise and high-rise apartments.
The neighbourhood is exclusive and very much self-sufficient, with its own supermarket, deli, florists, post office, gas station, and many small convenient stores. Although the vibe of the neighbourhood is far from the bustling central city, Jardine's Lookout is only a 10-minute drive to Central and a 5-minute ride to Causeway Bay. The area eludes a air of exclusivity without actually feeling like you are in exile, which is a huge bonus point for Hong Kong residents who want to be close enough where its convenient but far enough away where one can still live in a peaceful environment.
From certain viewpoints in Jardine's Lookout, you can actually get a glimpse of the grand panorama from Central to North Point and across farther to the peninsula of Kowloon. What is so special about this area is that you can feel the closeness of the noisy city down below but be backed by the serenity of green nature in the back, as if protected by the mountains like a fortress neighbourhood. Close enough to feel the energy, but far enough not to be affected by the nosiness and chaos of Hong Kong life.
What about schools?
The closest schools nearby Jardine's Lookout are none other than French International School and Japanese International Schools. Canadian International School as well as Chinese International School are also not too far away by car. Parents with children do not need to worry as there are plenty of options for children's education nearby. You will find many students walking around this neighbourhood during off-school hours.
Is transportation an issue if this area is so out of the way?
Jardine's Lookout is not as out of the way as it seems. Even though its nestled high above Happy Valley, it's actually very easy to get to. The great thing about Hong Kong in large part due to its convenience and efficiency. No matter where you live, there usually are no issues when it comes to transport and Jardine's Lookout is no different. It is very easy to get taxis, minibuses, and buses from the neighbourhood. However, most residents that live in this area will have their own private car to take them to and from. Even without private cars, one can still easily get from point A to point B easily without any pain. Some residential buildings even offer their own shuttle buses for residents who need to get to main districts in the city.
By public transport, you can get there through a few different ways:
Take Taxi straight to the address

Take CityBus 11 from Central or number 63 from North Point
Take Green MiniBus 14M from Causeway Bay
Closest MTR - Tin Hau Station
Perfect neighbourhood for animal lovers and nature lovers!
Because of its excellent wood and hills location, this is one of the best neighbourhoods to own a pet, especially those of the larger variety that need plenty of outdoor space and exercise. Although just a stone's throw away from Causeway Bay and Happy Valley, Jardine's Lookout offers a much greener and quieter residential option.This is also an excellent area for nature lovers who love to run, and go on hikes. Jardine's Lookout is in close proximity to a number of hiking trails for people who enjoy being close to nature and an active lifestyle. For those who really crave peace and serenity, this is a neighbourhood you will definitely want to check out. There's cleaner air as well compared to being in the thick of the city.
A top pick for families with young children
For the reason that Jardine's lookout is more out of the way and exclusive, it provides a great backdrop for raising young children. It's more quiet, has cleaner air and in general is a more pleasant neighbourhood for families with young children where they can play safely. It's obvious why this is a highly desirable area for families to live in.
Real Testimonials from what people have to say about living in Jardine's Lookout:
"Jardine's Lookout is great but the commute can be more difficult than some other popular neighbourhoods in Hong Kong. It definitely helps to have your own car but you don't need one. There are shuttles, taxis, buses, minibuses, all of which make the neighbourhood quite accessible. I love living in Jardine's Lookout because there is less traffic, noise and pollution to deal with."
"Although the area is a bit more out of the way than other neighbourhoods like Central, Causeway Bay, and Wan Chai, I would still choose to live in Jardine's Lookout over the other places. You can get much fresher and cleaner air, less people congestion. It's definitely worth it. If you don't like noise, this is the neighbourhood for you. There isn't any noise here. It's very serene."
"If you love fresh air, nature and a quieter living environment that's also convenient, there's no better choice than Jardine's Lookout."
"I lived in all of the busy neighbourhoods in Hong Kong when I was single, but now that I have a family and kids, I love everything that Jardine's Lookout offers. With kids, especially young children, I would definitely opt for Jardine's Lookout. It's quieter, safer, and has cleaner air. There's not much action here but we can get to the action just by taking a taxi."
Sold on the neighbourhood? Ready to see the homes?
As we have said time and time again, nothing is more important than loving a neighbourhood before you search for a home. Even if a property is fantastic and checks off the list in every way, what use is that if you hate the neighbourhood? You want to make sure you are happy with the neighbourhood before you go searching for homes, because otherwise all your home-hunting efforts are futile.
Chances are if you have read this far in the article, you have developed a keen interest for possibly living in this beautiful neighbourhood called Jardine's Lookout that you've been introduced to. You may have heard of it before, but now, you know whether to keep or veto this neighbourhood of your list. Being in the industry, we are well aware of the difficulty it takes to find a place that you can comfortably call home. It could really take months to find a home of your liking in Hong Kong, so we have done the tedious work for you by highlighting some of our best properties in the area. We have searched high and low for the best options for those who are interested in living in the Jardine's Lookout neighbourhood and here's what we've gathered for you. We understand that you are not just investing in a property. When you say yes to a property, you are also investing in its neighbourhood. This is why we decided to give you a preview of the ins and outs of the area before showing you our properties. There's no point of looking at properties if you don't even enjoy the neighbourhood now is there?
With that being said, here are some of our best luxury home features in this neighbourhood.
Here are some properties that could potentially become your new home!
BUTLER TOWERS
Apartment for sale in Jardine's Lookout, Hong Kong Island.
3 Bedrooms
2 Bathrooms
1485 Sqft (Saleable Area Approx.)
Price - $35,000,000 HKD
Butler Towers located in Jardine's Lookout features a luxury property with 3 bedrooms, one of which is Ensuite, 2 bathrooms, a combined living and dining room, 1 maid's room, 1 utility room, and comes with one covered parking space. This beautiful luxury property has open views of the city and large expanses of greenery in its backdoor. This truly is a rarely available and classic apartment perfect for family. The property features a huge combined living and dining room with wooden cupboards and cabinets that match the wooden flooring throughout the home. With built-in wooden wardrobes and bookshelves in the bedrooms that are also matching in style and colour. The property is very well maintained, with 2 quality-sized bathrooms, a large kitchen and a comfortable maid's quarter that can be multi-function. The property faces a tranquil view of the mountains. The building also has its own fitness gym for residents to stay healthy and in shape.
FLORA GARDEN
Apartment for sale in Jardine's Lookout, Hong Kong Island
3 Bedrooms
2 Bathrooms
1,193 Sqft (Saleable Area Approx.)
Price - $33,000,000 HKD
Year of Construction 1987
JARDINE'S LOOKOUT TOWNHOUSE
Luxury House for Rent, Jardine's Lookout, Hong Kong Island
4 Bedrooms
2.5 Bathrooms
2,508 Sqft (Saleable Area Approx.)
Price - $115,000 HKD - Total Rent
This luxury four bedroom, 2.5 bathroom townhouse in located in a quiet green neighbourhood in Jardine's Lookout, near French International School and Japanese International School. A perfect family home for those with children.
CAVENDISH HEIGHTS
Apartment for rent, Jardine's Lookout, Hong Kong Island
3 Bedrooms
3 Bathrooms
1,583 Sqft (Saleable Area Approx.)
Price - $85,000 HKD - Total Rent
This 3 bedroom (one of which is Ensuite), 3 bathroom also has a nice living room, a separate dining room, good comfortable layout and open views.
PINE HILL VILLA
Apartment for rent, Jardine's Lookout, Hong Kong Island
3 Bedrooms
2 Bathrooms
1,547 Sqft (Saleable Area Approx.)
Price - $65,000 HKD - Total Rent
This apartment for rent is a large spacious walk-up flat with open green views in Jardine's Lookout. It has a large living area with 3 large bedrooms, along with a garage that can fit two cars.
If we have piqued your interest, do contact our team at Engel & Volkers for more detailed information and viewings of these luxury homes for sale. Engel & Voelkers are the leading experts in featuring real estate properties in the best areas of Hong Kong. We assure you that you will find your ideal dream home with our help.