Interview with E&V Hungary's Senior Sales Consultant in The TOP 100 Richest Hungarian 2016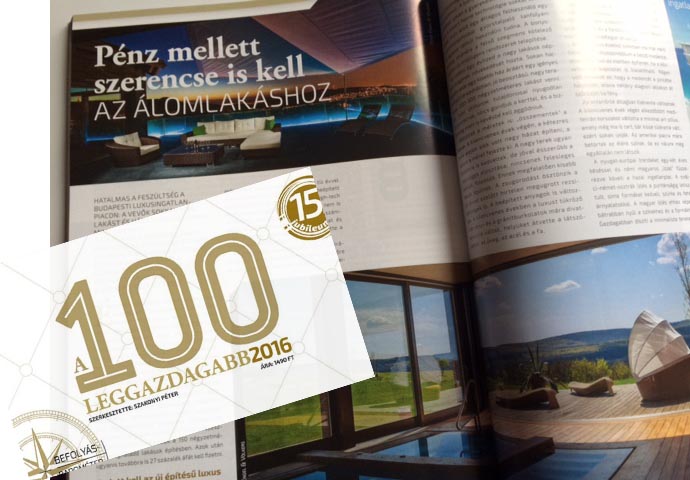 Besides Money, Luck is also Needed for a Dream Home

Tension increases on the Budapest luxury real estate market; the demand for luxury flats and houses is bigger than the market has to offer. According to Ágnes Kacsmarik, Senior Sales Consultant of Engel & Völkers, it was a big mistake to exclude luxury properties from VAT reductions, as this inhibits expansion of this market segment.
"Two to three dozens of newly-built properties and large floor-plan buildings could be absorbed by the Budapest luxury real estate market, however, an insignificant number of luxury properties for selling were built between 2009 and 2016, thus creating huge tension between offer and demand," said Ágnes Kacsmarik, Senior Sales Consultant for Engel & Völkers Luxury Real Estates.
Since the tax cut does not apply to the higher category, (the new provisions apply only to 150 m2 of living floor space of flats in condominiums, or 300 m2 of living space in single-flat buildings -editorial) thus the market may become obscure, as investors will not benefit from constructing buildings exceeding 150 m2. VAT remains 27 % for bigger properties.
The Necessity for Newly-Built Luxury Properties
Due to the robust change in technology development in the last 6 - 8 years, the meaning of " luxury category " has considerably changed, even compared to 10 years ago. Recently, quality has also manifested itself inbuilt-in technology, and modern high-tech is difficult to post-install, or in some cases, impossible. Ceiling cooling-heating systems have deleted radiators and air-conditioning devices from living areas.
Smart homes, remotely controlled by smartphones, is also rapidly growing, though most customers prefer using simple switches. Sometimes the children are asked to operate these complex systems. A smart home system offers much more, than one can learn without the completion of an IT crash course. Despite the complexity of such systems, it remains a requirement of the luxury category to be installed into houses.
Large size flats have become popular in the past decade. Many are willing to pay the price of a house for a large, well-arranged 200 - 300 m2 flat with a terrace in a stylish condominium. The owners of such flats can travel anytime, without worrying about the garden or safety of their home.
Sizes have also changed, houses have "shrunk". At the end of the 90s and in 2000, it was chic to build huge houses; size expressed luxury. Large proportions are still popular, yet the arrangement has become more practical. There are no more surplus rooms or corridors; thus smaller houses are being built. The shrinking is also encouraged by the suddenly rising maintenance costs. Interior materials have also changed, granite and marble are out-of-date, now exposed-concrete, steel, glass and wood express luxury.
The Effect of Time on Home Interiors
Interior floor-plan arrangements have also changed; nowadays the en-suite bathroom, closet-room are indispensable parts of a master bedroom, but bathrooms also form part of other bedrooms, as well. A luxury home cannot tolerate the sight of family members running to and from the bathrooms.
Today, an outdoor pool is not a status symbol, unless it has access to the garden. It was only typical in the old days, to have a pool in the look-out basement with minimal light.
Interiors generally change every decade. The Mediterranean style of the 90s has evolved into a minimalist style, though this is coming to an end, people finding it boring already. Vivid colours have appeared in the U.S.A., but this cannot be felt here, yet.
Western-European trends usually arrive with 1 - 2 years delay and complimented with Hungarian spice. German-Swiss -Austrian tastes have purified forms and prefer shades of grey and white. Hungarian taste applies more characteristic colours and shapes. Even minimalist spaces are more decorative. Fancier decorations with more diversity. The material used is the same as in Western Europe, since the followed trends arrive from there.
Prices do not Reach the Stars
The price changes follow general patterns, 2014 experienced a steep incline which will probably soon stop, and stabilize at this level.
The difference in offering and actual purchase prices may vary occasionally, 1 to 2 % differences can occur, as well as 20 %! Ágnes Kacsmarik 's experience is that the top value of a luxury property in Budapest stops at two billion HUF. The top value of flats depend on size, though it is quite difficult to create a luxury home in something smaller than 150 m2. 300 - 400 million HUF represents the top limit. The square meter price is between 1,2 and 1,8 million HUF depending on location, features.
It's not easy to give exact prices, because in most cases, the parties of a sales-purchase transaction, do not generally air the amount spent/ received. Several luxury properties do not even get advertised on websites, but are generally mandated to agencies which possess the required clientéle and discretion.
Who are the Buyers?
After the year 2000, a local, well-capitalized clientéle appeared. They would like to see all the newest trends and designs in their homes which they observed during their travels and holidays. They represent potential buyers. Thus the owners, wishing the sale of their luxury properties, can now count on these local buyers, as opposed to the 90s, where only foreign buyers could be considered.
Chinese customers have also discovered Budapest, who arrive in order to buy residence permit government bonds. They prefer Buda, and seek houses with interiors resembling the fashion of the 90s, as opposed to Hungarian buyers, who demand minimalist interiors, so it is the Chinese, who end up buying detached houses built in the 90s.
Luck is also Needed, not only Cash
If the" product " is sought-after, and depending on the price too, a usual transaction can be concluded in 1- 6 months, while older properties need 1 - 2 years.
Luck is also required to find the appropriate property. Since the offer is limited, customers must be prepared for compromises. According to clients, there is no such thing as the perfect property. In order to find the "dream home ", maybe a week is enough, but it could be 3 years.
Due to lack of a proper house, many decide to start construction. Here, another problem arises; to find a suitable plot for this should have views of the Danube, in an elegant neighborhood. It should be near public transport, yet quiet, it should be near the city center, yet surrounded by greenery. And, of course, it should not cost much. To find such a plot, too, requires compromises. And sometimes, the final result does not reflect the original "Dream".
Article of Szepesi Anita in The TOP 100 Richest Hungarian 2016 magazine
Should you be interested in luxury properties in Hungary / Budapest, please contact:
Engel & Völkers Hungary
1011 Budapest, Szilágyi Dezső tér 4.
Tel.: +36 1 392 0388
Mobil: +36 30 737 0577
E-mail: budahillcenter@engelvoelkers.com