The Camentràn, the carnival of Courmayeur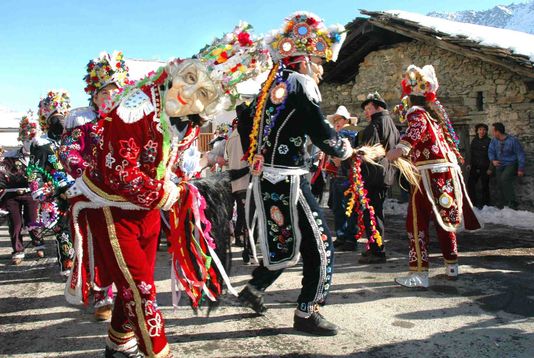 Don't stop with usual locations for to celabrate the Carnival. Do not look only to Rio de Janeiro in Brazil or in Venice in Italy. We can go beyond. Discover, with us, a new place to celebrate the Carnival in altitude. February 28 will be held the Camentràn, the highest carnival in Europe, in Courmayeur (Aosta Valley). A special day, with "Beuffons" that go around the whole country to announce the celebrating. The sound of cowbells start the carnival. The Camentràn is the typical carnival of Courmayeur and is perfect if you love the fun in high altitude by discovering the traditional costumes of this delightful village of Valle d'Aosta.
In Courmayeur the carnival is a special day with the traditional masks of the town which roam the streets of the town with the sound of cowbells by visiting stores and focusing on the ski slopes. Characterized by the traditional soup of Courmayeur. And finally follows the typical race of "Seittòn" with music and dancing till the end of a day for your real fun.