MISTRESS Benetti to be displayed at the Cannes Yachting Festival
Engel & Volkers Yachting French Riviera is delighted to confirm their attendance at the Cannes Yachting Festival, which will take place from the 12th to 17th September. The Festival will take place in both Vieux Ports of Cannes, centred around the famous Palais des Festivals et des Congres in the heart of Cannes city center.
The Cannes Yachting Festival is one of many exhibitions organised by Reed Expositions France, and is definitely not a show to be missed. As one of the greatest and unique yachting events in the world, the Cannes Boat Show welcomes yacht brokers, boat owners, potential buyers and superyacht enthusiasts, to meet and appreciate the yachting industry together, on one of the most notorious coastlines in the world. Establishing itself on the superyacht scene in 1977, the show is now entering its fourth year, a landmark anniversary which is sure to make the event even more spectacular than those in the past.
To mark such an occasion, the organizers of the Cannes Yachting Festival will be unveiling the 'Luxury Gallery', an exhibition in the Palais de Festivals which will host a number of premium brands related to the superyacht lifestyle. This year's official partners will include Maserati, Fred, Louis Roederer and Azur Helicopters.
Engel & Völkers Yachting is delighted to participate in this year's show and will be exhibiting the stunning 46m luxurious superyacht MISTRESS.
M/Y MISTRESS 46-meter yacht with Luxury Versace Interiors
MISTRESS, is a yacht that reflects the owner's profound love for traditional values, practicality and hospitality. The essential theme is comfort and luxury, expressed through a generous use of space, perfectly matching the elegant boisseries and luxurious furniture selection. It is no wonder her name makes as much as a statement as her eye-catching Benetti build. The respected shipyard built her in 1991. She was then refitted between 2013 and 2014. MISTRESS boasts an interior designed by Zuretti, who selected many pieces from the world-renowned Versace range. Versace Home, is one of the most luxurious and glamorous brands, the design brand of Donatella Versace offers unique furniture pieces that can empower any room design and give style to your yacht. The main deck saloon with the golden sofas, extravagant prints and marble table being the perfect contrast to create a luxury project. There is nothing more exclusive and opulent than the luxury mix of marble, gold and wood. This has combined to create a beautifully crafted and truly timeless boat, which puts an emphasis on relaxation and entertainment. The formal seating in the lower saloon, offers sumptuous and well-appointed furnishings which complement the style of this unique boat.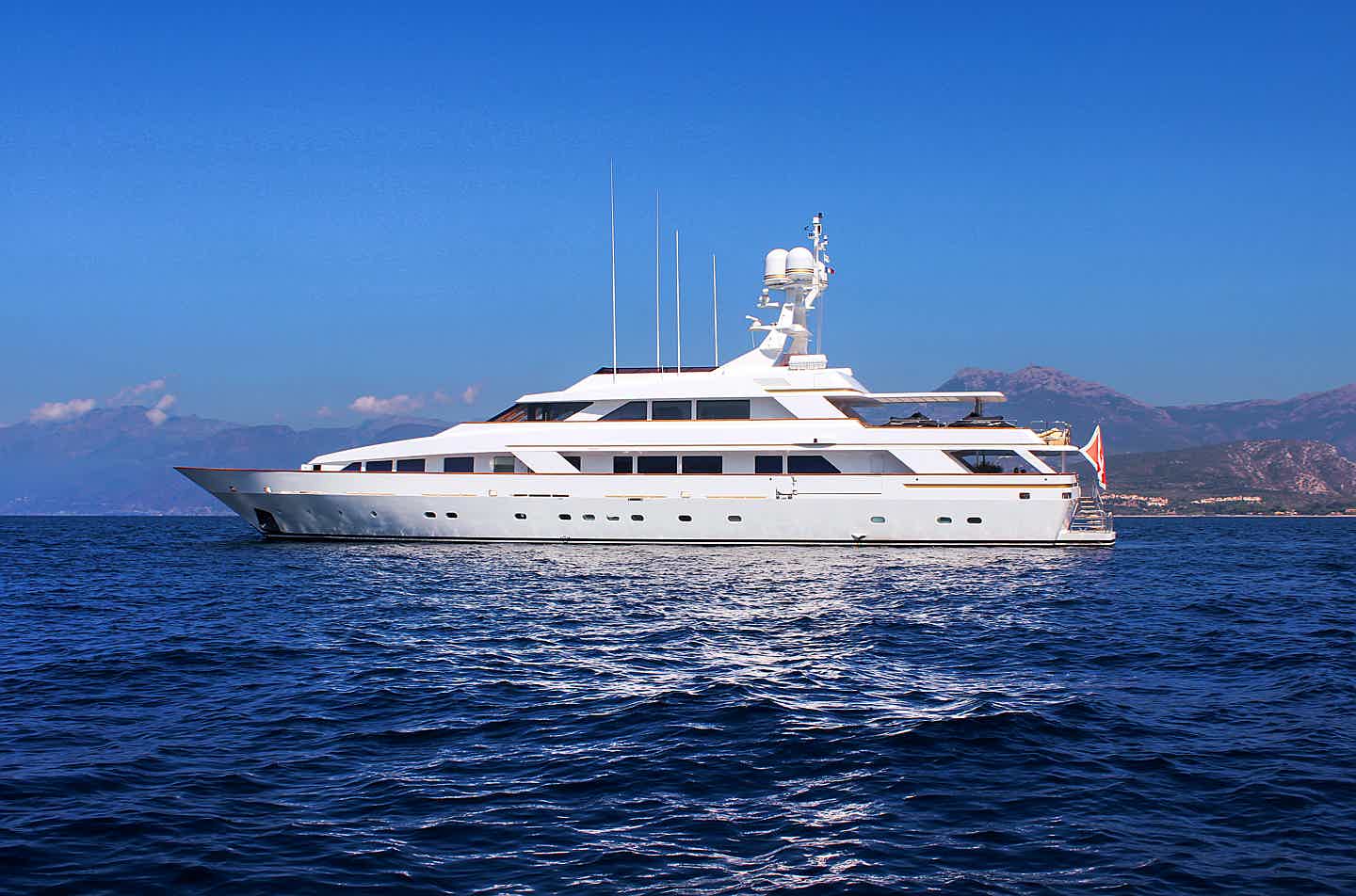 This elegance is continued to the upper saloon which boasts a relaxed seating area together with a large bar and games table. The outside areas are of note with ample space for dining on each of the three decks. With a large upper deck featuring wraparound seating, this is a fantastic entertaining space, enhanced by a large Jacuzzi and ample bar with matching parasols. MISTRESS is designed to accommodate up to 11 guests in 6 staterooms, including a master stateroom on the main deck, 4 VIP and a single stateroom, all with private bathrooms and wardrobes. The sheer volume below deck allows her to include a gym and sauna with ample space for all her water toys. She has a steel hull with an aluminium superstructure, equipped with a Naiad stabilization system.

Cannes, the iconic setting for the equally glamorous Cannes Film Festival, is the perfect environment for such an outstanding showcase of superyacht MISTRESS. We would love to welcome you to the Cannes Yachting Festival, please contact us for tickets if you would like to attend and get the chance to visit the 46-meter MISTRESS at frenchrivierayachting@engelvoelkers.com
Contact us now
Engel & Völkers
Licence Partner Yachting
Engel & Völkers Yachting is thrilled to attend the 40th Cannes Yachting Festival, displaying the 46-meter motor yacht MISTRESS built by Benetti. If you are interested in purchasing a yacht, the Cannes Yachting Festival is a wonderful opportunity to see a selection of yachts all in one place. Engel & Völkers Yachting is happy to arrange your visit to the 40th annual Cannes Yachting Festival and for one of our brokers to show you around. Please contact us at yachting@engelvoelkers.com to arrange your attendance at the Cannes Yachting Festival.