Meet Karim and Alex: Our foreign Interns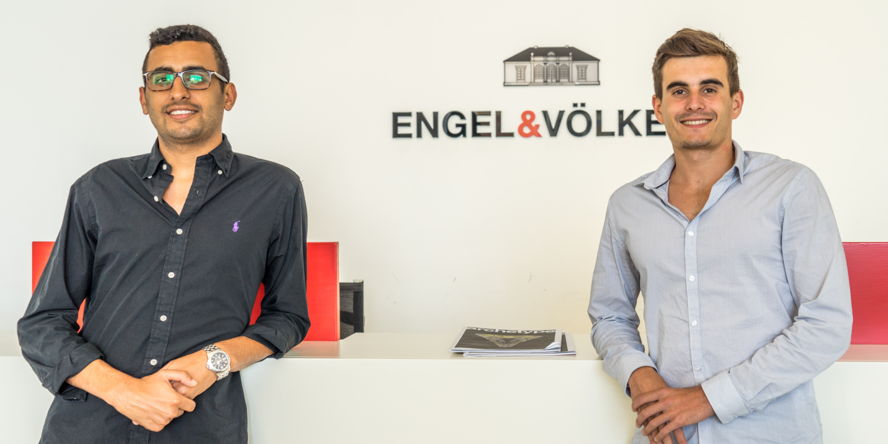 At Engel & Völkers we are always looking to provide an experience! Karim William and Alex Megy joined us for their overseas internship.
Doing our internship at Engel & Völkers Sara Grech was the best choice we could have made. From our first day at the Company we felt very welcome to join and start our E&V Experience. Having the opportunity to work in Malta's most exclusive and luxurious real estate company gave us the tools to gain great experiences and start building our business network. We love how the company is always looking to provide the best and most exclusive services to their clients, internally and externally, which makes E&V SG the best team on the Island. The Companies services are impressive and being part of the HR Team we experienced this first hand, from the training to evening drinks and nibbles in our amazing Market Centre. The focus on the Agents in the Company is remarkable as E&V SG provides an extensive platform for Agents to build their own business whilst having their very own licence area. The office atmosphere is upbeat and exciting as the structure and vision of the Company is dynamic and we can see the passion and motivation within every E&V Member of Staff.
An aspect that we found most interesting is the concept of 'Build your own Business'. This means that E&V attracts entrepreneurs who have high levels of drive and motivation. The mission is to improve as much as possible their well-being and their success whilst having and continuing to build the most success-driven and motivated Real Estate Team in Malta. This in turn is a reflection on the Agents service to their Sellers/Landlords & Buyers/tenants.
Being part of the HR Team, we were involved with the day2day running's of the department from receiving new applications, assisting with the organisation of training,setting up and running the recruitment stands to organising breakfast for the staff and team building events. Working in Human Resources has shown us the important of a Company having an in-house HR function for all the Staff.
This amazing journey in Malta gave us the desire to continue studying abroad. We had an incredible experience on the beautiful Island of Malta.
If you have the choice to do your Internship abroad, E&V SG is the right place for you.