The Costs and Benefits of buying a pool property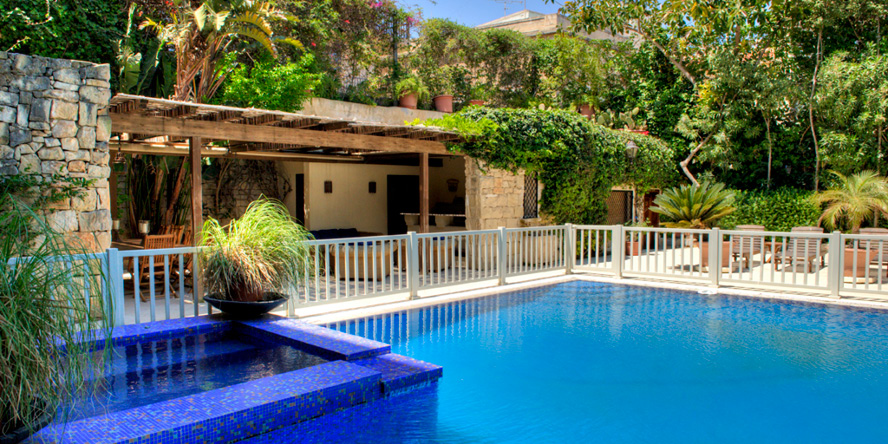 Summer is finally here, the temperature is rising, the days are longer, and plunging into a crystal blue pool after a long day is just the thing we would all love to do to cool off. The dream of owning a home with a pool is something commonly shared by all of us on an island like ours where there are currently more than 4,007 (MRA, 2014) residential pools, so what do we need to know and aim for to make our dreams come true?
The decision to build a pool or buy a new property with a pool cannot be solely financially based. To begin with, building an average sized pool in Malta will set you back by at least €20,000 and that all depends upon the landscaping, finishes and fencing. When it comes to practicality, a pool requires regular cleaning and servicing of the filtration and pumping system. Electricity and chemicals add up another €60 per month. New pool owners should also be aware of the annual licence fee which is around €300.
The positioning of the pool is also very important. Disturbance and privacy are two crucial elements when deciding on the location of the pool. For example, you don't want your pool located so close to the living area as the merry sounds of splashing water from other family members won't go down very well after a long day's work.
Privacy also adds value to your investment and if properties are looking over your yard it would be beneficial to add natural or artificial screening to keep nosy neighbours away. Trees and hedges are conventional and natural solutions which help with keeping your outdoor space as green and natural looking as possible.
The garden and deck surrounding the pool is equally as important to ensure that your outdoor area is roomy and spacious for all the family and guests. When space is limited, one can consider a small splash pool which would still look great for a small garden. Shrewd use of space is significant for the price of your property.
In Malta, houses with good sized gardens and pools do attract a lot of interest. Since space is scarce, and noise and congestion has become the Maltese way of life, search clients would consider this as a huge asset when looking for a new home. Furthermore, a spacious outdoor area with a pool goes down really well with owners looking to rent their property as this drives the rental prices up.
When it comes to selling a property with a pool, it is vital that the pool looks fresh and well maintained. This will help give a very good first impression to anyone looking at the property, whether through an online advert or during a first viewing. Properties with landscaped gardens and gorgeous pools are likely to get five times more leads than properties with horrible looking exteriors, so make sure you give your outside area some TLC as this is a very important selling point.
Safety and security should be at the centre of any renovation or property decision, and therefore one should ensure that the garden and pool are not a positive danger zone for other family members, especially children. Installing a pool cover is beneficial for keeping kids away together with other unwanted matter such as leaves and dirt.
The dream of owning a pool is often the question of being able to maintain it and cover all running costs, however, the addition of a pool or buying a property with a pool goes one step further. Although a pool helps with fitness and relaxation, it brings the family together and with the modern world pulling us away from each other every day, unity is enough reason why you should fulfill your dream of having a pool.