Algarve Fava Beans Recipe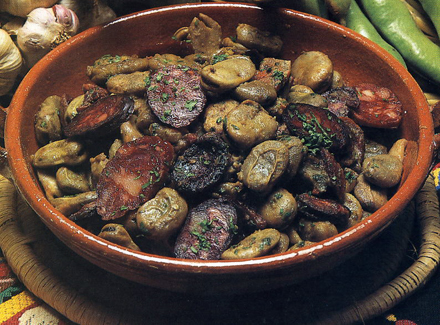 Engel & Völkers Albufeira suggests you the delicious recipe Favas à Algarvia.
The Algarve has a rich, diverse gastronomy with quality and it is quite delicious. This typical dish of the Barrocal and the Algarve Countryside is very tasty and easy to make:
First, peel the fava beans and bake it in a pot for about 8 minutes.
Then, drain the water and cut the black and red chorizo, chop the garlic as well.
Next, put olive oil, add the garlic and let it brown.
Add the beans and some water and cover the pot. Add salt and/or pepper to your taste.
Finally, sprinkle with coriander, garlic or chopped onion.
Ingredients
800 gr of Broad Beans
150 gr of Black Chorizo
150 gr of Red Chorizo
2 Garlic Cloves
2 Tablespoons of Olive Oil
1 Coriander
1 Branch of Garlic and Onion
150 gr of Bacon
Salt
Pepper