Opera Night II 16th July in Vale do Lobo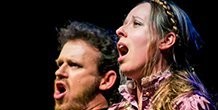 Discover the new passion, beauty and sounds of opera with the return of the Vale do Lobo Opera Night "Opera Gala & Musical", taking place on 16th July at 20:30h.
Allow yourself to be transported to another world with the sounds of Lisbon born soprano Carla Pontes, bass baritone Francisco Brazão from Faro and the piano played by Cristiana Silva, who began her musical studies in 1995 at the Joly Braga Santos Conservatory in Portimão before then continuing to advance her career which has included master classes and radio performances.
Tickets will shortly be available to purchase from the resort Reception.
To find out more please click here