Chicken Soup Recipe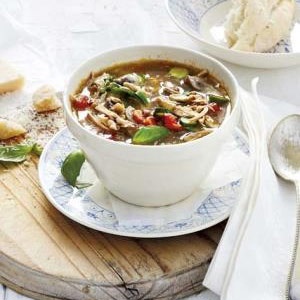 Fight the flu this winter with this delicious chicken soup!
2 small leeks, sliced

250 g button mushrooms, quartered

2 carrots, diced

1.5 l good-quality chicken stock

3 chicken breast fillets, quartered

250 ml small brown lentils, rinsed

1 can chopped tomatoes

4 courgettes, sliced or diced

100 ml shredded fresh basil

100 ml grated Parmesan cheese

fresh bread, to serve
Method

Heat a little oil in a saucepan and sauté the leeks, mushrooms and carrots until soft. Add the stock, chicken and lentils and bring to the boil. Boil for 10 minutes.

Remove the chicken and set aside to cool slightly. Shred the chicken and add back to the saucepan with the tomatoes. Season to taste with salt, freshly ground black pepper and a pinch of sugar, if necessary. Simmer for 10 minutes. Add the courgettes and simmer for 5 more minutes until the courgettes and lentils are cooked. Sprinkle with shredded basil and grated Parmesan cheese. Serve with bread.