La Récolte Luxury Retirement Village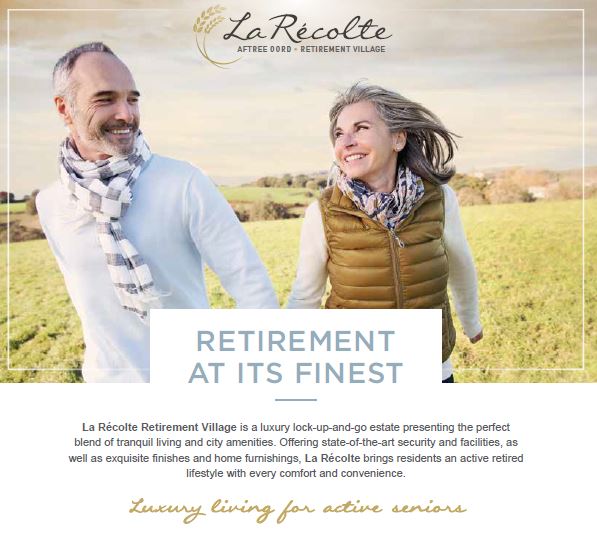 We cordially invite you to our High Tea, held on the 26th of October at 10:00. Please RSVP on (021) 020 0136 or Durbanville@engelvoelkers.com on or before the 23rd of October. Limited seats available. We hope to see you there!
La Récolte Retirement Village in Ridgeworth, Stellenberg is ideally located on the corner of Old Oak Road and Mountain View Drive, near several shopping centres, hospitals, doctors and cosy entertainment spots. The very popular Old Oak Bowling Club is within walking distance. Intercare Medical and Dental Surgery Centre is also only a short distance of 1.5 km away.

The building boasts with modern architecture, based on good design principles (which is also part of the green movement) and fit the context and site. La Récolte boasts with excellent community facilities: home nursing done by Van Biljon Nursing; daily meals by Feedem Pitseng; top class security with manned access gate, CCTV cameras all over the premises, electric fence and a panic button system in each dwelling. The clubhouse boasts a beauty salon, ladies-bar for functions, dining room where daily meals are served an exercise room and doctors rooms.
Choose from one of seven floor plans ranging from 48 square meters to 94 square meters.
All transfer costs are included.

For further information please click on the link below or contact Jessica Kolver on 074 888 2132 or email us on Durbanville@engelvoelkers.com.