International Listings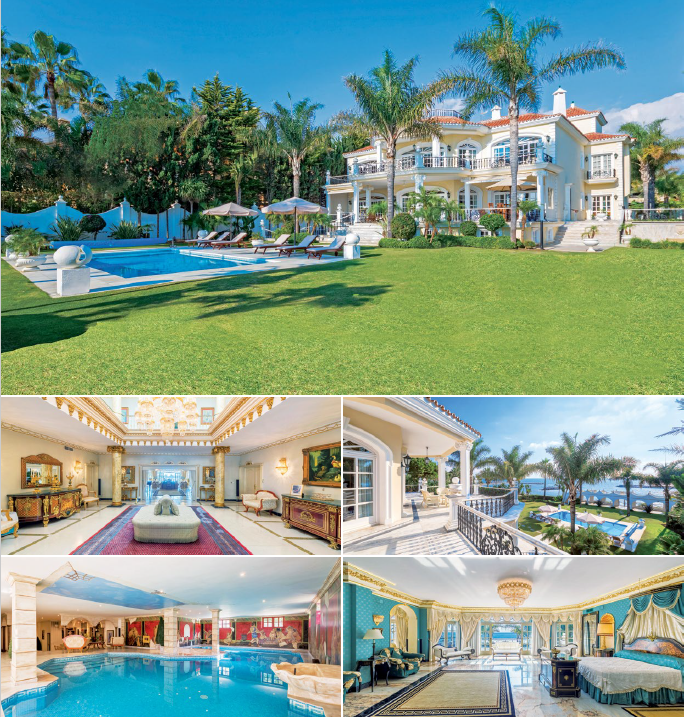 Spain
Grand Frontline Beach Estate
The 'Villa El Martinete' is one of the most prestigious properties insouthern Spain, offering unrivalled luxury and sophistication. Thisgracious and grand beachfront estate is situated close to Puerto Banús,yet the grounds enjoy maximum privacy. The majestic driveway, thespectacular reception rooms, the large and elegant bedroom suites andthe separate floor with indoor pool, sauna, bar and discotheque provideelegant space for premium entertainment. There are five large suites,including an approx. 120 m main suite with his and hers bathrooms,and two separate guesthouses with two bedrooms each. The villa wasoriginally owned by the famous flamenco dancer Antonio Ruíz Soler, aclose friend of Pablo Picasso, reflected in the much treasured personalsignature of Picasso at the bottom of the outdoor pool.

E&V ID W-00YR0A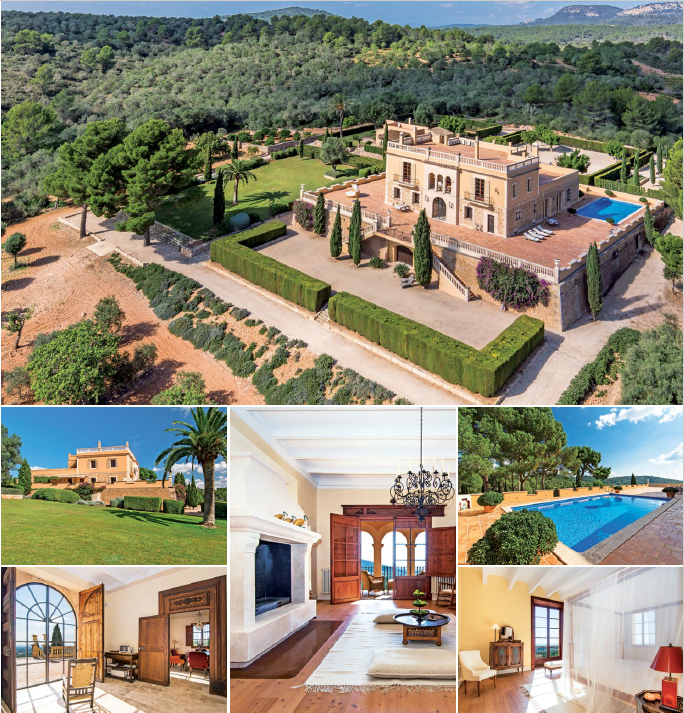 Majorca
Exclusive Oasis with Panoramic Views in Porreres
This historic, fully modernised estate stands resplendently on thehilltops close to Porreres. It offers unadulterated privacy, as well asboasting views as far as the sea and the island of Cabrera. The house is setin gorgeous parkland grounds. The ground floor plays host to a prestigiousentrance hallway, a living room with a fireplace, a dining room also with afireplace, an elegant eat-in kitchen, a large sitting room, a chapel, studio,three bedrooms with two bathrooms, a second kitchen and a guest WC.The upper level comprises another living area with a fireplace, a masterbedroom suite, dressing closet, bathroom, and two further bedrooms withone bathroom. In addition to a large garden level, this unique residencealso consists of a guesthouse with a living/dining area, two bedrooms andtwo bathrooms. A boat mooring can be acquired on the coast at 'Es Trenc'.

E&V ID W-009XJF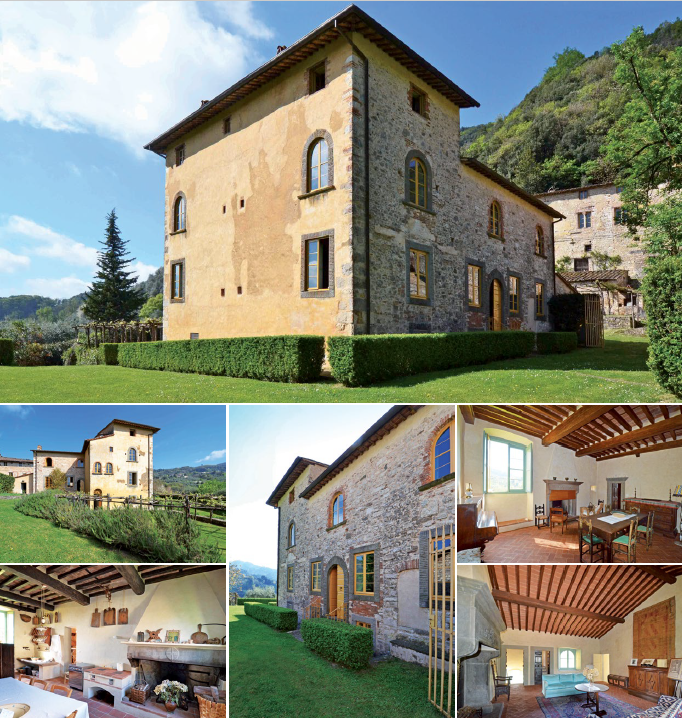 Italy
Charming Ancient Borgo with a Villa
This 'borgo' is set in glorious Tuscan countryside, not far from Luccaand the Versilia coast. The property consists of an entire village withconstructions dating from the Middle Ages, and a 16th century manorhouse. Comprising three floors and a basement, this main residence issurrounded by a garden with hedges, fruit trees, pergolas, a beautifullawn and an annex with a covered loggia. The property has been lovinglyrestored and boasts a wealth of interesting interior finishes like woodenceilings, original terracotta floors and stone fireplaces. The ground floorconsists of large living rooms, a kitchen and a pantry, while the upperfloors play host to a living room with a fireplace, four bedrooms and twobathrooms, one of which is fitted with a marble bath dating from circa1800. The village also presides over an old chapel and a water source.

E&V ID W-025DZX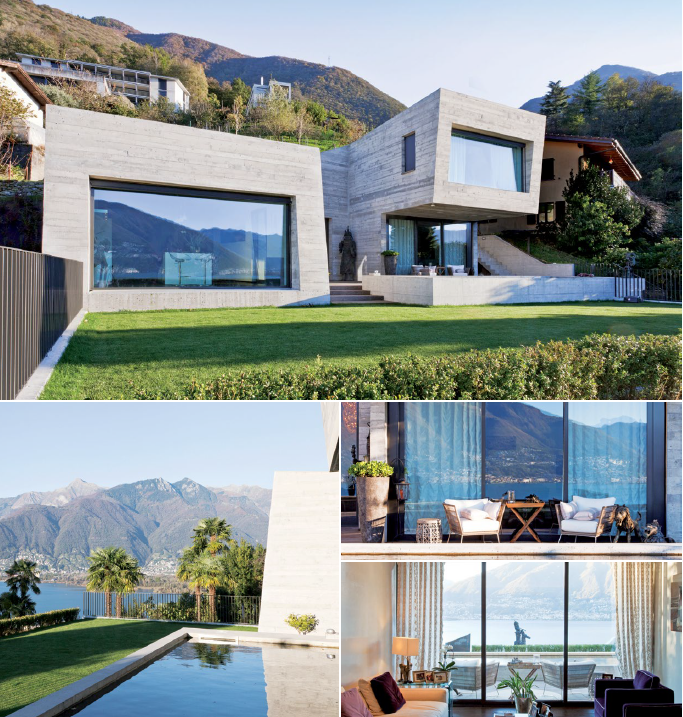 Switzerland
Exclusive Villa with Sensational Lake Views
This exclusive villa is situated on a raised plot and affords absolutelyidyllic views over Lake Maggiore that cannot be obstructed in anyway. The piazza leads down to an underground garage with five parkingspaces. Besides the fantastic garden and private pool, indoors the villahas three floors with a living area benefitting from a fabulous outlookand a fireplace, a kitchen and dining area. There is also a private spa with aJacuzzi, sauna, steam room, chromotherapy, bathroom and fitness studio,as well as a studio opening out onto a terrace. The master bedroomboasts a large wardrobe and its own en suite bathroom. Two additionalen suite rooms also enjoy access to the garden. The materials usedboth for the interior and exterior are of the highest quality imaginable.All technical amenities in the property meet the very latest standards.
E&V ID W-02595E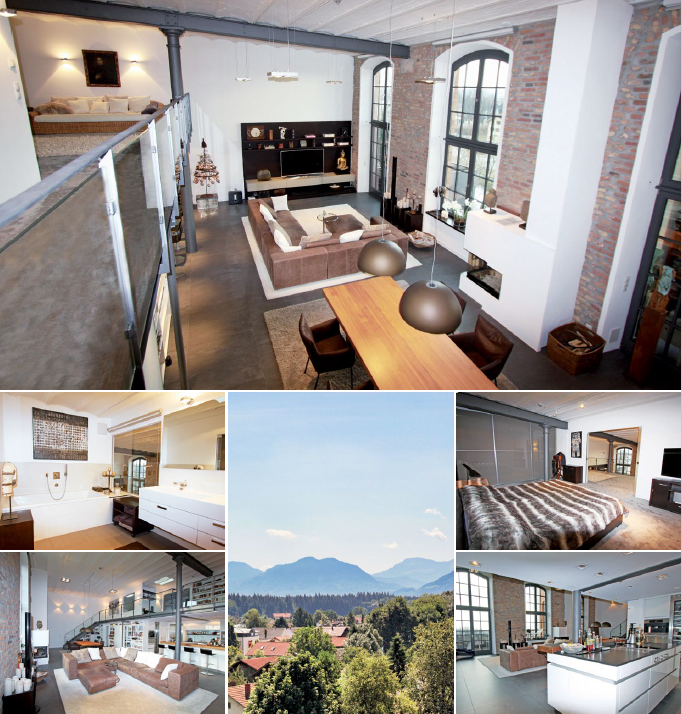 Germany
Loft Living with Industrial Chic
This listed brick building has undergone thorough refurbishment andnow shines with a new splendour all of its own. Surrounded by waterand blessed with delightful far-reaching views, this designer loft featuresa living area with soaring ceilings of approx. 5 m in height. The effectivemix of exposed brick masonry, contemporary materials and full-lengthwindows culminates in a refined and industrial atmosphere within. Thespacious living/dining area with a fireplace and an exclusive kitchenforms the heart of the loft. This level also accommodates the guest roomand workspace. Meanwhile the upper level comprises a gallery, masterbedroom, dressing closet and en suite bathroom, all cleverly connectedwith one another with an ease typical of loft living. This offering includestwo underground parking spaces and two basement storage rooms.

E&V ID W-027511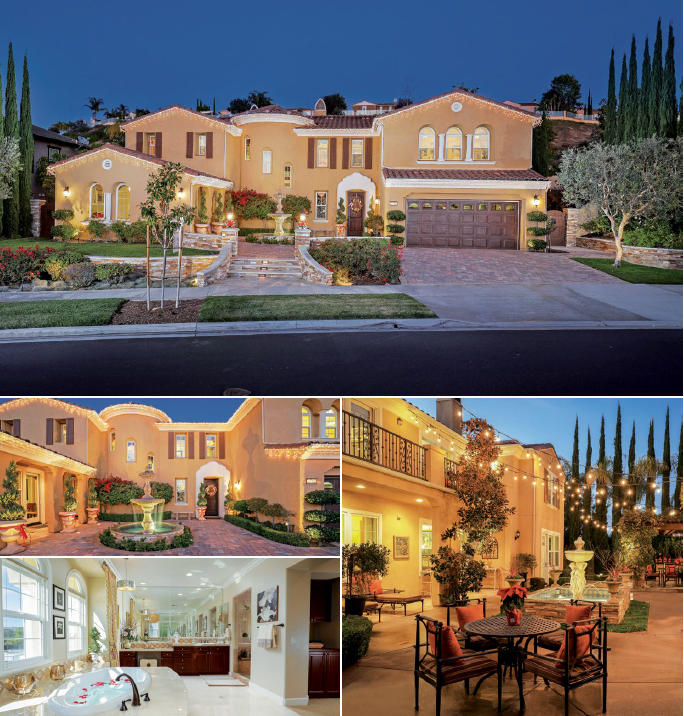 California
Inspired Foscarini Italianate Home
This is absolutely the most beautiful home in the gated communityof Balearas, exceeding expectations in every room. Just some of thedetailing to be found inside this residence includes travertine stoneon the first floor, Foscarini Italian blown glass lighting, custom-mademarble fireplaces, crystal chandeliers and custom drapery throughout.The gorgeous kitchen features top stainless steel appliances, granitecountertops, and a wine refrigerator. The fabulous backyard offers alarge Jacuzzi, outdoor fireplace, rose garden and spectacular lighting,as well as a cabana kitchen with Viking appliances perfect for outdoordining and entertainment. Residents also enjoy access to a heated Olympic-size pool, wading pool, barbecues, a fitness centre, tennis courts,and additional party facilities with a chef's kitchen for catered events.

E&V ID E-0027TZ