Mansion Fit for a King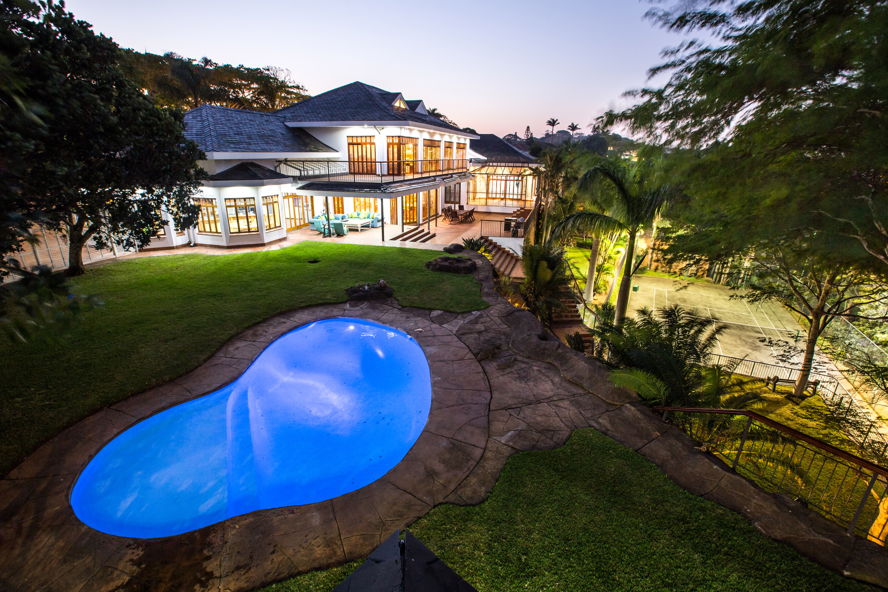 KwaZulu-Natal · NorthCoast
This spectacular property is situated on the ridge in Durban North. The 1706m2 property comprises 3 individual properties, the main house is 1001m2 and offers 5 bedrooms with 5 bathrooms and has a warm, family-style kitchen with beautiful solid wooden frame windows that add character to the home.

It has an impressive cinema and festive bar area with many lounges that walk out to the patio, all with sea views plus a kid's pajama TV lounge with ceiling to floor animal art. The upstairs open plan entertainment area has many seating areas including a large snooker table and a study nook with sea views.The main bedroom has a walk-in closets and a full bathroom with his and her basins, bath as well as a double shower that can be transformed into a relaxing steam room. The downstairs level of the main house has bedrooms, bathrooms, a lounge area and wine cellar. It also includes a pool, a guard house with CCTV and 7 security cameras. The 94m2 staff quarters has 2 bedrooms, a garage boasts space for 5 cars, and a 200m2 open plan office (upstairs) with a full bathroom,kitchenette and air conditioning completes the setting.
The second home is 273m2 with an 81m2 double tandem garage.It offers an additional 4 bedrooms, a large eat in kitchen with a spacious lounge and dining room that flows out to the oversize patio with panoramic sea views. In addition, this house has an outside en suite guest room, which can easily be converted into another home office and staff quarters. The patio leads to the paradise garden with rock pool, built-in slide and a Jacuzzi,leading down to the tennis court.
ZAR 19,6 million
Web: ENV90109