Dubai Creek Harbour - Where the tallest tower in the world resides
Welcome to Creek Gate at Dubai Creek Harbour
Discover spectacular sceneries of The Tower and The Island Central Park.
With contemporary apartments ranging from 1, 2 and 3 bedrooms, surrounded by spectacular views, Creek Gate offers residences with alluring leisure and recreational facilities.
· Located near the heart of the Island District of Dubai Creek Harbour
· A gateway to the island district
· Clear line of sight to The Tower and overlooking the Island Central Park
· Private pools, gym, children's area, private parking and a landscaped leisure deck
· Concept of urban living with retail, café and restaurants
A new venture from Emaar Properties, Dubai Creek Harbour will be both a financially viable and ecologically responsible city built with future generations in mind. Offering the best infrastructure, it is a place where people will live, work and play, a community where families can reach their aspirations for generations to come.
A future city of Dubai. Dubai Creek Harbour is a large, master-planned water-front development along Ras Al Khor Road. Dubai Creek Harbour is the site of The Tower, which will be the tallest building in Dubai when completed in 2020.
Dubai's new tallest tower will emit a 'beacon of light' from its peak at night and is expected to be completed in 2020.
This world-class development will offer spectacular views of the creek and Dubai skyline.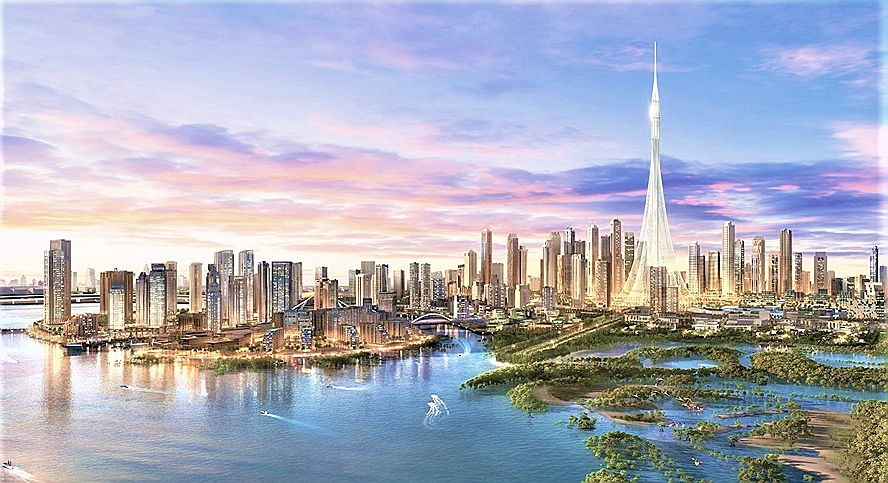 The cove Project sits on the Marina Front
A Deluxe Creekside Haven, Welcome to The Cove:
A world-class waterfront community,with uninterrupted views of Downtown Dubai, The Tower and the Ras Al Khor Wildlife Sanctuary.
The Cove Features:
Stylish boutiques, quaint cafés and delightful dining concepts
The Marina Yacht Club
Lushly landscaped pathways, parks and promenades
Welcome to Creek Horizon at Dubai Creek Harbour, the peak of vibrant urban living;
Soaring elegantly over verdant park sand sparkling waterways, Creek Horizon's towers offer remarkable vistas from each of the over 40 storeys to create memories that last a lifetime. With over 500 contemporary apartments ranging from 1, 2 and 3 bedroom flats to penthouses surrounded by spectacular views, Creek Horizon offers elevated experiences of exceptional style.
Creek Horizon features:
Located next to the Central park on The Island District in Dubai Creek Harbour
Offers remarkable views of beautiful parks and sparkling waterways
Swimming pool amidst lush greenery
Private indoor amenities include a relaxation lounge, a multi-purpose room, a games room, and a children's play area
Observation deck provides amazing views of Burj Khalifa
Creek Horizon apartments are of a variety of different sizes and layouts that feature outstanding finishing, large windows and balconies to suit your needs.
Dubai Creek Residences, the first residences located within Dubai Creek Harbour
A collection of six residential towers line the promenade, all towers featuring incredible panoramas over the harbour and Dubai skyline.
The interiors of the apartments at Dubai Creek Residences use stone, wood and other mineral mediums to embody a warm and organic visual palette. With ambitions to complement the contemporary setting of the Island District, the interior has been designed with chic compositions and an eye for modern artistic intention that will elevate any resident or visitor into the realms of pure luxury.
Located in the heart of Dubai Creek Harbour, this residential tower is surrounded by innovative recreational experiences, retail establishments, civic facilities and all other elements found in a modern metropolis.
Alongside this, Dubai Creek Residences anticipates all residents' needs with complimentary amenities including covered car parking, dedicated daycare facilities, a children's swimming pool, adult pool and deck and a state-of-the-art gymnasium; all providing the perfect treatment for its residents.
Creekside 18, two elegant waterfront towers located within Dubai Creek Harbour
Situated opposite Downtown Dubai's soaring skyline and extending into the heart of the creek, the two towers of the stunning Creekside 18 elegantly preside over a lush, palm tree-lined waterfront setting.
Home to some of the city's best gourmet restaurants, vibrant cafés and entertainment venues, as well as surrounding residential communities, its glamorous, urban atmosphere attracts visitors and residents from far and wide.
The layout of the apartments has been intelligently designed to allow for spacious living and dining. Every detail and feature has been carefully considered, from the sleek fittings in the kitchens to the attractive fixtures in the bathroom. A neutral colour palette throughout accentuates the feeling of space, and leaves you with a canvas on which to add your own personal flourishes.
Eminently practical, quietly sophisticated and expertly considered– this is luxury living at its very best.
Harbour Views Twin Residential Towers
Harbour Views, two twin residential towers featuring incredible panoramic views
A collection of two twin residential towers featuring incredible panoramic views over the harbour and Downtown Dubai skyline.
Soaring high above the beautiful creek and presiding gracefully over the Island District, the new Harbour Views development is located in the verdant Gallery Park area. Offering premium views of the marina, with the backdrop of Burj Khalifa and Downtown.
The elegant 51 floor twin towers are home to more than 750 one, two, three bedroom and penthouse apartments, which are anchored to a three-level podium, with podium level apartments and 14 two-storey villas / townhouses enjoying direct access to the luxury pool and other podium amenities.
Layouts have been precisely designed to create comfortable living and dining spaces with spacious and relaxing bedrooms. The interiors take advantage of the views and light to enhance a luxurious lifestyle.
Cream coloured tile floors run through the apartments, setting a neutral background to receive subdued patterns and colours of waterfront living. The walls are of a neutral paint with toned wall covering for those meticulously chosen accent walls.
The kitchens are fully equipped with neutral tone finishing and stone countertops.
Bathrooms follow the same principle with neutral coloured tile floors and walls accentuated by marble stone counter tops, luxurious mirrors and attractive fittings and taps.