Promising new chapter for the Market Center Dubai
At the end of March, the Market Center in Dubai parted ways on amicable terms with its local partner, the project developer Nakheel, and is now starting out on its own.


"Being able to operate now entirely independently is a superb opportunity for us," said Mohab Samak, Managing Director of the Market Center Dubai. "It gives us the freedom now to expand our activities and make decisions faster."


An excellent prospect, given that the Market Center, headed by Mohab Samak, set a turnover record in the last quarter of 2020. Overall, it contributed 5 million euros to Engel & Völkers' total Group revenues in 2020, and increased its revenue compared to the previous year despite the pandemic. Moreover, by the end of March 2021, the Market Centre has already generated more than twice as much revenue as at the same time in 2020. Alongside local buyers and sellers, clients come predominantly from countries including Switzerland, Italy, Spain and France.
"As an independent company, our expansion plan for 2021 will enable us to further increase our market share," said Mohab Samak. "We will be expanding our team with a view to serving additional areas that are in demand in Dubai. We will also be improving our back-office capabilities so that our agents have all the support they need to do business effectively. We also have plans to develop other business segments such as Development Services and Property Management."
The newly acquired independence of the Market Center Dubai coincides with a move to a new office. On 15 April, the MC moved into exclusive new premises in the Golden Mile Galleria Mall in the heart of Palm Jumeirah, one of Dubai's most desirable areas. The view of the Arabian Gulf and Dubai's skyline is just as exciting as the prospects looking at the future potential development of the real estate market.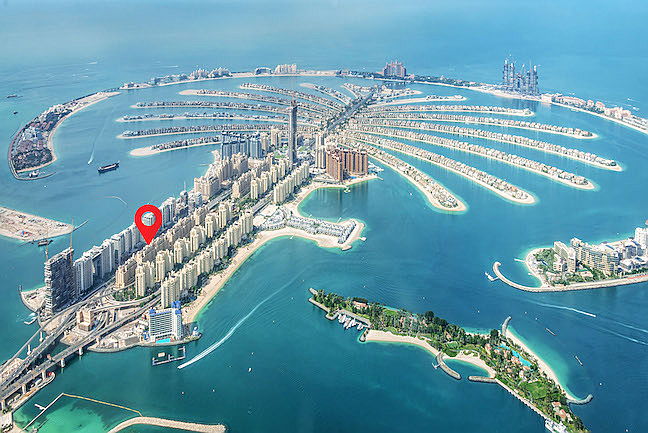 In March, Dubai presented ambitious plans for the future with its Master Plan 2040. It envisions that Dubai will become the most liveable city in the world by 2040. The plan aims to increase Dubai's competitiveness by creating a wide variety of economy-driven and leisure activities for both residents and visitors. As a result of this plan being implemented, the population could potentially increase from 3.3 to 5.8 million by 2040. Not only will they benefit from more public beaches, nature reserves, education and health facilities, and improved infrastructure. They will also have to live somewhere… and that is where the Market Center Dubai comes into play again.

Contact us now
Engel & Völkers
Licence Partner Dubai
Golden Mile Galleria 2, Office 21, Mezzanine Floor, Palm Jumeirah

PO Box 17722

Dubai, United Arab Emirates

ORN: 16081