Tilal Al Ghaf 5 & 6 Bedroom Elysian Mansions
Comprising 92 luxury homes, Elysian Mansions features ultra-luxury waterfront mansions inspired by the Elysian Fields of Greek Mythology. With plots ranging from 14,839 to 17,950 sqft, residents will enjoy an expansive lifestyle space and premium luxury amenities surrounded by beautiful green areas. This luxury development offers 5 to 6 bedroom mansions, elegantly crafted to give homeowners the best feeling of being home.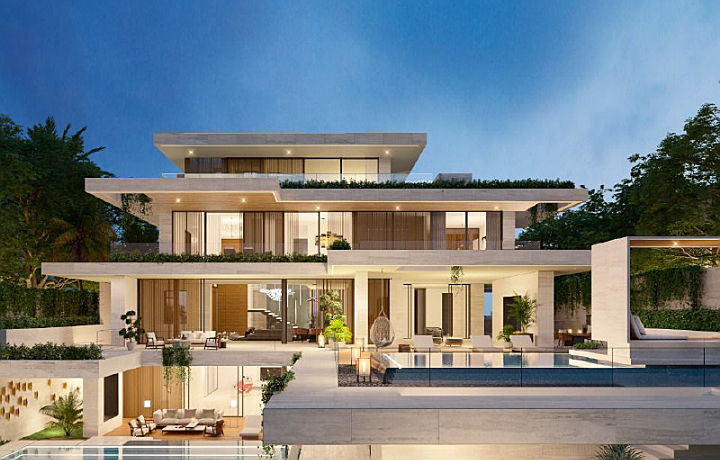 Elysian Mansions is conveniently located a few minutes drive away from Dubai's central district (Downtown Dubai) and approximately 20 minutes away from Dubai Marina and Jumeirah Beach. Tilal Al Ghaf is an ideal neighborhood for families who prefer peaceful living away from the buzz while surrounded by a relaxing nature. Residents can freely indulge in the community's well-known amenities, such as the recreational lagoon with pristine white beaches.
Every neighborhood in Tilal Al Ghaf Dubai offers a unique theme with open spaces great for family recreational activities. Tilal Al Ghaf villas feature high ceilings and massive windows that allow natural light for a more aesthetic and minimalist feel.
ilal Al Ghaf is one of Dubai's most popular villa communities for its uniquely and modernly designed homes suitable for families and couples wishing to live in a quiet and peaceful environment. Villas in Tilal Al Ghaf are available in standalone/independent, semi-detached, and townhouses.
If you are looking to buy a villa in Dubai, consulting a real estate expert is highly advised for access to next-level and exclusive options. Engel & Völkers has many years of experience in residential sales and leasing worldwide. We guarantee a hassle-free buying journey to all our customers and top-class assistance in order to exceed their expectations.
Our real estate agents are trained to perform their expertise with passion and integrity, delivering excellent customer service in the best way possible.
Tilal Al Ghaf Villas for Sale
Contact us now
Engel & Völkers
Licence Partner Dubai
Golden Mile Galleria 2, Office 21, Mezzanine Floor, Palm Jumeirah

PO Box 17722

Dubai, United Arab Emirates

ORN: 16081