Why Invest In Dubai Real Estate
Here are the top 7 reasons why you must invest in Dubai real estate:

Population growth
Dubai is one of one world's rapidly growing cities with an increasing rate of approximately 10.7% annually. Because of its natural beauty, world-class infrastructures, and continuous economic growth, it is considered a top choice for expatriates. There are more than 120 nationalities living in Dubai and it is amazingly keeping up with the fast population growth. Dubai's stability in terms of economy and politics makes it an excellent choice for real estate investments.

Freehold areas
Foreign investors can purchase properties in several freehold areas in Dubai. Buying a freehold property in Dubai is beneficial to non-GCC residents and citizens as it allows them to have complete ownership of the property. They can sell, lease, or live in the property and it can be inherited by an heir.
Tourism Hub
Dubai is one of the most visited cities because of its state-of-the-art architecture, luxurious lifestyle, beautiful beaches, and connectivity to the rest of the world. It is also the best shopping destination for its designer and luxury brands from different countries across the globe.

Dubai as the city of superlatives:
• Dubai Mall – the largest mall in the world
• Dubai International Airport – the world's busiest airport
• Burj Khalifa - the tallest building in the world
• Dubai Fountain - the largest dancing fountain
• Palm Islands – one of the largest man-made islands
• Dubai – one of the safest cities in the world

Investor visa
An Investor Visa is applicable to foreign nationals who have a minimum investment of AED 1,000,000 for a freehold property in Dubai. It helps preserve investor confidence as this gives them access to come and go as they wish within the duration of the visa.

Safe City
Dubai's competitiveness in terms of safety in different aspects is top-notch. It plays a big role in attracting more expatriates and investors to the emirate. Dubai used its advanced fundamentals on safety especially in handling the global pandemic, COVID-19. Dubai Police is always committed to ensuring the safety and security of the residents and citizens.


Sustainability
Dubai maintains environmental, economic, and social sustainability through passive approaches focusing on operational efficiency without conceding future generations' ability to meet their needs. Strategies are executed in ways that do not harm the long-term environmental, economic, and social balance.


State-of-the-art developments
Known for its extraordinary skyline of tall skyscrapers, Dubai features impressive residential and commercial developments that stand out. Thousands of investors believe that investing in Dubai real estate is indeed a golden opportunity as it displays futuristic architecture, economic stability, and social diversity.

Buying a property in Dubai is quite straightforward especially if a buyer is guided by a professional real estate agent. Engel & Voelkers Dubai is one of the leading real estate brokerages for residential and commercial properties based in over 800 locations worldwide.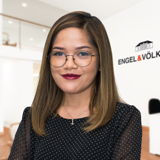 Angela Kasilag
Marketing Coordinator
Contact us now
Engel & Völkers
Licence Partner Dubai
Golden Mile Galleria 2, Office 21, Mezzanine Floor, Palm Jumeirah

PO Box 17722

Dubai, United Arab Emirates

ORN: 16081