Stunning properties for sale in Kitzbuehel and the surrounding area
Fantastic properties for sale in Kitzbühel and the surrounding area
Ever since its discovery as a winter sports town at the beginning of the 20th century, Kitzbühel has been one of the most beautiful and well-known ski resorts.
This Austrian winter sports region is conveniently located near to the metropolitan area of Munich, which is what makes it interesting as a property location. Many property buyers in Kitzbühel are from southern Germany and Vienna and its surrounding area as well as from the Netherlands, Switzerland, Belgium, Italy and England. The region is also highly lucrative for investors. Those who wish to acquire a residence, second residence or place of retreat for themselves, their family and friends in a place where others spend their holidays are advised to approach an experienced real estate agent in Kitzbühel. An agent can offer a first-class selection of properties, which are in line with your architectural and locational preferences.
​Your property purchase in Kitzbühel: Let the quality of life in Tyrol inspire you


Whether you would like to buy a house, chalet, trendy apartment or condominium, there are several things to consider. A professional real estate agent can answer your questions concerning legal and insurance matters and will completely take care of finding your envisioned property. The property market can often be quite complex for the layperson.


Properties in Kitzbühel and its neighbouring towns such as Reith bei Kitzbühel, Jochberg and Aurach bei Kitzbühel aren't just attractive as owner-occupied houses. They are also particularly enticing as investment properties. As demand is far greater than supply and prices continue to increase, the property market continues to boom in this region.
This ski resort is also known as "Gamsstadt"
The town owes the fact that it is known as Gamsstadt to the local painter Alfons Walde, who painted its most beautiful "picture postcards". The Alpine report is host to a Medieval town centre with many elegant shops and cafes. It's a place that conveys an Alpine attitude to life 365 days of the year, with a unique combination of sports and a high-quality lifestyle. Moreover, together with its neighbouring ski runs in Kirchberg in Tirol, Jochberg in Tirol and Pass Thurn, it is one of the most extensively connected Austrian ski regions.
"Gamsstadt" is the home of celebrities such as the famous skiers Toni Sailer and Hansi Hinterseer. This small town is also well-known for being the venue of the annual Hahnenkamm race on the "Streif" and "Ganslerhang" runs. This race is the most challenging in the Alpine ski circus and attracts international jetsetters, who stay for a weekend-long party. In the summer, the town becomes the scene of world class tennis matches, such as the Kitzbühel Generali Open and the cycling marathon on the Kitzbüheler Horn mountain.

Those who live here no longer need to go on holiday. The region surrounding Kitzbühel is more varied and diverse than most other places. We are here to support you in buying a property in Kitzbühel. Our team is looking forward to you getting in touch and accompanying you on your property purchase journey in Kitzbühel.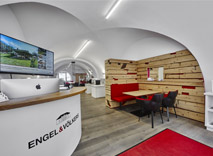 Engel & Völkers Kitzbühel
Vorderstadt 11
6370 Kitzbühel
Österreich
Kitzbühel and the surrounding area – your key to a fulfilled life
Just a few minutes' drive from the centre of Kitzbühel, you will also find excellent properties in Aurach bei Kitzbühel, Jochberg or Reith bei Kitzbühel with Engel & Völkers Kitzbühel.
These places have maintained many aspects of their village origins and their charm. Many are wonderfully located with a view of the impressive Wilder Kaiser chain of mountains and have beautiful hiking areas right on their doorsteps. If you are searching for peace and quiet in your living environment, you will be right at home here. With their countless kilometres of ski runs, both the Kitzbühel ski region and the Wilder Kaiser-Brixental ski region are within close reach. In summer, the Gieringer Weiher swimming lake is perfect for a swim, or guests can take a dip in the Schwarzsee, which is the warmest moor lake in Tyrol at 25 degrees Celcius. This isn't just an ordinary swimming lake; its swamp content is said to have a strong healing effect. Right next to the Schwarzsee, a golf course invites you over for a relaxing round. You may also choose to play at the Eichenheim golf club, which is located close to Aurach bei Kitzbühel. Aurach is characterised by many magnificently decorated farmhouses, which are hundreds of years old.
Gamsstadt is a popular residential and holiday town due to its infrastructure. A wide range of ski runs for professionals and amateurs, plenty of cable cars, lifts and ski schools (also for children) ensure enjoyable winter sports experiences. In addition, the area has exceptional snow reliability meaning that it's possible to ski here for an average of 155 days a year. If you're a fan of nightlife, this glamourous ski resort offers plenty of opportunities for après-ski in several huts until the early hours of the morning.
The summer also brings with it a wide range of opportunities in and around Kitzbühel. Breathe in the pure mountain air amidst stunning Alpine scenery whilst hiking, mountain biking or playing a round of golf. You may also choose to head to the Aquarena swimming complex, which is a huge spa and leisure facility with sauna areas and spa treatments giving you the perfect opportunity to take a break.
What could be better than having your own property in Kitzbühel, one of the most attractive locations in Tyrol?
With Engel & Völkers, you will find your property in Tyrol. Your real estate agents in Kitzbühel are ready to provide you with suitable offers. We can also offer you properties in Kirchberg in Tirol and St. Johann in Tirol.
More exciting topics from the Alpine region of Tyrol & Salzburger Land
Contact us now
Engel & Völkers
Licence Partner Alpine Region Tyrol & Salzburger Land
Vorderstadt 11

Österreich