Welcome to the world of Engel & Völkers
"Wherever you want to move – we are already there." We are passionate about fulfilling even the most demanding property requests. Our experienced real estate agents are on hand in 34 countries on five continents. So no matter where you are, you can rely on us to take care of your property needs on an individual basis with the utmost professionalism. You are welcome to take us up on that!

The story behind the brand
The company foundations were laid when Dirk C. Engel established Engel & Cie in December 1977. As the exclusive representative of an U.S. brokerage firm, Dirk Engel sold real estate to German investors from downtown Hamburg. A few years later, Dirk C. Engel and Christian Völkers decided to open a brokerage office in the Hamburg Elbe suburbs. The joint office was a villa on the Elbchaussee, whose façade is now an integral element of the brand logo. Christian Völkers took over the company after the death of Dirk C. Engel in 1986, and in 1987 he renamed the company Engel & Völkers GmbH. Since October 2014, Christian Völkers has shared the chairmanship with Sven Odia, who works at Engel & Völkers for more than 20 years. Find out in detail what has happened at Engel & Völkers in the past 40 years. It remains interesting - promise!
© Janine Weitenauer - Creative Minds

Engel & Völkers is one of the world's leading service companies specialised in the brokerage of premium residential property, commercial real estate, yachts and aircraft. Based in over 800 locations in total, Engel & Völkers offers both private and institutional clients a professionally tailored range of services. Consultancy, sales and leasing form the core competences of the staff of more than 12,000 people. The Company is currently operating in over 30 countries on five continents. Intensive training schemes in its in-house real estate Academy and the high level of quality assurance governing its systematically structured service provision are key factors that account for the Company's success.
A day in the life of Engel & Völkers
We'd like to show you some impressive information from the company's history. From the number of visits to the number of new properties and new openings of Engel & Völkers residential property shops – a lot can happen in a day. Take a look at the following infographic and find out more about our world: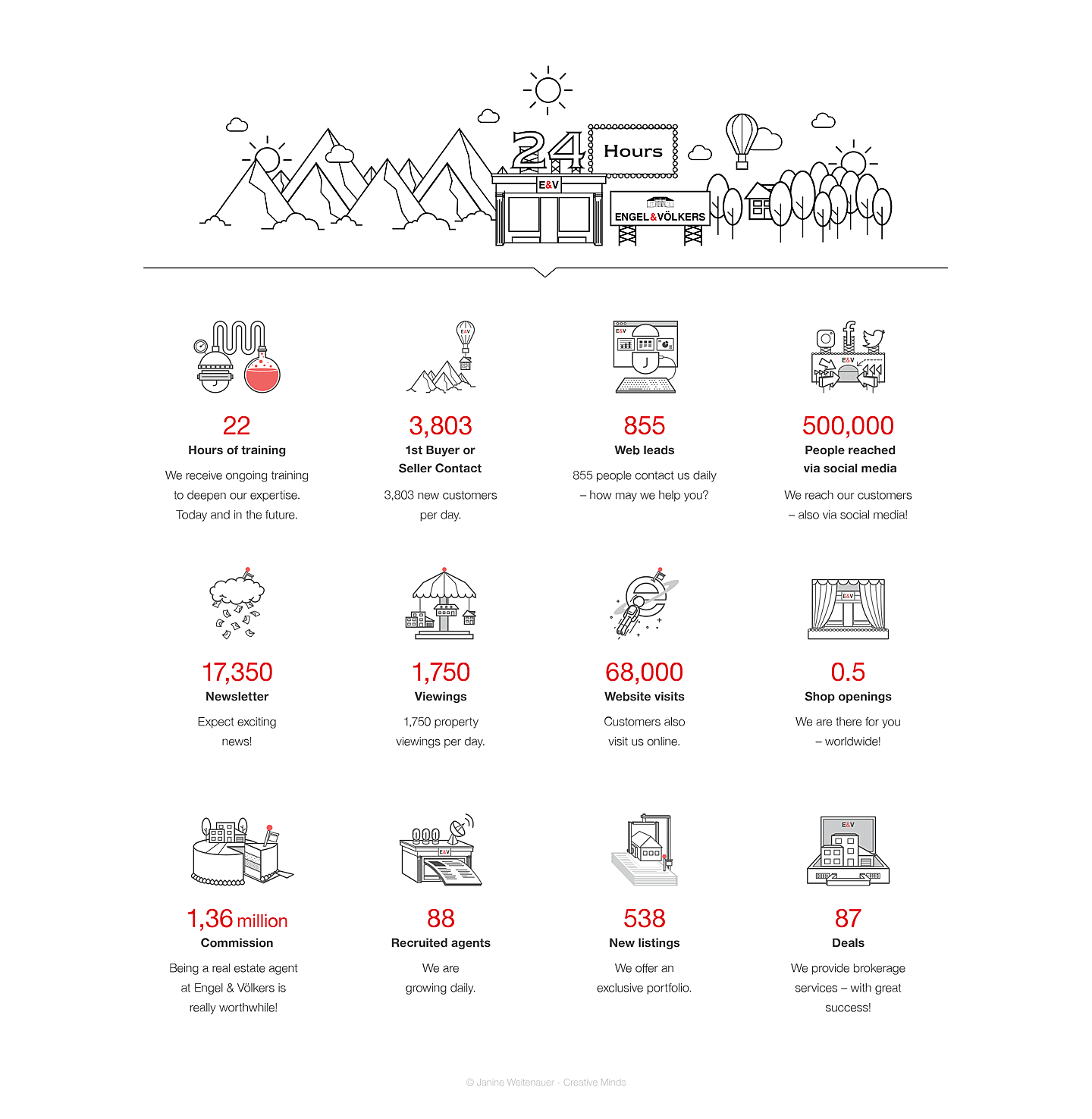 Our Locations
Find a location near you