Our new build projects
RESIDENZA "LE TRE PALME"
The residence is situated in a particularly quiet and sunny position, facing south with a beautiful view of Lake Maggiore. In 1 minute walk you reach the bus stop which connects Minusio and Locarno every 15 minutes and the beautiful lake promenade with its restaurants is only 500 m away. The new SBB railway station of Minusio, which will be built in 2019, will also be only 500 m away. With the car it is 2 minutes to the centre of Minusio, 5 minutes to Locarno, 10 minutes to Ascona, 30 minutes to Lugano and 90 minutes to the airport of Milano Malpensa. The residence "Le tre Palme" is of high standard with very large terraces. The project allows customers to freely choose their individual interior and design wishes. Heating with geothermal heat pump and solar system for hot water and cooling system in summer by heat exchanger results in very low heating costs.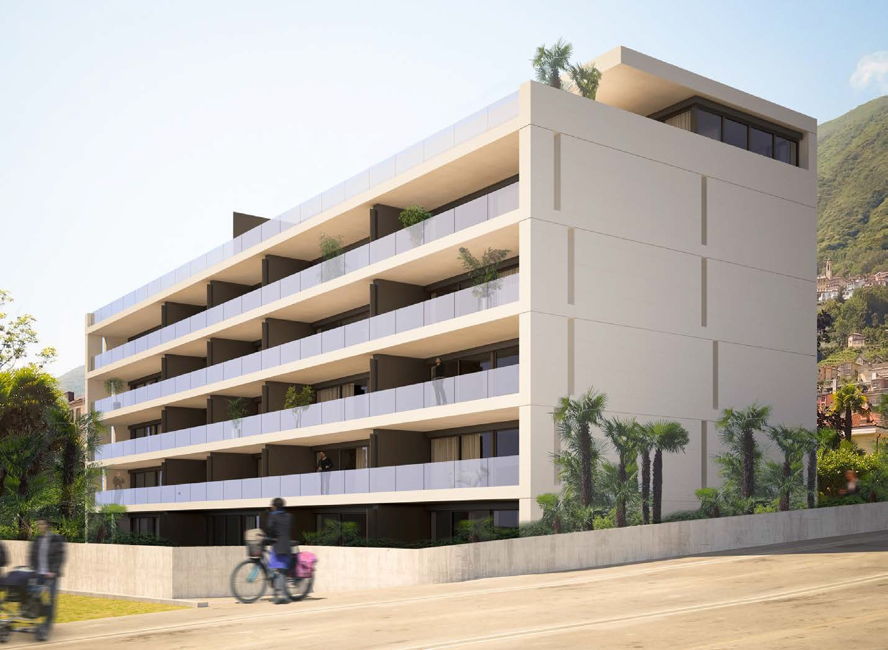 The Mimosa residence is in a prime location in sunny Ticino, between the snow-capped Alps to the north and Italy to the south. Five dream apartments have been developed in Porto Ronco, which are spread across two buildings, and are finished with high-quality materials and in an elegant design. Two apartments are still available in both buildings. Apartments no. 1 and no. 2 in building 1 are both spread over two floors and have large sun terraces where you can relax and indulge yourself. The bedrooms and a second bathroom are located on the upper floor. Out of all the apartments, no. 2 has a low-maintenance garden with a stone table, where a pergola could also be constructed. Apartment no. 3 is located on one level on the ground floor of building 2 and is characterised by its spacious layout and its large terrace. Apartment no. 5 in building 2 is spread over 3 floors and features a magnificent roof terrace. This project is unique, and each apartment has its own special charm. The beautifully landscaped garden is adorned with subtropical plants. You can enjoy stunning views of the lake, along with the Brissago Islands and the surrounding mountains. The whole offer is topped off with garage parking spaces and small balconies. What's more, owners have their own private beach on Lake Maggiore, with direct access to the lake and a covered lounge. The two sides of the street are connected by an underground tunnel, so you can get to the beach quickly and easily. A dream property combining all the mod cons.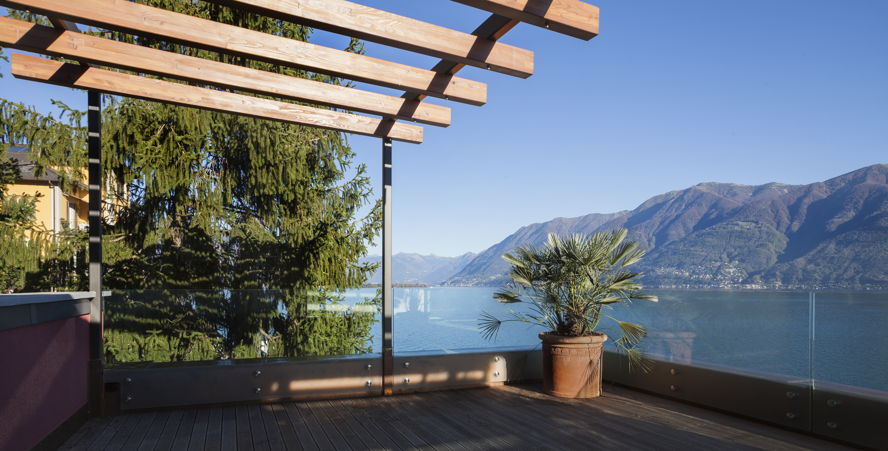 BRISSAGO BEACH RESIDENCES
A long-standing popular destination of the European nobility – as is evident from the Brissago Islands which were transformed into a subtropical paradise by Baroness Antoinette de Saint Léger – the small town of Brissago, with its romantic lakeside promenade and its charming restaurants, is considered to be the "pearl" of the Swiss towns on Lake Maggiore. Situated just a few kilometres from the Italian border on a bend in Lake Maggiore, it offers a unique panorama: to the north, you can look out over the Brissago Islands as far as the snow-capped peaks of the Alps; to the south, the lake opens up, offering a clear view for dozens of miles, deep into Italy. There are plenty of opportunities for water sports enthusiasts to pursue their hobby – be it from the site's own beach or in the Brissago marina, with its sailing school and boat rentals, or even with your own boat. For golfers, two challenging golf courses are available little more than ten minutes away by car in Ascona and Losone. The sports activities on offer are topped off with tennis and equestrian facilities, as well as hiking trails in the wonderful surroundings. The BRISSAGO BEACH residences, located on a 5,000 sqm plot with subtropical vegetation, combine this northern Italian flair with top Swiss quality in design and construction. The incomparable panoramic views to the north, east and south bring the magnificent lakes and mountains directly into your living room. All the freehold apartments face onto the lake and therefore benefit from the unique location of the site. Their facilities leave nothing to be desired: finished with high-quality materials and built to the Minergie standard, they boast a spacious room layout which is topped off by balconies, terraces and private gardens facing Lake Maggiore. At least two parking spaces are available for each apartment in the property's own underground carpark, in addition to bicycle storage. The high-class offer is topped off by individual basements and wine cellars. The large, heated swimming pool located in the subtropical garden with lounging areas for sunbathing is simply ideal for relaxing. A fitness centre with a yoga room, sauna, steam bath and massage room leaves nothing to be desired. In just a few steps, you can go directly from the residence to Lake Maggiore, where you can go swimming, stand-up paddle-boarding or canoeing. Brissago marina has boat spaces available for rent or sale to owners of BRISSAGO BEACH residences. Purchase financing is available from the major Swiss bank UBS (Mr Berger).