Engel & Völkers now counts 8,000 members within its international network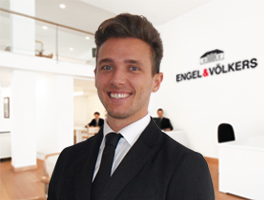 The network of Engel & Völkers is further expanding: In October 2015 there were 7,000 members worldwide, and now there are already 8,000. "We are delighted by the fast growth. It shows that Engel & Völkers has made a name for itself worldwide as an attractive employer," said Maria-Paz Millán, Head of Human Resources at Engel & Völkers.
Real Estate Agent Dominik Maroszek at Engel & Völkers Marbella Golden Mile in Spain is No. 8,000. He revealed why he chose to join Engel & Völkers: "Engel & Völkers is the market leader in Marbella and operational worldwide." In response to the question of what motivates him, Dominik Maroszek had a clear answer: "It is a great feeling to help a potential buyer find their dream home. I love the atmosphere and zest for life in Marbella and I am very motivated by the fact that my job lets me work with such an exclusive and fascinating product as real estate."
If you are interested in, look at the list of new positions at Engel & Völkers Prague.