The framework for fulfilled living by Herzog & de Meuron.
Reduced aesthetics allowing plenty of flexibility.
With FRAME, Herzog & de Meuron create condominiums that are the inspiring framework for an individual lifestyle, for creativity and one's own creations. Floor-to-ceiling glazing on both sides across the entire width of the flat and imposing loggias create a feeling of free space. FRAME faces both the large Aaron Bernstein Square and the quiet courtyard garden and offers varied views. On the first to the sixth floor, 15 loft-like flats are taking shape, with room heights of approx. 3.60 m and flat sizes ranging from around 75 sqm to 170 sqm. On the seventh floor, there are two penthouses with approx. 137 sqm and 229 sqm of living space.
The open-plan layouts of the FRAME flats can be designed and combined according to your own wishes. Walls and ceilings made of exposed concrete form an exciting contrast to the homely floorboards. Floor-to-ceiling sliding doors and wooden windows as well as curated furnishing lines complement the loft character of the flats. The open spaces create a sense of freedom and appear clear and pared down despite their size.
In addition to a concierge service and a health club & spa with pool and saunas, numerous extras make FRAME a relaxing home and turn every day into something special.
In 2023, the residential buildings of AM TACHELES will be ready to move into. Only a few units are currently left to choose from - take advantage of this unique opportunity to secure an architectural monument in Berlin's prime location.

Selection of Condominiums
Herzog & de Meuron
With FRAME, the award-winning Swiss architect duo has created an inspiring interior experience - a place where the open structures of a flat can become individual design space for one's own creative expression. Inside and out, Herzog & de Meuron's design follows simple rules: Linearity, reduction and generosity create living spaces that are just as minimalist as they are exclusive.
Living individuality and creativity
The FRAME residential building is part of the extraordinary AM TACHELES urban quarter in a prestigious central Berlin location. The neighbourhood is just as inspiring, creative and free as the flats in FRAME. In the midst of numerous cultural highlights, top-class galleries and a celebrated restaurant scene, FRAME is taking shape. Like Berlin-Mitte, it stands for aesthetics, enjoyment and inspiration.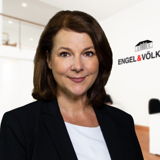 Petra Schramm
Project Consultant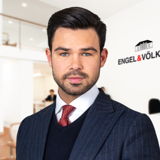 Andreas Raftopoulos
Project Consultant
Thank you for your request. We will contact you shortly.

Your Engel & Völkers Team
Commission clause
This offer is commission-free for the buyer.
Contact us now
Engel & Völkers
Licence Partner Projektvertrieb Berlin
Joachimsthaler Str. 1

Germany