17 condominiums for sale

In Berlin-Konradshöhe, with HAVELBLICK, a new project is taking shape in a direct waterfront location with a total of 17 condominiums, spread over three residential buildings. Confident and modern architecture characterises the buildings and the high-quality flats and penthouses. Generous balconies and terraces are supported by floor-to-ceiling window glazing and provide wonderful views into the greenery, the landscaped communal garden and, of course, the Havel. Tailored to the needs of modern lifestyles, 2, 3 or 4 room flats with up to 185 square metres of living space are created, which, depending on the incidence of sunlight and the play of light, become an unparalleled living experience. The waves and breezes of the Havel enliven all senses as a neighbour and become your new everyday companion - here, home becomes a holiday retreat. Furthermore: Sustainable and cost-effective heating by using a geothermal heat pump.
Selection of condominiums
Special features of the project
New building project with 3 residential buildings
17 condominiums
garden apartments, family apartments and penthouses
2- to 4-room apartments
apartment sizes from approx. 83 to 182 sqm
basement space for flexible living & working concepts
balconies, terraces or private gardens
landscaped community garden
in-house underground car park
geothermal heat pump for sustainable heating
calm residential area in direct waterfront location
Konradshöhe - idyll with city connection
A sought-after location that offers a healthy basis for modern lifestyles - close to nature & slowing you down for the realisation of your work-life balance. Quiet residential streets, cycle paths and walking trails set the tone here. Water sports enthusiasts will find numerous opportunities to indulge their passion on and along the Havel and on over 40 lakes. The 2,000-hectare forest "Tegeler Forst" also offers many recreational activities. Whether jogging, cycling, walking or collecting mushrooms in autumn - nature is always right on your doorstep.
Our project consultants will be happy to advise you on the purchase of a condominium in our new building project.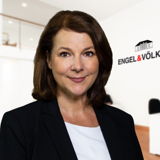 Petra Schramm
Project Consultant
Andreas Raftopoulos
Project Consultant
Thank you for your request. We will contact you shortly.

Your Engel & Völkers Team
Commission clause
This offer is commission-free for the buyer.
Contact us now
Engel & Völkers
Licence Partner Projektvertrieb Berlin
Joachimsthaler Str. 1

Germany
Mon - Fri: 09.00 to 17.30