Brandlhuber+ Muck Petzet create avant-garde pieces of jewellery
Sensual purism
JOUX takes you by surprise: distinctive balconies in gleaming aluminium, fine marble and tinted glass turn the façade of JOUX into an artistic highlight. The minimalist living space with exposed concrete on ceilings and walls has an avant-garde and clear look. Floor-to-ceiling aluminium windows and balconies in all rooms give the extravagant apartments a flowing transition into the outside world.
Expressive Style

The 12 studio apartments ranging from 59 sqm to 72 sqm and six maisonettes between 102 sqm and 108 sqm are spread over six floors. Eye-catching is not only the staircase, which is entirely designed in pink marble, but also the elegant furnishings with mosaics in pastel shades or mirror-smooth marble, Poliform fitted kitchen and parquet flooring also underline the extraordinary lifestyle in Berlin-Mitte.
In 2023, the residential buildings of AM TACHELES will be ready to move into. Only a few units are currently left to choose from - take advantage of this unique opportunity to secure an architectural monument in Berlin's prime location.
Selection of condominiums
Brandlhuber+ Muck Petzet
"JOUX has superlative qualities: It stands well protected in the heart of the quarter and yet is very expressive in its own unique way." Architects Arno Brandlhuber and Muck Petzet regard the building as a very special task. "What we found extraordinarily exciting was the opportunity to select materials more freely and work in a way that interested us. The final result was indeed an expression of joy."
The courage to be unique
Berlin is exciting, Berlin is individual, Berlin is hip. Its image precedes the city, it is one of the most popular metropolises worldwide and captivates everyone with its lifestyle of freedom, creativity and typical interplay of contrasts. The centre of the unconventional lifestyle: Berlin-Mitte. This is where a medley of boutiques, trendy bars, gourmet restaurants and unique places-to-be come together. Art, culture and a sense of style are part of everyday life. Whether design, fashion, lifestyle or big business: this is where the trends are born. Berlin-Mitte inspires anew every day.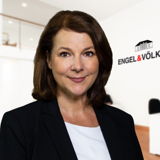 Petra Schramm
Project Consultant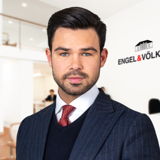 Andreas Raftopoulos
Project Consultant
Thank you for your request. We will contact you shortly.

Your Engel & Völkers Team
Commission clause
This offer is commission-free for the buyer.
Contact us now
Engel & Völkers
Licence Partner Projektvertrieb Berlin
Joachimsthaler Str. 1

Germany