Living with that certain extra
The condominiums in MARLENE UND DIETRICH are part of the new urban quarter "Friedenauer Höhe". It provides the district with modern living space as well as versatile office and commercial space. A new piece of Berlin that is car-free and park-like in design, and is intended to stand for exchange and neighbourly togetherness.
The two facing residential buildings, MARLENE AND DIETRICH, are located on the south-western edge of the site and thus not only enjoy some privacy, but also benefit from the slightly elevated position of the plot. Some flats enjoy unobstructed views over Friedenau and long hours of sunshine in the afternoon.
The range of flats is wide. In addition to 1-bedroom flats measuring approx. 38 sqm, the focus is on 2 to 3-bedroom units. Each flat is accessible without steps, offers a balcony or terrace and convinces with impressive furnishings. But mobility, sustainability and service also play a key role and are served by features such as e-mobility in the underground car park, supply by a combined heat and power plant or a parcel station in the foyer.
Selection of condominiums
With joy & peacefulness
Friedenau is located in the heart of Berlin, yet away from the hustle and bustle. Those who long for a little tranquillity in the midst of the cosmopolitan city will find their perfect home in this charming residential area. With a colourful mix of bourgeois restaurants, wine shops, gourmet shops, bookshops and galleries, it's a good place to be. Children cycling alone in the streets and parks inevitably convey a sense of familiarity and make the harmonious local togetherness omnipresent.
The timeless architecture of the new urban quarter "Friedenauer Höhe" between Innsbrucker Platz and Bundesplatz is a modern complement to the Gründerzeit quarter to the south. The density of listet buildings, high even for Berlin, exudes an idyllic tranquillity - street trees and front gardens are the norm here. Beautiful squares with playground areas, individual shops and the varied offers of "Hauptstraße" enrich the everyday life of the residents.
In addition, the Friedenau district resembles a small-town island from which all the big-city highlights can be reached quickly. Various S-Bahn and U-Bahn lines make it easy to get to Charlottenburg, Tempelhof, Steglitz or Kreuzberg. The popular streets of neighbouring Schöneberg or Wilmersdorf can also be easily covered by bicycle. The direct connection to the A100 motorway is also a good alternative for quickly crossing or leaving the hustle and bustle of Berlin.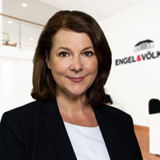 Petra Schramm
Project Consultant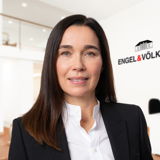 Heike Wajselfisz
Project Consultant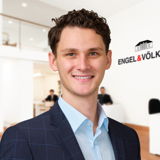 Dennis Stoll
Project Consultant
We will be happy to arrange a personal consultation and/or a site visit.
Request your preferred date now or meet our project consultants on site in the showroom even without prior appointment.
Thank you for your request. We will contact you shortly.

Your Engel & Völkers Team
Commission clause
Free of commission for the buyer.


Contact us now
Engel & Völkers
Licence Partner Projektvertrieb Berlin
Joachimsthaler Str. 1

Germany
Mon - Fri: 09.00 to 17.30
Buy a condominium in Berlin-Friedenau
Are you looking for a new home? The decision to buy a condominium in Berlin has already been made and now all that's missing is the right property in the right district? Come with us to get to know the new building project MARLENE UND DIETRICH in Berlin-Friedenau. A traditional and comparatively green neighbourhood in the popular district of Tempelhof-Schöneberg. There, in the future-oriented urban quarter Friedenauer Höhe, modern new flats for sale are currently being built in a wide variety of sizes for a wide variety of lifestyles. Such as 1- or 2-room appartments with balconies for singles or couples of all ages, which can be found on almost every floor. These residences are also well suited as an investment, as the demand for housing in the capital continues to rise and this gives your property rental security. Spacious family flats with 3 to 4 rooms and balconies or terraces -some even with private gardens - are available for anyone looking for space. And those who like to be high above things will enjoy the light-flooded penthouse flats on the top floor - with a roof terrace, of course.
Real estate. A stable and crisis-proof investment


Even with currently rising yields, the idea of buying a condominium is still a good one, because it is still considered an investment with value prospects. Buying newly built flats makes a lot of sense, because their modern and solid construction makes them particularly suitable as investment properties. There are usually no further costs for refurbishment or renovation work for the time being. Our financial experts at E&V Finance will also be happy to advise you on financing questions relating to your property purchase.