Doña Jimena
Historical Farm in Extremadura

M
Wonderful antique Aldea in a plot of 130 hectares, consists of a row of stone-built houses of over 150 years old, forming an historic tiny hamlet where in old times, families lived and worked the lands around, still with the original oven where they would have baked bread, the warehouse for grain, the pig stay etc.
The Farm has meadows of centuries-old oaks, meadows of pasture, oaks and some cork oak, in addition to 1300 long-lived olive trees in production, with original stone walls. Ideal for lovers of nature, hunting, fishing, birds, history lovers, who want a private, luxury, exclusive and secure estate.
The plot borders it for about 500m, a large river that offers water all year round.
The main constructions are built on a stone village totally restored, with capacity for more than 35 people, conserving all the original stone walls, dating from the end of the eighteenth century. The houses have been personally refurbished and decorated with care by the owners, maintaining original stone floors, beamed ceilings and fireplaces, but respecting tradition and using old carpets, antiquities, art pieces and sculptures that add comfort to them. In total there are five independent houses for guests, the old oven, two swimming pools, a main house built on the stone walls of an old shed, a security guard house, as well as several attached warehouses, agricultural warehouses, orchard and parking.
There is also, a small village of ruined stone with all the original stone available, ready to rehabilitate and with the possibility of building another house in a spectacular forest site, with 3 water springs and a well very close to the old village.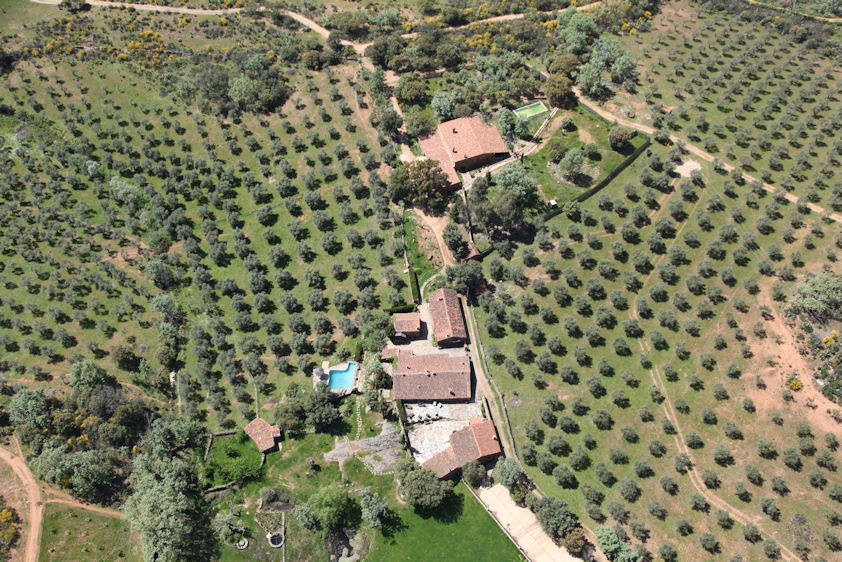 The Farm is located in Sierra de Gata (Cáceres), northwest of Extremadura, an hour and a half from Cáceres and Salamanca, and only 3 hours from Madrid or Lisbon. Good access by newly arranged track and near towns with a lot of charm and tourist attraction, located in an isolated area and surrounded by semi wild nature.
The Sierra de Gata is one of the regions of Extremadura, in the extreme northwest of the province of Cáceres. It limits the north with the province of Salamanca, the west with Portugal (Natural Reserve of the Serra da Malcata) and to the east with the regions of Las Hurdes, the Lands of Granadilla and of Las Vegas of Alagón and to the south, with the comarca Of the Land of Alcántara. It takes its name from the mountains of the Sierra de Gata.
Each village is a jewel of rural architecture with very different accents, from the high solitude of Trevejo, the urbanity of stone, madrera and squares of San Martín or the flowery streets of Gata , to the most unique and pictures architecture of Robledillo de Gata. Municipalities with category of Historic Artistic Set.