Exclusive New development Promotion in Tetuán District
Modern promotion that aims to change the neighborhood of Cuatro Caminos, with a design of refined lines, with the use of noble materials for the facade, such as granite and teak wood.
With clear interiors, making the most of the useful square meters.
8 units make up the promotion, with 4 different types of housing:
• Two 1 bedroom basses, whose built surface is 73m2 and 92m2 both with an internal patio of 24m2 and 28m2 respectively.
• Two 1-bedroom homes with a constructed area of 55.51m2.
• Two 2-bedroom homes with a constructed area of 78m2.
• Two 1 bedroom penthouses, 84m2 and 96m2 built, and equipped with a large terrace in two heights of 37m2 and 40m2 respectively.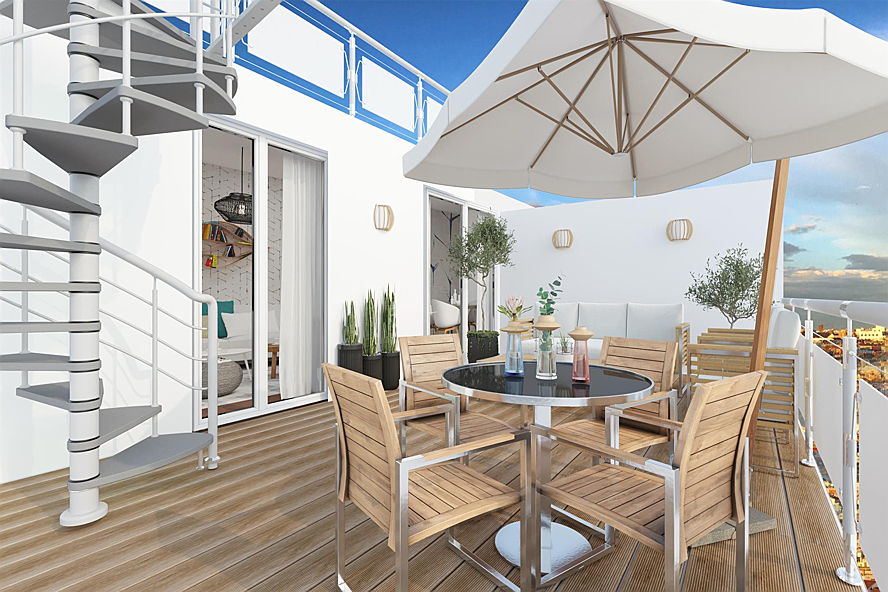 Promotion located in the traditional district of Tetuán, Cuatro Caminos area, area flanked by the Paseo de la Castellana, Raimundo Fdz. Villaverde, Bravo Murillo and Avenida General Perón.
It is a very heterogeneous neighborhood both architecturally and socially, located 10 minutes walk from the AZCA financial center, a little less than Glorieta Cuatro Caminos and 15 minutes from the Santiago Bernabéu Stadium and Nuevos Ministerios.
Area equipped with numerous services: schools, sports centers.
Very well located in terms of public transportation. Subway station Alvarado at 5 min M1, Cuatro Caminos at about 10min. M1, M6 and M2.
Cercanías Renfe Nuevos Ministerios at 15min. C1 and C7. And buses of the EMT lines L5, L149, L3, L64, L66, L124, L128, N23, C2, L45 .