El Rosario - A Real Paradise in Eastern Marbella
This sought-after Costa del Sol neighborhood resides between Los Monteros and Elviria, situated to the east of Marbella. El Rosario is celebrated for its picturesque sandy coastline and pristine dunes, including the renowned Playa de la Viborilla, a favored destination for sunbathing and water sports enthusiasts.
El Rosario boasts several captivating beaches, among them Las Chapas, characterized by its golden sands, and Playa del Alicate, ideal for families. Alongside the shore, beachfront establishments like Bono's Beach and Oyana Beach Club provide delectable seaside dining, enhancing the coastal experience in El Rosario. The region is also distinguished by its diverse array of dining choices, ranging from traditional Spanish tapas to international cuisine.
A mere five-minute drive from Marbella's city center, this secure gated community presents a blend of expansiveness, scenic vistas, and serenity. The locale is enveloped by verdant landscapes and breathtaking panoramas, rendering it a haven for nature enthusiasts. The tranquil ambiance of El Rosario stands as one of its foremost attractions, providing an idyllic sanctuary to retreat from the hustle and bustle of urban life.

El Rosario serves as an ideal haven for sports enthusiasts, offering exceptional facilities such as the Casco tennis club, renowned for its ten clay courts. Furthermore, the area is flanked by acclaimed golf resorts like Santa Clara and the Marbella Golf and Country Club. This region is divided by the coastal road into two distinct sections: the hillside area, adorned with luxurious villas and townhouses providing captivating sea vistas, and the beachside area, where remarkable villas and apartment complexes are just a short stroll away from the seashore. Additionally, there are upscale frontline beach properties available for purchase, affording breathtaking views of the serene sandy coastline.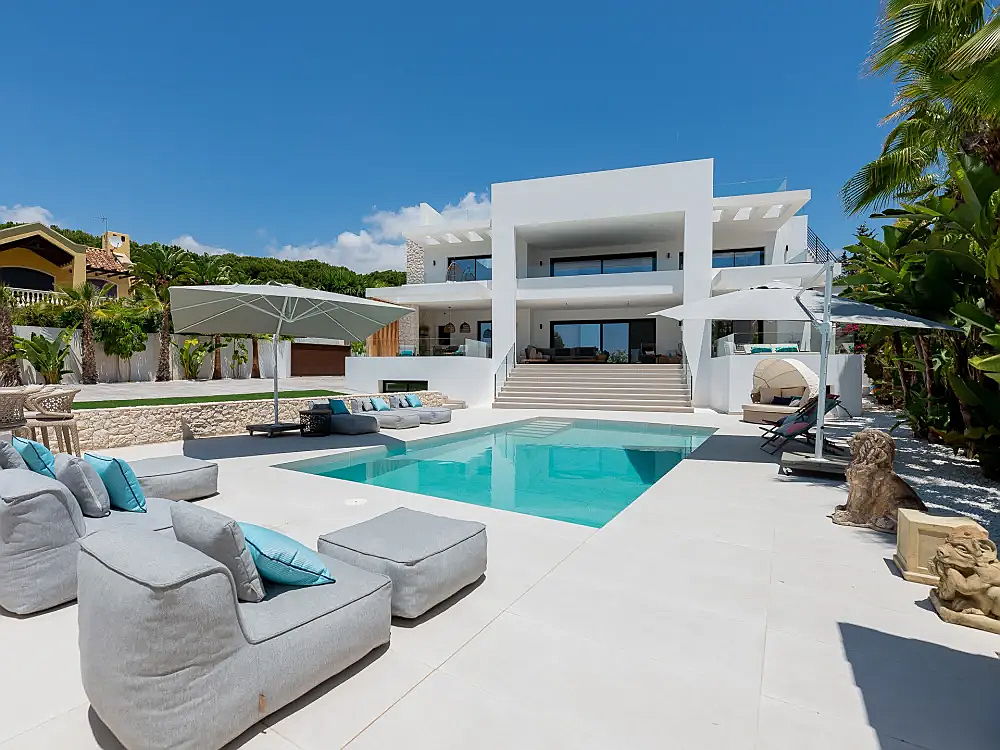 El Rosario, an adjacent neighborhood to Los Monteros, happens to count the esteemed Hollywood celebrity Antonio Banderas among its residents. This location is an ideal choice for families, given its close proximity, just five kilometers from Marbella's city center. Moreover, the region is home to prestigious educational institutions like the English International College and the bilingual private Colegio Las Chapas, both conveniently situated just minutes away. Additionally, a myriad of amenities, including supermarkets, boutiques, hair salons, restaurants, bars, and beach clubs, can be easily reached on foot, rendering it a convenient and comfortable place to call home.

Contact us now
Engel & Völkers
Licence Partner Marbella
Blvd. Príncipe Alfonso de Hohenlohe CN 340 KM 178,2 - CC La Póveda, Local 5

Spain