La Fuente
The project Marbella was waiting for!
La Fuente - A gated community of 15 luxury villas with 24-hour security guards and concierge services, situated at the beginning of the Golden Mile, just minutes' walk to the beach, to the beautiful Old Town of Marbella, to the legendary Marbella Club Hotel, and to all the amenities.
​
The building licence has been granted and the construction of the villas is expected to be completed by the end of 2022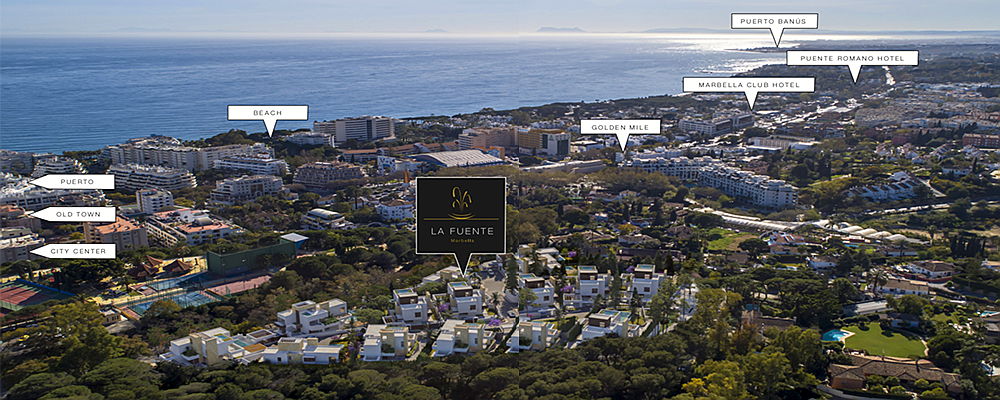 Inspired Mediterranean Design
Designed by the renowned architect Ernesto Palanco with the intention of creating a new concept of a very private community in the most desirable central location, offering luxury and privacy while still being close to all the amenities in Marbella; a concept that did not exist before. The vision is to offer environmentally friendly properties, incorporating the finest qualities of natural materials, the latest technologies and refined, sophisticated
specifications that guarantee a thoughtful luxury living experience. By the creation of the modern, individual villas, Ernesto used some traditional Andalusian elements to apply a beautiful flair to the houses and the community, using wood, stone and water.



Natural light, views, and the creation of a personal, private domain are elements merged by the architect with attractive open-plan living spaces, top-range kitchens, and beautifully fitted bathrooms and dressing areas. The latest technology is paired with fine workmanship and express attention to detail in everything from layout and orientation to décor, finishing and landscaping in villas that are singularly tasteful and form the conduit for your preferred way of life.



The 15 four-bedroom villas of approx. 500 m2 of interior living space are uniquely designed for a comfortable yet luxurious lifestyle. Wood and stone elements throughout the villas, as well as a fountain at the entrance, convey a very special flair and ambiance to these modern homes.
All of the villas have a South-West orientation, are situated on private plots of different sizes and are surrounded by mature trees and greenery. There are three different villa types, maintaining a consistency in design and finishing, but providing a range of options in terms of orientation, size, layout and details that can be further customised to produce unique homes that are a reflection of your taste and preferred lifestyle.
The living area is seamlessly integrated with the large outdoor terraces creating one large, open-plan living space with a top-quality, minimalistic designed kitchen and a stone wall with fireplace. The spacious living spaces open up to large covered terraces with their own lounge, dining, and outdoor cuisine zones overlooking the swimming pool and manicured gardens. All of the different villa types are created for a modern, luxurious yet functional living experience with a well thought-out space distribution. The bedroom suites are designed to offer a personal domain of comfort and peace, complete with stunning bathrooms, dressing rooms and terraces.
The villas can also be customised further to offer you exactly what you wish for – be it a private gym, spa, cinema room or entertainment area. All of the villas are equipped with a private lift connecting each level of the property and feature a rooftop solarium with lovely views overlooking the community towards the sea. Each villa has a private infinity pool and both, the gardens and swimming pools are centrally maintained by the community.
Villas Tomillo
Villas Romero
Villas Lavanda
The true meaning of Luxury
Luxury is expressed in many ways: Quality, amenities, noble materials, beautiful style and comfort, refinement, space, service, and a select location. La Fuente offers all of this and more, for this is a modern Mediterranean villa community that brings the best of a contemporary style, technology, and luxuries accompanied by a setting that adds up to a superlative quality of life.
La Fuente is an oasis of privacy and tranquillity surrounded by natural greenery. Its landscaped gardens border a protected nature park and it's within a stroll from the beach, amenities, fine dining, and refinement of the Golden Mile. The lively centre of Marbella, and in particular its charming historic Old Town, is similarly within walking distance. 
This freedom of getting around without a car represents a very modern concept of luxury, for it adds to the quality of life, peace of mind, and the ability to enjoy a slower pace while having all the amenities and services at your fingertips. A modern property of this quality is rare in such a location, and as La Fuente is the first project of its kind here for many years, it deserves a vision of design and execution worthy of its uniqueness.

Thank you are all set! One of our agents will contact you shortly regarding your request.
Contact us now
Engel & Völkers
Licence Partner Marbella
Blvd. Príncipe Alfonso de Hohenlohe CN 340 KM 178,2 - CC La Póveda, Local 5

Spain