Plaza Barcelos Lifestyle And Real Estate Options
Praza Barcelos / Plaza Barcelos in Pontevedra commercial centre is a vast square close to the Lérez River and features a public park and a variety of shops and amenities in the vicinity. Many of these shops are boutiques with popular brands, such as Mango, Bershka and Springfield.
A large and modern medical center, as well as a public school is also located in this area. These—and the large Parque de Barcelos with a children's playground—make Praza Barcelos a beautiful and convenient place for families to live in the surrounding residential apartment blocks. It presents a rich, green atmosphere due to the many trees and landscaped gardens in the area. It also showcases a unique, old-fashioned ambiance because of the plaza's cobblestone pavement and the buildings' modern gothic architecture.
Plaza Barcelos Long Term Rental Property in the area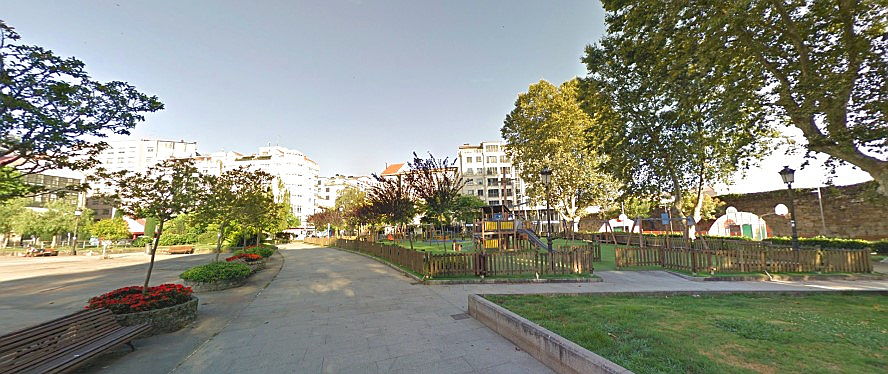 Schools: Colexio Público Praza de Barcelos

Banks: ABANCA, BBVA, CaixaBank

Grocery Stores: Hiper Froiz Hypermarket, Tienda 24 Horas, Supermercado Gadis

Restaurants and Bars: Kaliz Restaurante, Mimo Café, Nirvanna Café, Bar Juno, Nuevo Lemans Restaurante, Restaurante Santa Clara, Bocatería Rizos, Atlántico Juber, La Pepita Burger Bar - Pontevedra, La Fuga de Blas, Cafetería Magisterio, Café Mariben, Novo Xeixo cafe, Skorpio, Hipopotamus GrupoNovasTabernas, Café Bar O Cañón de Pau
Services and Businesses: Centro de Día de Atención a Maiores da Cruz Vermella day care center, Construber Home builder, Goleada Sporting goods store, Massimo Dutti Clothing store, BIMBA Y LOLA clothing, Pull&Bear Fashion accessories, Zara, H&M, Pxa Body Art Tattoo shop, Desprecio Tattoo Piercing, Electrónica Martínez, CARLIN, Arume Peluquería Hairdresser, Decimas Sporting goods store, SEPHORA Beauty supply store, Chema Sport Sporting goods store, Stradivarius, Oysho, Bershka, Uterque, BIMBA Y LOLA, Party Fiesta Party store, Women'secret Lingerie store, Farmacia Martín Mariño - Benito Corbal 50 Pharmacy, Sfera, Diario De Pontevedra Newspaper publisher, YDEAS Print shop, Centro Veterinario Pontevedra Vet - Animal hospital, Farmacia García-Bodaño, Prevengal Safety Uniform store, SPAXION Spa, JC Barber Shop Pontevedra Centro Médico Climenova (Medical Center)
Nearby Attractions: CGTD sports Stadium, Salgueiriños Club de Fútbol Soccer field, Convento de San Francisco de Pontevedra Monastery, Parroquia de San Bartolomé Church, Museo Provincial de Museum, Plaza de la Leña Tourist attraction, Lérez River, Bingo de Pontevedra Bingo hall

Plaza Barcelos Apartments and Homes for sale in the area
Contact us now
Engel & Völkers
Licence Partner Pontevedra and Sanxenxo
C/ Loureiro Crespo nº 3

E-mail: Pontevedra-Sanxenxo@engelvoelkers.com
Opening hours:
Monday to Friday: 10h - 14h y 16h - 20h
Saturday Closed