Did you know these 6 modern decorating ideas for an old house? Read our tips!

Building an old house or apartment is more than just a case of purchasing a property: along with its bricks and mortar, you're acquiring years of history and a charming abundance of character. Yet decorating a vintage property presents a unique challenge. Fill the space with too many period antiques and you run the risk of over-cluttering and turning your home into a museum. However, add too many modern fixtures and you could erase the very quirks that make it distinctive.

Here are our top home design ideas to help you walk the line between the old and the new.

1. Showcase heritage features
You can't mimic the one-of-a-kind charm of an older property. Crown moulding, high ceilings, and stained glass windows are just a few of the typical features you might find in your period property, and these are the focal points you should try to leave intact. The idea is to then balance the rest of the room against these features: for kaleidoscopic stained glass, this could mean keeping the rest of the room fairly sparse with neutral white walls to let their colours glow.

2. Expose the bones
Making the most out of a period property is all about preservation and respecting originality. Therefore, it's time to pull up the musty carpeting to reveal the original wood flooring underneath, then have the old boards repaired and burnished to shine.

Another option is to go down a more industrial route and expose some original brickwork in certain rooms. Do this in a small area to create a striking brick accent wall that references the property's rustic origins, without overpowering the rest of your décor.

3. Choose complementary colours
Your chosen colour palette for your interiors needs to work with your property's unique charm, highlighting rather than obscuring its individual details. Cloudy shades of green and blue work well in an old house, while smoky grey is also a popular option, beloved by the Victorians. Don't be afraid to dress up your home in moodier, darker shades to add drama, particularly if you're working with lofty ceilings and large windows.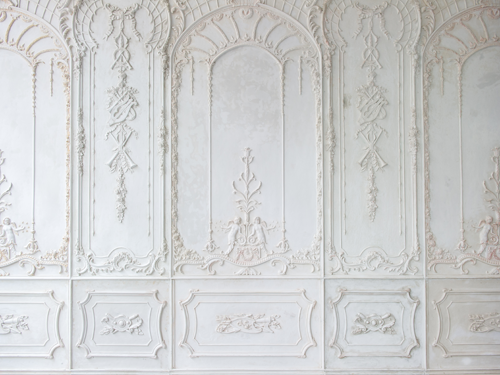 4. Contrast and highlight with paint
A new coat of paint brings an old house into the modern era, while hiding any age-related features. One painting technique to try out is contrasting colours around your home's cornicing and trim work. Paint a vibrant shade over the plasterwork cornicing to set off this popular period feature. If you choose to paint your trim a contrasting colour, select a neutral tone like slate grey to avoid a jarring effect. Keep it consistent throughout the property to create a sophisticated colour scheme that leads the eye from room to room.

5. Invest in period pieces
A good way to modernise the home while still showcasing its character is to pepper your décor with references to its original period. Estate sales and auction houses are great places to find statement pieces from the era, whether that includes an Edwardian writing desk or an Art Nouveau wardrobe. While overdoing antique style can make a room feel stuffy, a few originals dotted here and there provide a clever nod to the past.

6. Mix the old with the new
Blend historic style with contemporary convenience in an old house and juxtapose your carefully selected antiques with modern furnishings. Sleek, minimalist home décor ideas work well in a room with ornate plasterwork. Look for plush neutral-toned rugs, or glass fixtures with clean lines that provide a pleasing contrast to the intricate architecture.

The best home design ideas for older houses strike a balance between vintage style and modernity. Don't be afraid to get creative and seek out a few statement pieces to match the unique nature of your old home.

discover the historical homes on Lake Iseo