Sulzano
On the eastern bank of the majestic Lake Iseo, in the province of Brescia in Lombardy, sits the charming town of Sulzano. Just across from the magnificent island Monte Isola, this historical town is only 28km from the city of Brescia, and is serviced by timely trains and nearby motorways. The city of Milan and its two international airports is an hour and 20 minutes away, while regular ferries connect Sulzano to other towns around the Lake. The region enjoys convenient access to several bus routes and train connections.

Sulzano offers peace and relaxation while still enjoying easy access to nearby conveniences. The town has a large supermarket (Crai), as well as several small grocers and markets that provide basic albeit delicious necessities. A pharmacy, bank, salon, butcher, and post office insure most day to day errands can be done easily, while a public school and daycare make the town family friendly. Several shops sell fresh fish caught right from Lake Iseo, providing excellent produce for restaurants and households alike.
Sulzano has a strong sailing culture making its marina popular with nautical aficionados. Ferries and boats regularly and effortlessly travel to the northern town of Lovere, as well as Iseo, Marone, and Peschiera Maraglio which is on the breathtaking Monte Isola. The train station services connects with nearby towns and allows for trips to cities like Brescia. Bus stations, and taxis are also available. Finally the town boasts a number of gorgeous churches in its vicinity, including the impressive Chiesa Parrocchiale di S.GiorgioMartire, which was built in 1726 and contains masterful works of art in the baroque style.
One of the most noticeable features of Sulzano are its iconic red terracotta tiled roofs in the classical Italian style. Traditional buildings in eye-catching soft reds and yellows are decorated and complemented with lush greenery. This medieval town is full of cobblestone paths and twisting alleys designed for pedestrians. The absence of high buildings allow for uninterrupted views of Lake Iseo, Monte Isola, and the idyllic hills of the Punta dell'Orto national forest which surrounds Sulzano to its south.
Cycling or traversing the town on a daily basis is a serene experience. Spectacular family restaurants like Trattoria Cacciatore and Trattoria Alpino serve hearty home-cooking, while Pasticceria – Confetteria L'Arte del Dolce (the art of sweets) is a local favourite and offers tantalizing pastries and even creates desserts for those with allergies. Parks like the Spiaggia Carini-Sulzano are dog friendly, while any of the local bars or cafés will provide a gorgeous view of the sun setting over the pristine waters of Lake Iseo.

Arguably one of the most iconic things about Sulzano is its view of Lake Iseo and its proximity to Monte Isola. From Sulzano's port Monte Isola is only 600 meters away and is dotted with alluring towns, the nearest of which is Peschiera Maraglio. This village contains several shops, excellent restaurants, cafes, and bars that are popular with locals, as well as the stunning Parrocchia di San Michele Arcangelo – an old Catholic church consecrated in 1648 with majestic interiors of beautiful architecture, pillars and walls with impressive carvings, and ornamentation.
Atop the island's tallest point sits the breathtaking Santuario della Madonna della Ceriola chapel, a 3km trek from Maraglio. With such wondrous sights as Monte Isola and Lake Iseo, the tranquil cobbled streets of the old town itself, and the abundance of connections to other towns and cities, Sulzano offers a combination of comfort, convenience, and beauty to rival any lake side town.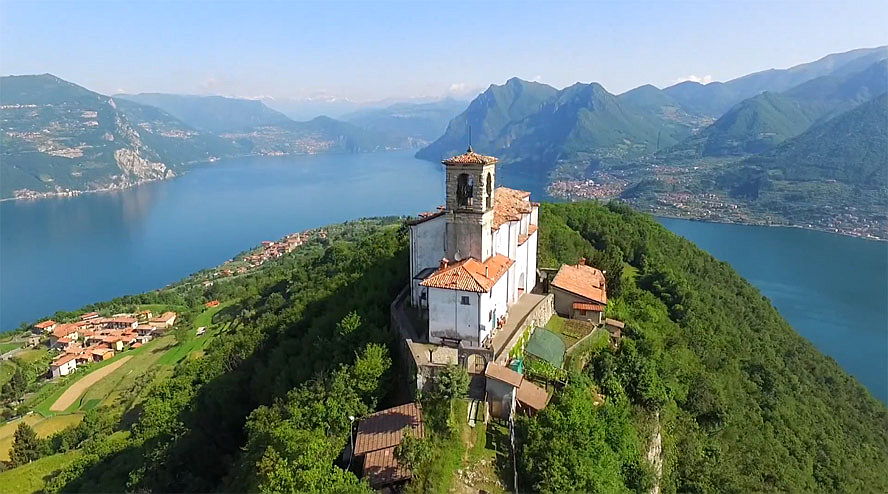 Contact us now
Engel & Völkers
Licence Partner Lake Iseo - Franciacorta - Ponte di Legno
Via Roma 61

Email: lagodiseo@engelvoelkers.com
Monday-Friday:
9.00-13.00
15.00-19.00