Engel & Völkers Group: 36.5 percent revenue increase in first half-year of 2015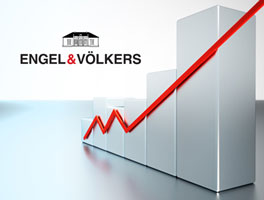 In the first half-year of 2015, the Engel & Völkers Group generated overall commission revenues of 181.7 million euros. This marks a 36.5 percent increase in turnover compared to the same period in the previous year (first half-year of 2014: 133.2 million euros). It also reflects the Group's continuation on its course of growth. "Our strong expansion strategy within and outside of Europe is having a positive impact," said Sven Odia, Co-CEO of Engel & Völkers AG. This substantial growth can be attributed to the healthy state of the real estate economy and the strong presence of the brand – particularly in Germany, Spain, Italy, North America and Switzerland.The large-scale expansion of the network with the addition of new residential property shops has resulted in a 116 percent rise in revenues in the USA. On the Spanish mainland, residential property shops recorded a 55 percent rise in revenues.

The Market Center concept, established in 2013, has contributed to this clear growth trend. The concept envisages central office spaces in the world's metropolitan and holiday home hotspots, from which up to 300 sales advisors broker high-end residential and commercial real estate throughout the entire metropolitan area or region.Engel & Völkers forecasts continued strong growth in the second half of the year too. It will continue to open new shops, offices and market centers in key strategic growth markets. Further expansion will also see an increase in the need for qualified staff. "By the end of 2015, we aim to recruit 2,000 new sales advisors and increase our global workforce to over 7,000," Mr. Odia added.