Weekend on the track with the Monza Rally Show 2016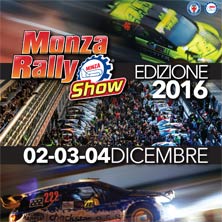 The Autodromo Nazionale is the new protagonist: the long-awaited renewal of the Italian Grand Prix will remain at Monza until 2019 and today we begin the testing at the Monza Rally Show 2016! That's the way the automobile festival combines motorsport at the highest level with the most fun. The winning formula is the perfect mix between tradition and innovation, to ensure a growing success. The presences of the last edition were more than 55,000, with world profile drivers and cars of the highest level.
This year we expect characters, athletes and VIPs to see and meet on the track to the paddock for the "Grid Exhibition", the Rally Village for autographs and the guardrail to judge the "crosses". Ready, steady, go! See you on the track2 to 4 December 2016!