This panoramic Sauna is in La Thuile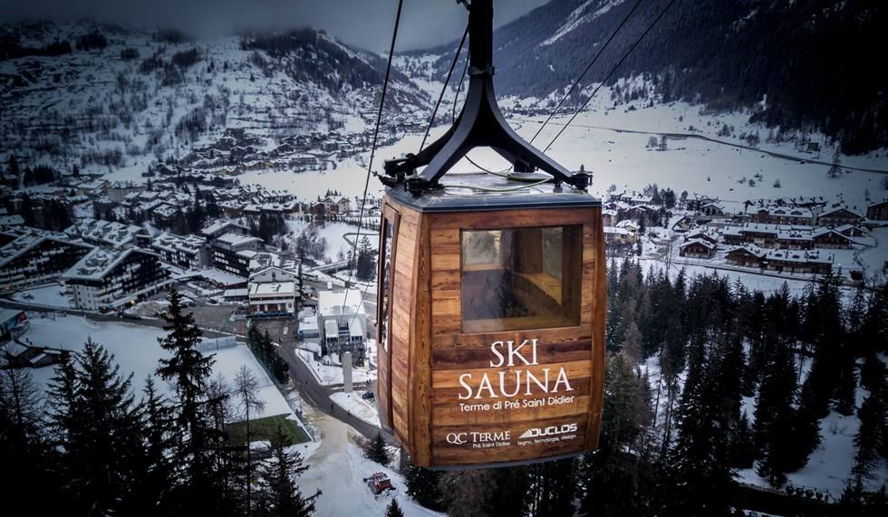 Who would have thought that sauna could become a suspended place?
Here is the new experience to live at the altitude, in La Thuile. The Sauna in the cable car, created by QC Terme and Duclos Legnami in collaboration with the Funivie of Piccolo San Bernardo S.p.A. ..
La Thuile is only 9 km from the famous Baths of Pré Saint Didier and QC Terme. the The Alps Ski Sauna is launched for the first time. An egg of Funivie of Piccolo San Bernardo is completely covered in wood and equipped with all points to take the form of a sauna.
The aim of this idea is to provide for skiers and not only a possibility to enjoy the unique experience of 'environment of a sauna and at the dsame time admire the wonderful landscape surrounding the ski resort in a cable car. The surroudings open the views of the ski resort of La Thuile, the range of peacks of Mount Blanc.
This panoramic sauna can accommodate up to 12 people and ia a real cuddle at high altitude, a moment of pure relaxation wrapped in delicate fragrances and warm atmosphere. Ski sauna is made as all typical saunas of QC Terme.
This special cabin is not heated but deliciously scented, and is open to the public from the day February 15, 2017!