Dinner in the Sky is back in Luxembourg to bring us to the seventh heaven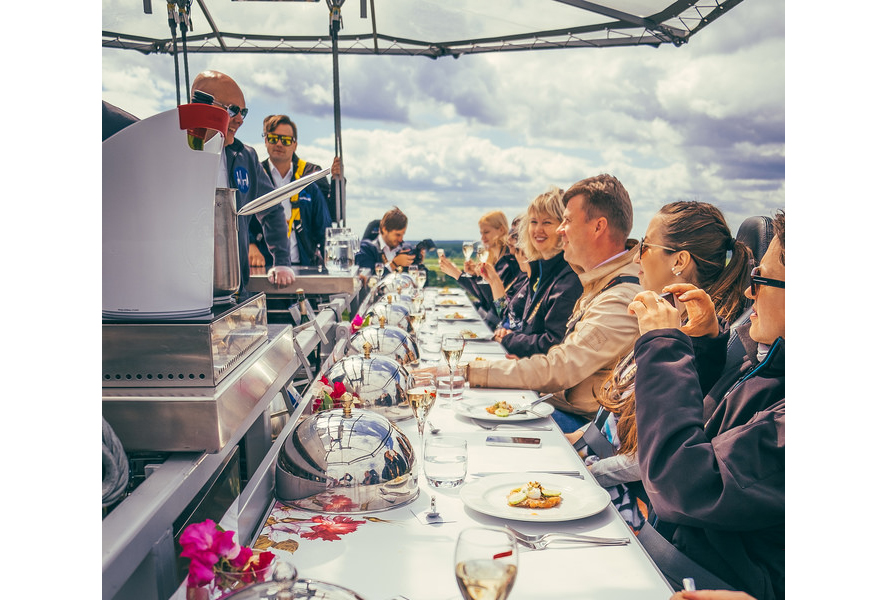 What about an amazing dinner? After a splendid first season, Dinner in the Sky is making a great comeback in the Grand-Duchy of Luxembourg. Engel & Völkers invites you to discover this concept at the edge of stars.
The concept
Dinner in the Sky is a futuristic concept born in Brussels in Spring 2006. The concepts starts from a childhood dream coming true: a table suspended in the sky. This is how the communication agency
called Hakuna Matata developped a restaurant between earth and sky, offering a stunning view on the Europe capial. Since then, Dinner in the Sky travelled the world to take hold of the sky of 45 countries. Not only in Europe but also in Australia, in Japan, in India, in Dubaï, in the United-Stated, in Brazil and even in Mexico. Throughout 5000 dinners, the biggest starred-Chefs reached the top by managing a unique experience on the most beautiful heights of the world.
Dinner in the Sky in Luxembourg
This year again, Dinner in the Sky will settle in the Luxembourg sky to illustrate the great Luxembourg-Chefs talents. Among them, we will will have Renato Favaro from "Ristorante Favaro*", René Mathieu from "La Distillerie*", Cyril Molard from "Ma Langue Sourit*", Illario Mosconi from "Mosconi**", Fabrice Salvador from "La Cristallerie*", Roberto Fani from "Fani Ristorante*", Yann Castano from "Oro E Argento".
From 22 May to 2 June 2018, for a lunch or for a dinner, the Luxembourg sky will leave the place to the culinarian exploits of the greatest Luxembourg who will offer 22 lucky guests a unique experience, floating above the ground.
Engel & Völkers already congratulate the Chefs performance for delight our taste buds all year long. We are proud to welcome such a nice concept in Grand-Duchy, more precisely from the Amphiteater of Kirchberg, rue Léon Hengen 2.


Sky is NOT the limit !