Your real estate agent for buying and selling real estate in Meerbusch
Are you thinking about selling, renting out your imposing villa, your family home or your condominium in the rural Meerbusch or buying a dream property in the neighboring areas of Dusseldorf? With the experts from Engel & Völkers Meerbusch, your real estate project will be a success. Benefit from the comprehensive market knowledge of our experienced real estate agents as well as our international network of professional partners and solvent buyer target groups in and around Meerbusch.
The popular real estate site Meerbusch includes:
Osterath and Büderich

Stockings, Ilverich and Langs-Kierst
Ossum-Bösinghoven, Lank-Latum and Nierst
In addition, we continue to advise you on the purchase and sale of real estate in the areas of Dusseldorf:

Meerbusch offers a large number of convincing arguments for the sale and purchase of real estate
The proximity to nature, an excellent infrastructure, the comfortable connections to the nearby metropolis of Dusseldorf, but also major cities such as Cologne or Essen are of great advantage. An exclusive selection of residential properties such as villas, two-family houses or semi-detached houses make the left bank of the Rhine Meerbusch a popular area for the sale and purchase of real estate. Above all, commuters and families who want to combine working life in urban cities with the tranquility and idyll of rural communities find ideal living conditions in Meerbusch.
Following the fashion city of Dusseldorf, which is also one of the most desirable real estate locations in Germany, you will find your property with the real estate experts of Engel & Völkers Meerbusch. With our service for free and non-binding evaluation of your property, we determine the current market value for you and sell your house, your villa or apartment at the best possible market price.
Let our expert real estate agents in Meerbusch give you professional advice on your project. We answer your questions about the purchase, sale or rental of your house, your villa or apartment and provide you with important information and tips to make your project a safe investment! Contact us by phone at +49 213 265 18 50, email us at meerbusch@engelvoelkers.com or visit us personally in our real estate shop at Dorfstraße 5a in Meerbusch. Our committed real estate agents are available from Monday to Friday from 9.30 am to 6.30 pm and on Saturdays from 10.30 am to 1 pm and are looking forward to getting to know you and your unique real estate wishes.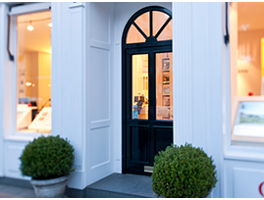 We are happy to advise you. Contact us.
Dorfstraße 5a | 40667 Meerbusch
Phone