Welcome to Engel & Völkers in the city of Cologne!
E&V Property shop Cologne City
Mittelstraße 13
50672 Köln
Telephone:+49 221 25 88 310
"Right in the middle of the action!"
Living in the centre of Cologne has always been particularly appealing. Whether in the Agnesviertel district or the Southside (Südstadt), the Friesenviertel neighbourhood or the Belgian quarter: here, around the cathedral, the pulse of the metropolis canreally be felt. The classic old buildings, excellent shopping opportunities, developed infrastructure, and variety of trendy cafes and bars in combinationwith the many small parks and the inner greenbelt means you can have urbanquality of life at the highest level!
You want to buy, sell, or rent a property in the city of Cologne?
Our Engel & Völkers Team City will advise you with no obligation on all questions relating to the purchase and sale of real estate or long-term rent of an apartment or a house in Cologne's best city centre locations:
- Neustadt-South / -North (Newtown - north/south)
- Altstadt-Süd / -North (Oldtown -north/south)
- Nippes
as well as Neu-Ehrenfeld.
Whether a penthouse by the cathedral, a classic old-style apartment in the Belgian Quarter or a modern apartment building in Rheinauhafen direct by the waterfront - we find the right property for you. If you're thinking about selling your property, you are in the best of hands. Rely on a specialist partner who can give you a real overview of the market. We are happy to offer a free, non-binding and discrete valuation of your property - even if you are not yet thinking of selling your property. We look forward to welcoming you.
Property valuation | Buy house | Buy apartment | Sell house | Estate agent Cologne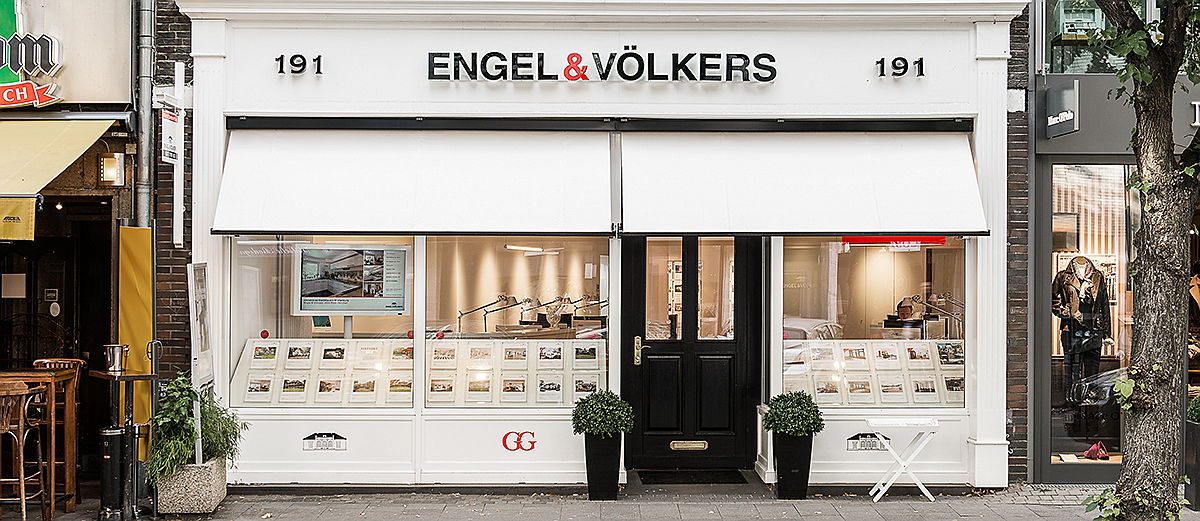 Contact us now
Engel & Völkers
Licence Partner Cologne
Maternusstraße 14b

Germany
Properties inCologne - Talk to us - your Engel & Völkers team, Cologne
Let the unique real estate diversity of Cologne inspire you - whether an elegant villa in Hahnwald, an attractive apartment close to Südpark or a chic penthouse in the south side of Cologne - with Engel & Völkers Cologne you can find your ideal home in Cologne and the surrounding area.
In the Cathedral city of Cologne tradition and culture mix with industry and cosmopolitanism The Rhine metropolis of Cologne is one of the most important centres formedia and services and is a significant business and education location in Germany. In addition, Cologne fascinates with its 2,000-year history, cathedral, beautiful Rhine promenade, and innumerable cultural and leisure activities - The Rhine metropolis of Cologne is perfect for living and working.
Among themost desirable residential areas in Cologne are: Marienburg, Lindenthal, Rodenkirchen, Hahnwald, Junkersdorf, Müngersdorf, Braunfels
Whether youare looking for amazing infrastructure, great transport links, extensive leisure facilities, or proximity to the Rhine: Our excellent property offers inCologne will delight you!
Fantastic apartments in Cologne, luxury Apartments by the cathedral, detached Villas in Lindenthal or stylish houses in Cologne - our residential real estate in Cologne and the surrounding area leave nothing to be desired. Whether a family house in a prime city location near the city's forest, or old villa in Marienburg, near the South Park (Südpark) - with Engel & Völkers Cologne, you can find your perfect home in Cologne.
Buy or sell aproperty in Cologne, or rent: Engel & Völkers Cologne is your competent partner in the Cologne area and can advise you on all matters relating to an investment property in Cologne.
We are happy to provide you with a free valuation of your property in Cologne. We look forward to seeing you in our property shops in Cologne Lindenthal, Cologne Rodenkirchen and Cologne City.