Recovery from the bustling city in an exclusive property in Haidhausen
Click here for the Engel & Völkers property listing for Munich.
Haidhausen: Idyllic village with cult character
The district Haidhausen is today part of the district 5 Au-Haidhausen. Haidhausen is located above the Au on the bank of the Isar. It is one of the most historical areas of Munich and is more than 1200 years old. Started as a district, which was used from breweries to refrigerate their beer in the cellar vault, to a popular and highly regarded residential area.
The centre of Haidhausen is the "Orleansplatz". The previous assembly point was exactly at the junction of Kirchenstraße and Seeriederstraße. Today there is the "Haidhauser Stadtteilmuseum". Celebrations and markets take place regularly around the "Orleansplatz" - such as the original Hamburg fish market.
Due to the central location, the continuously attractive townscape and the plenty small and excellent shops, restaurants, and bars - the district is considered as one of the most desired districts of Munich.
All daily needs can be reached easily and the connection to public transportation is ideal.

Engel & Völkers is your real estate agent for Haidhausen. If you have any questions regarding real estate sale, purchase or rent, feel free to call +49 89 998 996 0 or via e-mail at muenchen@engelvoelkers.com or just visit us at our nearest shop in the Ismaninger Straße 78 in the neighboring district Bogenhausen.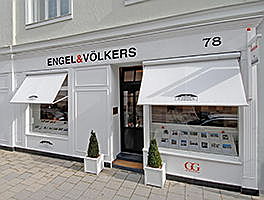 We are happy to advise you. Contact us.
Ismaninger Straße 78 | 81675 Munich
Phone