Abama Resort - New development properties in Tenerife - Canary Islands (Spain)
This 5-star luxury resort embodies the rare splendour of remarkable natural beauty with state-of-the-art master planning to create a masterpiece of easy living and high design.

Tenerife couldn't be better placed on the globe. Blissfully separate from the bustle of daily life and yet an oasis that is easy to get to. With two modern airports, Tenerife welcomes direct flights from most European cities making it easy to bask in sunshine every day of the year.
If you are interested in this property developments, please feel free to contact us by filling out the following form.
Internationally Esteemed and Established with an Infrastructure Investment of €375 Million currently in Place, Abama Resort is the Epitome of Luxury and Location.

"Best International Golf Resort in Spain 2018" - Golf Digest
"Abama Golf & Spa Resort has been named the Best Resort in Spain" - Condé Nast Traveller Spain 2011 Reader's Travel Awards
"The best hotel on Tenerife" - The Daily Telegraph
"Five-star sparkle and glorious sea views" - The Daily Mail
Best Luxury Resort Spa - World Luxury Spa Awards - 2014
Best Spanish Spa - Quality Spa 2011
Restaurant M.B awarded with a second Michelin star in the 2014 edition
Restaurant Kabuki awarded with a Michelin star in the 2013 edition

An Exotic Island Address with International Appeal

Abama Resort is the holiday residence of choice for nearly 200 happy homeowners.
Our growing community rises up the slope of the beautiful Teide volcano, offering incomparable views of the AtlanticOcean, the lush greens of our golf course, and Abama's subtropical landscape.
From exclusive ocean-view villas to meticulously designed turn-key luxury apartments, each one of our residences meets the highest standards of stunning design aesthetics and modern construction.
As well, owners enjoy the peace of mind of the professional hospitality services of My Way to ensure their homes are cared for year-round.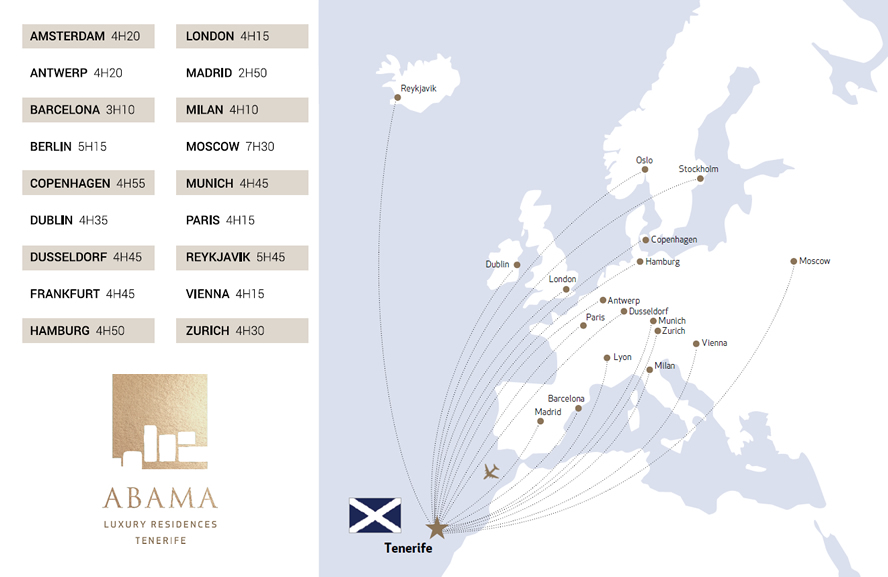 A community of close friends, residents enjoy special privileges within the resort as well as a social calendar of exclusive events, galas and tournaments. And now, the rare opportunity to join the Abama community with a Phase 4 address is attracting interest and investment
from across the globe.

Renowned Par 72, 18-hole championship golf course, designed by Ryder Cup player Dave Thomas, recently voted best in Spain Luxuriously chic spa & amenities of The Ritz-Carlton, Abama
Annabel Croft Tennis Academy
Idyllic Beach Club for year-round enjoyment and exploration F A collection of wellness facilities including swimming pools and a state-of-the-art fitness centre
12 dining venues including the Michelin two-starred M.B restaurant and the Michelin one-starred Abama Kabuki, for a total of three Michelin stars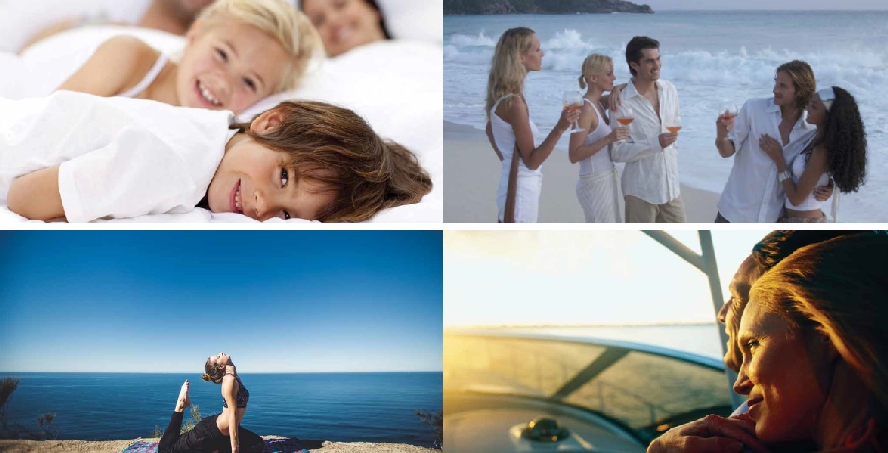 Abama Resort Ushers in an even more Elevated Lifestyle on Sunny Tenerife

In a time when resort residences are stacked to the sky, the Abama Resort Luxury Residences are embraced by the terrain and are in scale to ensure endless views are enjoyed by all.

At the forefront is a limited collection of luxury homes, all exquisitely nestled in the heart of this well-established 5-star resort.
Equally alluring will be the new Plaza Abama that centres on giving residents a social gathering place to listen to the joyous laughter of generations and new memories in the making.
An all-new kids club will come to life adjacent to Las Arcadias.
A convenient new motorway access as well as a new nearby state-of-the-art marina both add to the extraordinary momentum of Abama Resort


Plaza Abama will be the New Heart of Abama Resort
Plaza Abama is where friends and family gather to the joyous laughter of generations and new memories in the making. As the early morning light crosses the Plaza, a workout in the fitness centre is rewarded with freshly roasted coffee and baked croissants.
Afternoon's blue-green sky beckons families to gather around the pool or explore the artisanal market for the perfect pairing of wine and tapas.
Evening's rays of indigo and copper are the curtain that opens to a tropical night sky under which to enjoy a thousand pleasures.


Plaza Abama apartments - The Epicentre of Stylish Living

If Plaza Abama is the new heart of the resort, then Plaza Abama apartments are its soul. Rare and remarkable, these very limited apartments will be uncompromising in their open layouts.
Designed with an air of cozy sophistication, floorplans feature flow-through living, kitchen and dining areas to create the perfect social setting for gathering with friends before venturing downstairs to the Plaza.


Las Arcadias - Endless Views Are The Ultimate Luxury

Sumptuous comfort. Unsurpassed luxury. And pristine uninterrupted views. Without exception, each residence of Las Arcadias will enjoy a premier position over multiple levels of the rising terrain to fully embrace the picturesque fairways of the Dave Thomas Golf Course, the blue ocean and the marvellous La Gomera island in the distance.
Las Arcadias also boasts multiple resort-style pools and convenient proximity to Plaza Abama's fitness centre and social gathering spaces


Villas del tenis - Where Forever Begins

A very limited collection of only 23 magnificent "dream" homes, Villas del Tenis offers the utmost in privacy. Featuring an imaginative interplay between interior and outdoor spaces where private pools and expansive terraces welcome nature's joy.
Carefully placed on the hillside for maximum views that are enhanced with "green roof" architecture.
These homes, with sweeping views of the Dave Thomas Golf Course and near the Annabel Croft Tennis Academy, will appeal to those who demand the best-of-the-best.