Buy luxury real estate in Mallorca - Let yourself be inspired!
1. What makes a property on Mallorca luxurious for you?
Only a few other terms within our daily vocabulary are interpreted in a manner as varied as the term "luxury" in our daily speech - a luxurious life is associated entirely differently depending on the person.
Luxury is interpreted differently by everyone - With Engel & Völkers you can purchase your individual luxury property on Mallorca 
While for one, materialistic goods may characterize a luxurious life, another may view the freedom to travel or selecting one's own environment as the most important of all attainable goods. A high level of privacy and your own property are also easily interpreted as luxuries. As real estate agents here in Mallorca, we, too, experience the most varied interpretations of the term luxury: Exclusive sports cars, expensive yachts or trips on private jets, which have become quite popular specifically due to Corona restrictions on Mallorca, are all felt as tokens of a luxurious lifestyle. But above all, it's the individual luxury properties on Mallorca that reveal what a fulfilling life on the largest Balearic island could look like for you.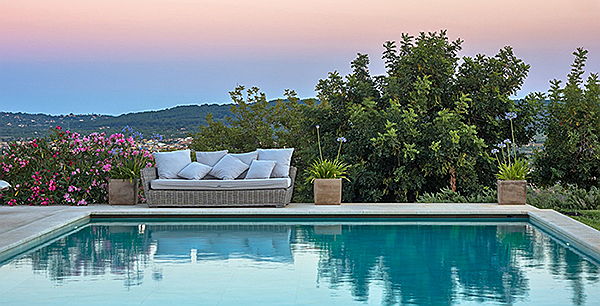 From exclusive designer villas in the best neighborhood to rustic country houses in the interior of the island to modern apartments with sea views - the varied characteristics of luxury properties are almost inexhaustible on Mallorca. The desire to purchase a luxury property on Mallorca can be rooted in different aspects: Are you wishing to withdraw from the climatically unstable and often rainy Central Europe to enjoy the glorious Mallorca sun day after day while spending time with your family? Would you like to escape the somber day-to-day work life and relocate your main activity point to an attractive, well-equipped home office amidst Mallorca's unique nature to mobilize new energies? Or is it the idea that purchasing a property will elevate your quality of life with large open spaces, a swimming pool and an elegant interior design? Another selling point could be the possibility of living within a fully developed infrastructure, including a functioning health system, an excellent international educational offer and first-class transport links. Whatever classifies a property as luxurious for you - a number of fascinatingly diverse locations on Mallorca with multifaceted property offers are waiting for you to fulfill your very own dream of ​Mallorcan luxury property with Engel & Völkers.

Mallorca apartments with sea views
2. How do luxury real estate buyers make their decision?
In the following, we summarize the 5 most common criteria for the purchase of a luxury property according to our real estate agents, depending on personal preferences. This subdivision will also help you purchase your ideal luxury property in Mallorca:

The location: A significant selling point for many property buyers is the location of their future luxury property. From the proximity to the Mediterranean Sea, the view of the Tramuntana Mountains, a golf course within easy reach, the tranquility of the interior of the island or the dynamism and exclusivity of Palma: The selection of relevant real estate offers can be clearly narrowed down based on a desirable location in accordance with a client's lifestyle and preferences


Architectural Style and interior Design: Another factor heavily influenced by personal preferences is the property style: while some buyers prefer modern and avant-garde villas and apartments, others opt for a rustic, original construction and interior design, while a third another buyer group may prefer a simple to minimalist style. The Engel & Völkers Mallorca portfolio features a large number of different luxury properties for sale on Mallorca. Just browse and get inspired!


Quality of the building stock: How carefully was the property conceptualized, how high-quality was the construction? How old is the property and what condition is it in? The better the quality of the building stock as a whole, the more popular a property is usually with buyers of luxury real estate.


The size of living spaces, yard and overall property: Particularly large-scale properties are popular across all locations on Mallorca and contribute a significant aspect in terms of their luxurious classification. A larger space leaves room for the whole family and the opportunity for personal and creative freedom. A swimming pool is usually featured in large properties on Mallorca as well.


Security and privacy: Many luxury properties on Mallorca are surrounded by high enclosures such as hedges, fences or walls. This promotes a level of privacy thanks to the resulting seclusion and lack of outer visibility. Most luxury properties in Mallorca are equipped with a top notch alarm system, which ensures the safety of your home. Since security remains at elevated priority levels on Mallorca, you can easily choose the location of your property without hesitation.

3. Sought-after locations for luxury real estate on Mallorca
Taking these factors into account, our real estate agents estimate that the following locations on Mallorca have proven to be particularly popular with buyers of luxury real estate:
Enjoy Mediterranean city life with the purchase of a luxury property in Palma de Mallorca
As the island capital and the economic and social center of Mallorca, luxury properties in Palma are particularly in demand with international buyers. The real estate market in the urban area is primarily characterized by housing offers: large-scale properties with spacious balconies or roof terraces with panoramic views of the city and the adjoining bay are very much desired. Features such as an elevator or a parking space also contribute to the high demand.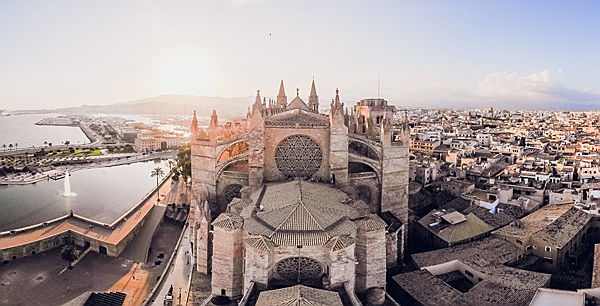 Playing Golf near your own luxury property on Mallorca
As one of the upscale sports, golf represents a supreme discipline: With a total of 23 golf courses across Mallorca, your luxury property may as well be located in the immediate vicinity of the golf clubs so you can benefit from the exclusive neighborhood of the local clubs. As a golf player, the exclusive luxury villas of Son Vida are particularly interesting for you with three golf courses to choose from. Moreover, villas and houses in the southwest of Mallorca, i.e. near Portals, Santa Ponsa and Port Andratx, or around Artá ​​in the northeast and in Puntiró in the south of the island also offer excellent golf options nearby.
Luxury properties with sea views on Mallorca: Be enchanted!
A luxury villa, house or apartment on Mallorca with a direct view of the sea, easily makes it one of the most popular properties on the island. The azure blue, crystal clear water fascinates day by day - especially when the sun sets in its flaming red glory on the horizon and you enjoy a refreshing cocktail on the terrace of your luxury property - this never gets old. If you want to buy a luxury property with sea views in Mallorca, take a look our offers in Portals, Bendinat, Santa Ponsa and Port Andratx as well as the high-quality houses in western Mallorca around Deià and Sóller or in the north around Pollensa and Alcúdia.

Mallorcan luxury properties right by the sea are rare
Due to the high demand and the sometimes difficult building site, luxury properties right by the sea in Mallorca are rarely offered for sale today. Nonetheless, our real estate agents can work their magic so that you have a shot at such a villa, house or apartment in the first sea line - the regions around Cala Blava and Puig den Ros in the south are most promising. In Santa Ponsa, the newly built villas and apartments of the Cap Adriano project also score with their proximity to the sea.
Luxury real estate with large property in the interior of Mallorca
The freedom to design and use a spacious property and your own land according to your own ideas is quite often interpreted as luxury for some people. Be it the arrangement of exotic plants, horse breeding or a high end sports facility: The possibilities that a luxury property with a large plot of land on Mallorca holds are endless. These types of properties have gained even more popularity due to the restrictions imposed by the corona pandemic. Most of these offers are located inland around Santa Maria, Alaro and in the regions around Artà and Santanyí. Let our real estate agents advise you!
Here you will find some luxury properties on Mallorca for sale
4. Luxury real estate is trending with celebrities and the super-rich: Mallorca is turning into a jet set location
Since the opening of the Spanish borders in July 2020, the real estate agents at Engel & Völkers Mallorca have recorded an increased interest in luxury properties in the double-digit million range, especially in the southwest of the island. In July 2020, premium properties in the villa suburbs of Son Vida were sold to British, Scandinavian and German clientele at prices ranging from 2 to 8 million euros. Our real estate agents had already noticed an increased number of inquiries regarding luxury properties in the months prior. The medium-term overall development confirms: Villas, country houses and homes in the highest price ranges are becoming increasingly popular with the super-rich and popular! Oscar winning actor Michael Douglas decided to withdraw the offer to sell his property to continue benefiting from the advantages of this unique real estate location. The billionaire and entrepreneur Richard Branson, the Spanish Royal Family and many other public figures also appreciate the perks Mallorca brings along. Engel & Völkers Mallorca has accommodated many of these stars as our customers, even while many others are not mentioned here as we consider absolute discretion a top priority in our company. Enjoy our unique service and buy a luxury property in Mallorca!

5. Buy luxury real estate with Engel & Völkers in Mallorca
If you decide to buy an exclusive villa, country house or apartment in Mallorca, you do not want to compromise when choosing the right property.
Buying a luxury property with Engel & Völkers in Mallorca
Trust the many years of experience of Engel & Völkers Mallorca real estate agents: Our brand has been active in Mallorca for over 30 years and has specialized in the marketing of luxury properties. Our team of over 150 employees at 19 island-wide locations is always well informed of current offers, so that we are able to identify the dream property for your new chapter of life or your holidays on Mallorca. Thanks to international language skills, extensive contacts with builders, owners and numerous partner companies as well as our extensive portfolio of luxury properties for sale, you will soon be able to move into your individual luxury property with Engel & Völkers Mallorca - we understand what luxury means to you. For more information on property prices in Mallorca and individual purchase advice, give us a call at + 34-971-23 85 84 to schedule a personal consultation. We look forward to speaking with you!
Contact us now
mallorca@engelvoelkers.com

Headquarter

Balearic Islands

Spain
Opening Hours
Mo - Fr: 10:00 - 18:00