With Engel & Völkers Santanyi off to your new property in the Southeast
The southeast of Mallorca, with its central town of Santanyí and its beautiful coastal towns, is rich in scenic and cultural features that make this region an incomparable real estate location.


Buy your dream property with your professional team in Santanyí!
We will take you on an inspiring real estate journey through our beautiful region in the southeast of Mallorca.

Wide stretches of land with fascinating, untouched ecosystems and of course the numerous beautiful bays with their turquoise-clear water are the special features of our popular southeast. Nowhere else can you find this special atmosphere of casual lifestyle by the sea, closeness to nature and typical local traditions.

Thus, among other things, the area around and near the paradise beach Es Trenc is one of the most sought-after locations among people interested in real estate - the purchase of vacation properties, such as houses, fincas and apartments are very high in demand.

The purchase of a property in Santanyí and the surrounding area is particularly captivating due to the authenticity of the region; culture and tradition continue to be reflected in the architecture and Mediterranean way of life: natural stone facades paired with modern comfort are typical features when looking for real estate in the southeast of Mallorca.

Whether you choose a beautiful finca in the countryside, an elegant townhouse or an apartment by the sea to call your own - the villages and small towns of the southeast are already accustomed to internationality, so you will always meet friendly, open-minded Mallorcans.

Your real estate agents Engel & Völkers SANTANYÍ will support you at any time in the purchase of your dream property in the southeast - be excited about what advantages the region has in store for you!

"When buying their holiday homes, our buyers appreciate the perfect symbiosis in the beautiful southeast of the island. Contemporary architecture meets traditional Mallorca, integrated into the perfect infrastructure."

Nils Haase, Managing Partner of Engel & Völkers Mallorca Southeast
20 years on Mallorca and 30 years with Engel & Völkers

Buy a property near Santanyí: Look forward to Mallorca from its most beautiful side
​
Are you looking for a Mediterranean property for sale and would like a location that is characterized by its proximity to the sea? Then Santanyi and the surrounding areas are your ideal location for buying a property. Multitudes of
breathtaking natural harbours
are waiting to be discovered by you. Just to begin, visit nearby Portocolom or Cala Figuera and let yourself be captivated by the atmosphere of these traditional fishing villages, watch the fishermen at work or simply enjoy a
cool drink and a view over the harbours
. Want to get up close and personal with the Mediterranean? Then visit one of the numerous bays to soak up the sun, take a dip in the water or get active with one of the many water sports on offered. The real estate agents at Engel & Völkers Mallorca recommend a visit to
Cala Llombards
or
Cala S'Almunia
where there are impressive rock formations and the promise of relaxing afternoons under the Mallorcan sun.
With the purchase of a property in Santanyí,
a first-class offer awaits you even away from the coast - get pampered in one of the
luxurious 5-star boutique hotels
in Santanyí, Campos or one of the other excellent country hotels in the southeast of Mallorca. Visit the great wellness and spa area in the Hotel Fontsanta or enjoy the excellent cuisine of the
Hotel Can Ferrertera
in the heart of the town. For golfers, Santanyí and the surrounding area also prove to be a great location for buying a country house, villa, townhouse or apartment in Mallorca: The
Vall D'Or Golf complex
, provides a first-class golf course that is nearby. Get an initial overview of the
properties available for sale in the Santanyí area
from your real estate agent Engel & Völkers Mallorca!
The most important market information for your property purchase at Santanyí in Mallorca
The southeast coast is the desired domicile of many customers who appreciate scenic expanses and proximity to the most beautiful bays of Mallorca. Country houses with natural stone facades combined with all modern amenities at the highest quality standards are popular. The connection to trendy places like Santanyí with an international audience thanks to selected gastronomy and hotels, are points on the buyers checklist. Furthermore, Ses Salines with its modern townhouses has become the focus of interested buyers. Alqueria Blanca, Cas Concos, Portopetro to Portocolom remain popular areas for real estate purchases. Felanitx, Colonia Sant Jordi and Cala Figuera are also increasingly in demand for townhouses.

The southeast of Mallorca is an area popular with property buyers and there is a high demand for exclusive houses, villas and apartments for sale. The purchase prices for fincas and villas in the southeast of the island are still in the upper segment, with a constant trend. For an average of 2.2 million euros, prospective buyers can purchase a property around Santanyí, Cala Llombards, Porto Petro or Portocolom. The same applies to the municipalities Es Carritxo, Calonge and S'Horta. In the southern coastal region near Sa Ràpita, Ses Salines or Colonia Sant Jordi, prices range from 1.55 to 1.9 million euros. In the interior with Campos and Porreres prices of approximately 1.5 million euros are called. The investment perspectives are estimated in the southeast as constantly good.

Whichever location you choose, real estate agent Engel & Völkers Mallorca is forecasting a stable price level throughout the south-east of Mallorca in the years to come, so that with the purchase you can secure a safe capital investment in addition to the advantages of your dream property. Further information can be found in our current market report Mallorca 2022/2023. In addition, our real estate experts are always available to give you expert advice!
Engel & Völkers Mallorca: That is why we are the ideal partner for your property purchase in and around Santanyí

The Engel & Völkers brand stands internationally for first-class real estate in the premium segment, extensive market knowledge and a high-quality, comprehensive range of services. In Santanyí and the surrounding southeast of Mallorca, too, our real estate agents support you in buying exactly the property that you can then call your dream property with complete conviction. Our multilingual real estate agent team knows how to implement your wishes and ideas in a targeted manner in the search for the right villa, finca or the ideal apartment, whereby you also benefit from our many years of experience at the Santanyí location. For almost 20 years, our real estate agents in Santanyí have been dealing intensively with the marketing of local real estate, an excellent network of contacts ensures that we are always informed about the latest offers and can pass them on to you. The team around managing director Nils Haase, who has been with Engel & Völkers for almost 30 years, is looking forward to getting to know you in a free and non-binding initial meeting!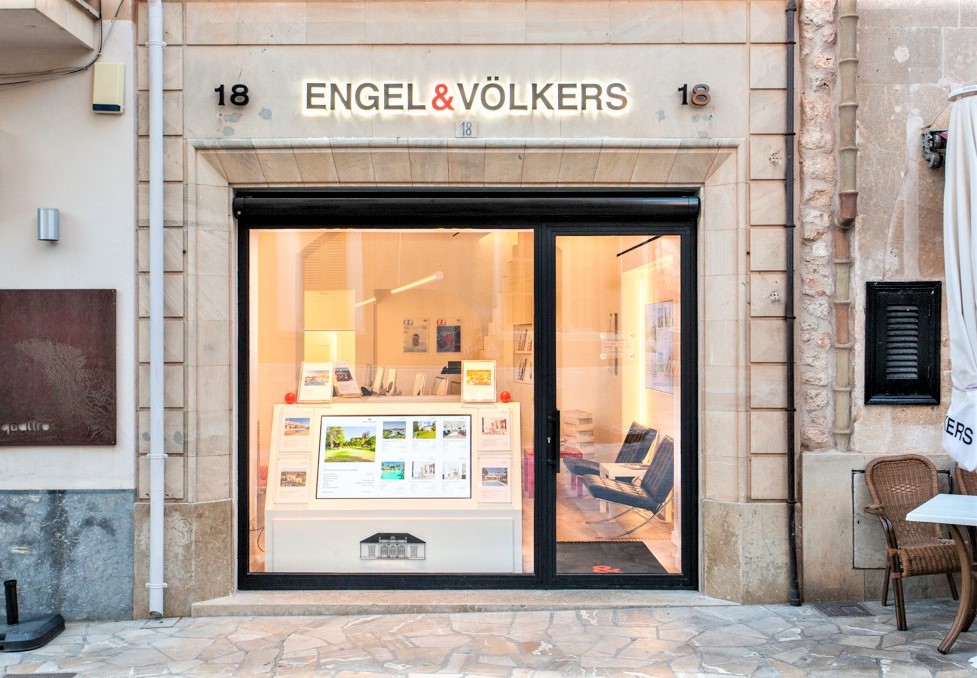 Engel & Völkers Santanyí
Plaza Mayor 18, 07650 Santanyí
Telephone: +34-971 64 21 01
Email: santanyi@engelvoelkers.com
When buying a property, Santanyí's surroundings are characterized by their regional diversity
In south-east Mallorca, starting from the original inland town to the authentic fishing port, you will find the perfect location to buy a property in Santanyí and the surrounding areas. The town of Santanyí is the largest and best-known town in the region. With its wonderful old town, great cultural and culinary offers and a close connection to the Mallorcan art scene, it is a great location for buying a house or a country house - as well as in the surrounding areas locations Alqueria Blanca, Calonge, Es Carritxo and S'Horta which also feature exclusive properties for sale. For sea lovers, the coastal towns of Portocolom, Cala D'or, Porto Petro, Cala Figuera, and Cala Llombards are particularly worth considering, as their close proximity to the coast and their maritime tradition shaped by fishing history make them an attractive overall composition when choosing a location represent. Villas, houses and rustic houses in these locations are particularly popular and therefore have a high level of buyer demand. Cala Murada further north along the coast is characterized above all by its well-kept beach and its relaxed atmosphere, but those who prefer to buy a house or a country house further inland to experience the breathtaking nature of Mallorca up close can buy a property and fulfill their dream in Campos, Porreres or Felanitx. Would you like more information about the individual locations in Mallorca's southeast? Engel & Völkers Mallorca real estate agents will be happy to advise you!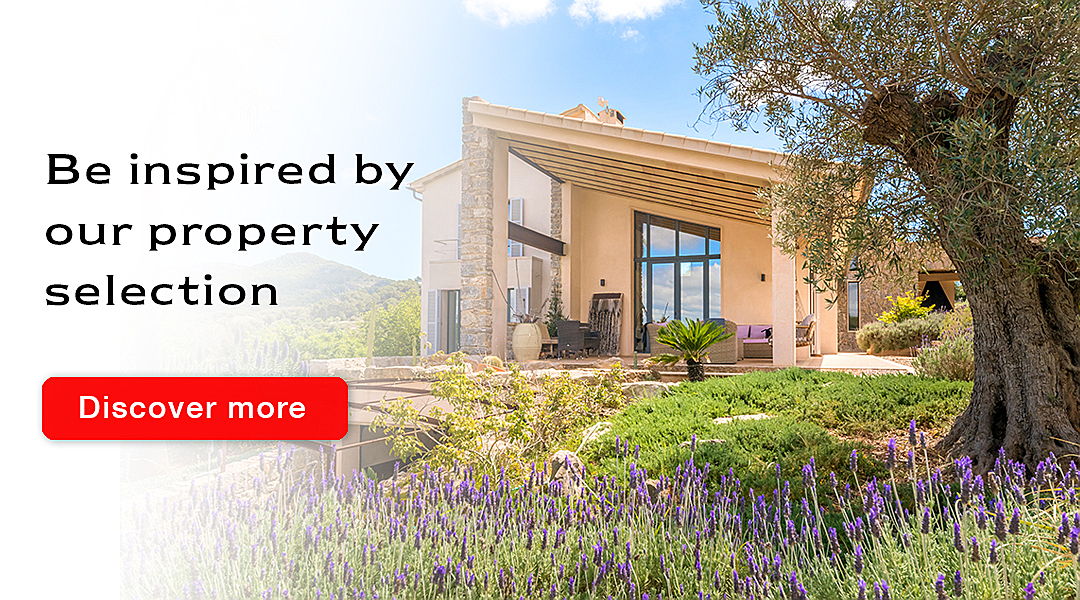 Contact us now
mallorca@engelvoelkers.com

Headquarter

Balearic Islands

Spain
Opening Hours
Mo - Fr: 10:00 - 18:00