Real estate in Sóller and surroundings
Sóller and Puerto de Sóller historically achieved great prosperity through international trade in citrus fruits and this is reflected in the many grand properties in both towns and in the surrounding areas. Today the entire location remains a popular real estate location for house hunters across the world.

Buy your ideal home with Engel & Völkers Mallorca, be it a traditional country property, an elegant villa or a townhouse in or around Sóller:
Find out more!
The region is characterised by the impressive Tramuntana Mountains and the beautiful coastline along the northwest of the island. It is home to some of the island's most exclusive real estate, including striking houses and comfortable apartments for sale. Stunning, peaceful inland locations delight with breathtaking views of the mountain panorama and over the sea across one of the most beautiful bays on the island. Let your real estate agent Engel & Völkers Mallorca introduce you to the highlights of the area and show you why in and around Sóller is the perfect location for your property purchase in Mallorca. If you want to sell your property in the area let the experts help.
In the town of Sóller and the immediate surroundings, high spec houses often feature lots of outdoor space and / or garden complementing your home with Mediterranean plants and Majorcan nature, and many feature modern swimming pools for cooling off on a hot summer's day. Puerto de Sóller on the other hand, is home to select apartments in all sizes and to townhouses with beautiful bay or harbour views. Discover the extensive range of properties available for sale in the region with your real estate agents Engel & Völkers Mallorca. Just maybe your dream property is in our portfolio!

Our clients wish to spend more time on the island in their own home with a garden and a view of the Tramuntana Mountains or the sea. High-quality properties are in high demand in Sóller, Deià, and Valldemossa.
Eddy Barrera, Managing Director of Engel & Völkers Mallorca West
18 years on Mallorca and 16 years with Engel & Völkers

Buying a property in Sóller: Our real estate agents will show you the advantages of the region
Sóller, Puerto de Sóller and their surroundings are popular with those looking to purchase a property in Mallorca. In addition to having beautiful natural spaces, they reflect an authentic regional culture. The historical cityscape of Sóller puts many property buyers under its spell with its numerous modernist houses that date back to the 19th and 20th centuries, when the orange and lemon export reached its peak, inspiring the construction of the railway, the Tren de Sóller. In addition, some originals by Joan Miro and Pablo Picasso are exhibited in the old Sóller station building, so that art lovers will also find an attractive exhibit point when buying a house in Sóller, while friends of the exotic flora will feel particularly comfortable in Sóller's botanical garden. The port of Puerto de Sóller features traces of the long regional fishing culture, which give the area a particularly authentic character. But it is not just the culture that makes Sóller and the surrounding area a very special location when buying a house or other property: the varied possibilities in the field of sports also repeatedly prove to be important selling points. You will find the exclusive 18-hole Son Termes golf course just 15 minutes away, which invites you to spend relaxing afternoons on its course surrounded by rolling hills. The Torrent de Pareis - the second largest canyon in Europe - is also a particularly popular destination for hikers: the demanding but no less spectacular route leads 9 kilometers inland from the Mediterranean Sea and rewards you with breathtaking views and multifaceted opportunities for nature observation on every excursion. Climbers, mountain bikers and joggers will also find more than enough opportunities to practice their sport in the region's unique landscape after buying a house in Sóller and the surrounding area.

Since the infrastructure in the area is also at a first-class level, our real estate agents are convinced that they can offer you the ideal property in Sóller: The international school Escuela Global in Parc Bit can be reached in around 20 minutes, as well as the island's capital, Palma de Mallorca, that is a 30 minute drive away. The route has been made significantly easier thanks to the toll-free, since 2017, tunnel of Sóller. The region's attractive 5-star luxury hotel range is represented by the Gran Hotel Sóller, the Jumeirah in Puerto Sóller and the Bikini Island & Mountain Hotels and offers excellent wellness and restaurant options in the premium segment. If you decide to buy a house or an apartment in the Sóller area, choose a property location that is able to meet even the highest demands in terms of comfort, authenticity and quality of life - your real estate agent Engel & Völkers Mallorca will be happy to advise you in terms of your current buying or selling opportunities in the region.

Engel & Völkers Mallorca: The first choice for your property purchase around Sóller

Thanks to many years of real estate marketing in Sóller and the surrounding area, we are able to offer you a completely satisfactory real estate service: Our multilingual and qualified team analyzes your ideas and requirements in detail in order to identify exactly the house for sale that has the best possible combination of size, equipment, location and construction for you. We rely on a comprehensive collection of market data and our extensive network of contacts. Our real estate agents team around our Managing Director Eddy Barrera look forward to bringing you closer to your real estate dream in Mallorca - do not hesitate to contact us!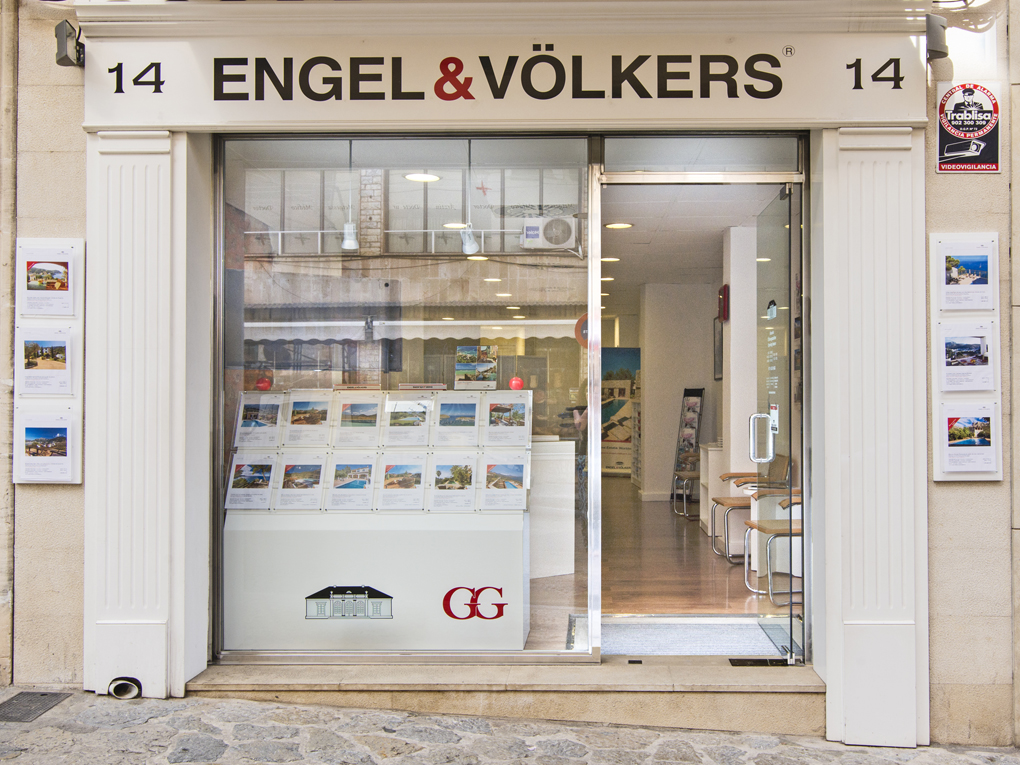 Engel & Völkers Sóller
Calle Bauzá, 4, 07100 Sóller; Phone: +34-971-63-30-63 Email: soller@engelvoelkers.com
Current prices and trends for the purchase of a property in the Sóller area
As can be seen in the current Market Report 2019/2020 by real estate agent Engel & Völkers Mallorca, Sóller and the surrounding area can be classified as good real estate: If you want to buy or sell a house in the region, average prices in the range of 1.3 to 2.5 million euros are called. Apartments, which are particularly popular in Puerto de Sóller, are offered at an average price of 450,000 euros. Our real estate agents continue to forecast stable price developments for these locations, so that with the purchase you also acquire the opportunity to increase the value of your new property - make your real estate dream in Mallorca a reality!
Find our selected property purchase offers at these locations near Sóller
The region around Sóller, in the west of Mallorca, offers various properties for you to buy: the town of Sóller and its immediate surroundings are very popular with property buyers, thanks to their rich cultural and historical offerings and their wonderful scenery. In this area there are townhouses, spacious villas and flats for sale. Puerto de Sóller is the region's authentic and versatile port, which offers a varied mix of gastronomy, culture, wellness and a maritime atmosphere. Consequently, apartments in Puerto de Sóller are very popular with prospective buyers! In addition, Fornalutx, which is located northeast of Sóller, is considered one of "the most beautiful towns in Spain" - the unique Mediterranean charm and the originality of the municipality, with only 680 inhabitants, speak for themselves. Here, idyllic houses are waiting for you as a great opportunity to buy, which let you experience the joy of life and openness of the Mallorcan people anew every day. The traditional town of Biniaraix and the houses for sale here, also stand out due to their high level of authenticity. The adjacent valley is a popular address for hikers, making Biniaraix a very special property location.
Whichever of the diverse real estate locations around Sóller your heart beats for - Engel & Völkers Mallorca supports you in making your property purchase in Sóller as successful as possible. Call us at + 34-971- 63 30 63 or use our contact form, which you can activate using the red button on the right-hand side of the screen. We are also at your disposal for the sale of your property in Mallorca! We look forward to meeting you!
Contact us now
mallorca@engelvoelkers.com

Headquarter

Balearic Islands

Spain
Opening Hours
Mo - Fr: 10:00 - 18:00
Buy a property in the Sóller region


As one of the most original and at the same time most comfortable real estate locations in Mallorca, Sóller and the surrounding areas offer you many great opportunities to buy or sell a house, villa, apartment or other type of property. In the "golden valley", which owes its name to the colorful orange and lemon blossoms and the associated prosperity of the region, the real estate agents from Engel & Völkers Mallorca offer you numerous first-class properties for sale.
The area is characterized by historical awareness, a diverse regional culture and the breathtaking nature, which in Sóller and the surrounding area captivates with picturesque panoramic views of the Tramuntana Mountains, the Sóller Valley and the magnificent Mediterranean coast. Various sports such as golf, hiking, mountain biking or climbing, well-developed transport links, the luxurious wellness and culinary sector and the Mediterranean climate in Sóller and the surrounding area make the houses, villas and apartments offered by the real estate agents Engel & Völkers Mallorca wonderful purchase options .

Our real estate portfolio currently extends to offers from the following locations in the region:


If you would like to fulfill your dream of owning your own house or apartment in Mallorca by buying a property at one of these locations, you can expect prices in the medium to high segment: purchase offers for houses average between 1.3-2.5 million euros, You can buy apartments in Puerto de Sóller for around 450,000 euros. With the real estate agents Engel & Völkers Mallorca you benefit from a large selection of properties for sale, use our many years of experience and are advised by a team of professional and multilingual real estate agents who are by your side to help you make the right purchase or sale. Take advantage of the moment and buy a house or apartment from Sóller or Puerto de Sóller, you may even be able to benefit from further increases in value in the future: Our real estate agents consider upcoming price increases in large parts of the region as likely. We would be happy to provide you with further information in a personal, non-binding consultation!