Monte Bertho: Excellence between urban life and nature
Engel & Völkers is pleased to present to you the "Monte Bertho" project, located in Bertrange. In a first construction phase this new high standing residential complex consisted of two buildings and a total of 26 apartments (including 3 Penthouses). To meet the expectations of an increasingly demanding clientele, the real estate promoter REFA has developed a blend of comfort and modernity that combines the highest quality materials with a choice of warm colors that can be individually customised for each unit. All of which with an Italian touch.

In a second construction phase, a third building is added to the residential complex. This project consists of 8 apartments and one penthouse.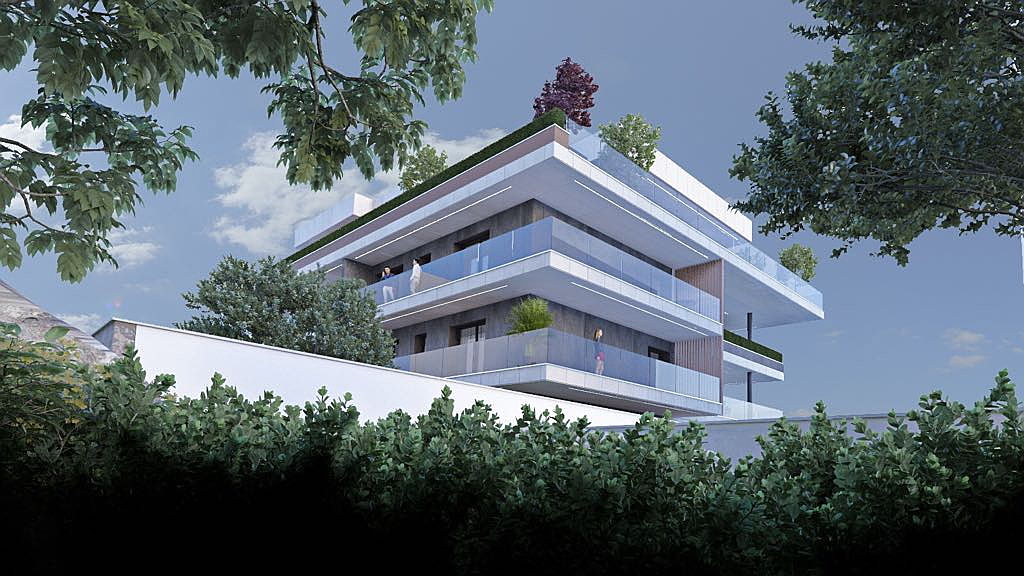 Architecture
With its modern, seductive and elegant architecture, these spacious and luminous volumes opened by large bay windows make this project an exceptional residence. All the lots have large terraces and private green spaces reserved exclusively for the use of residents will offer you an heaven of calm and tranquility in the heart of a city environment.
The construction will offer a combination of cutting-edge technical expertise with renewable energies and an extraordinary and very complete set of specifications, including for each apartment a home automation system for managing indirect LED lighting, access to the residence by videophone, roller shutter control and heating regulation.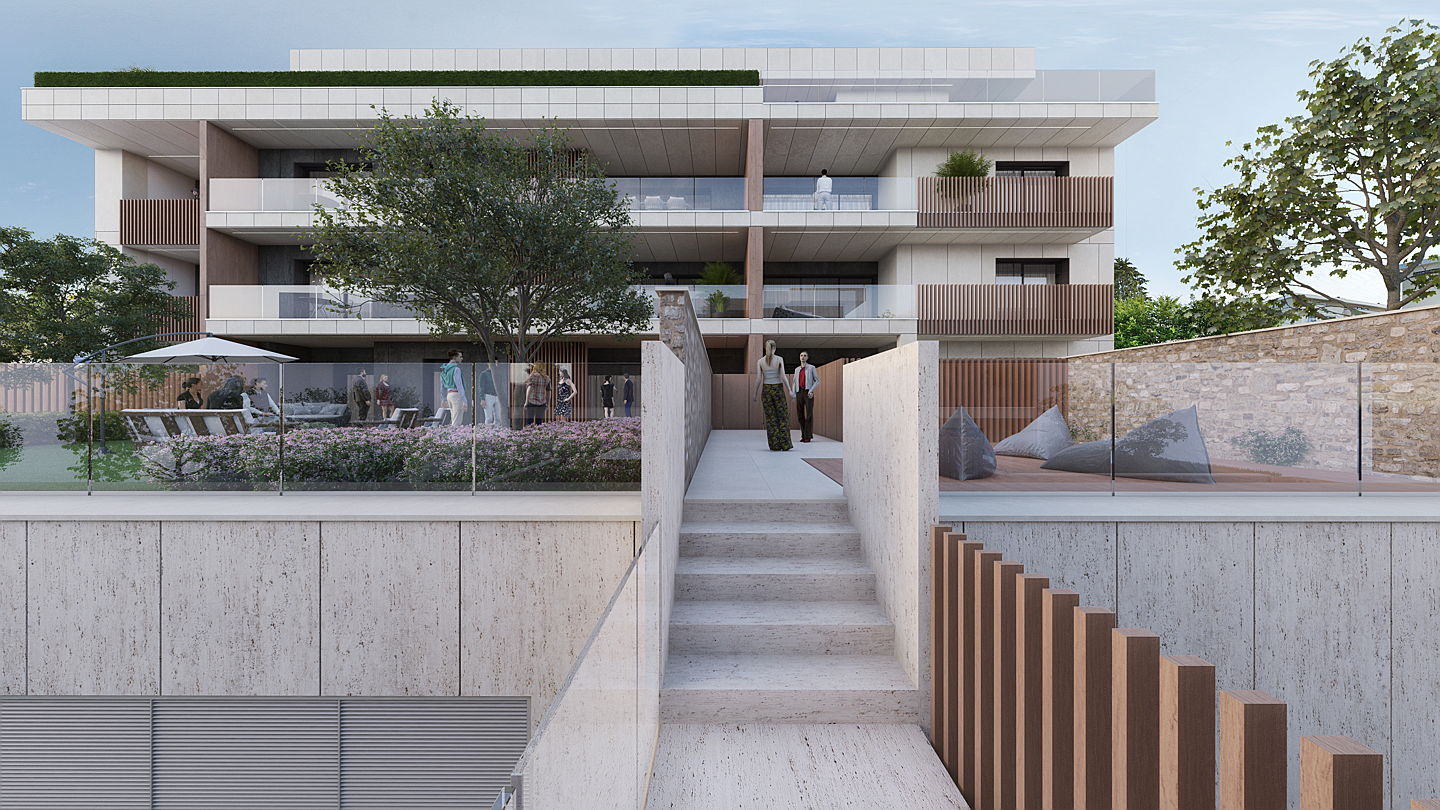 Composition of the project
The project will be divided into 2 buildings of 16 and 10 apartments respectively, including 3 penthouses on the last floor. For everyone's comfort, a basement with parking spaces, private cellars and a storage space for bicycles will be provided. Access to each building will be via a secure and welcoming entrance hall in an atmosphere standardized with the rest of the traffic.
10% of the 26 apartments, i. e. 3 apartments, are reserved for buyers who meet the conditions to benefit from the state initiative "low-cost housing".

In a second phase, a third building, consisting of 8 apartments and one penthouse is added to the project.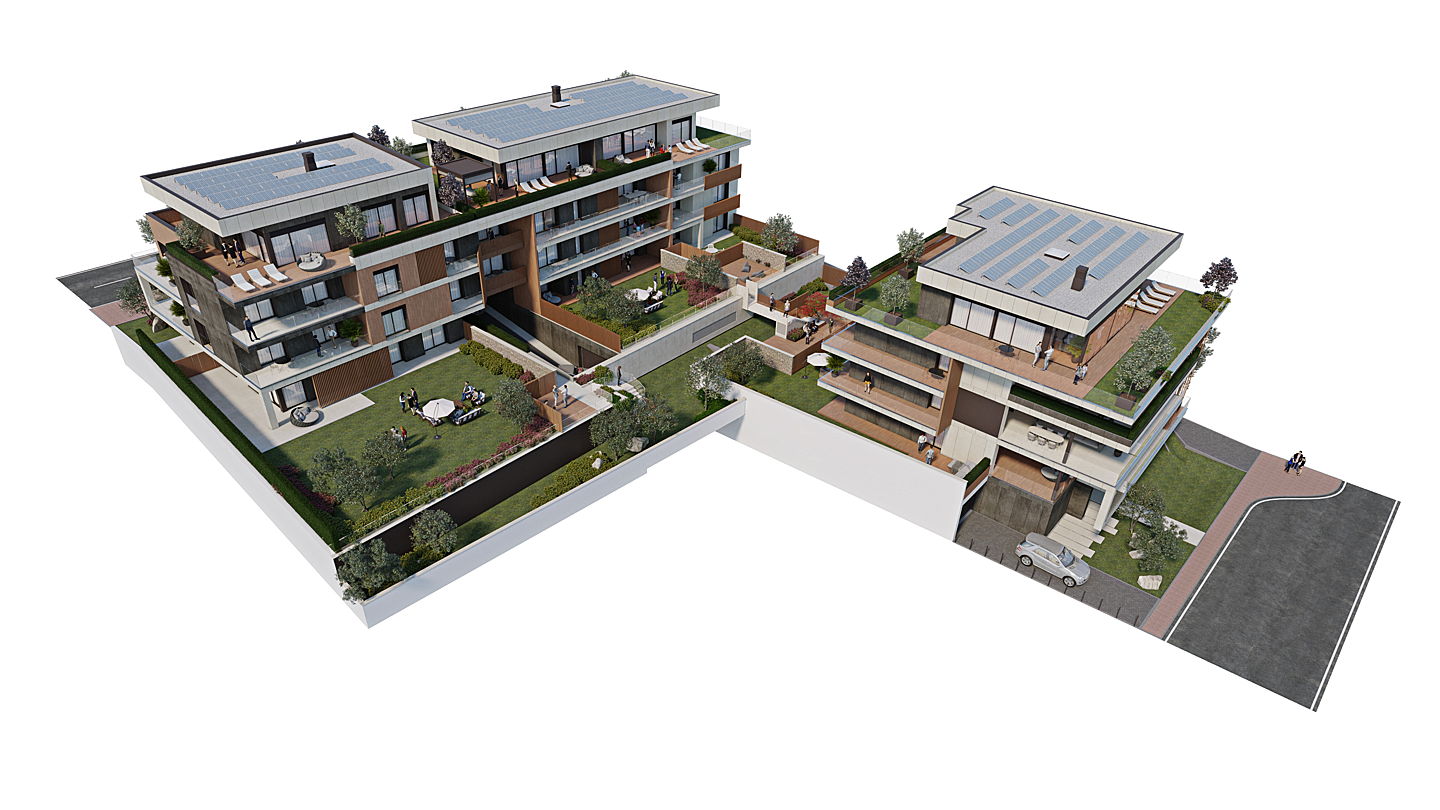 Interior fitting
The interior doors will be flush with the wall, a minimalist solution and a modern design designed to make the door disappear as a whole with the walls. The floor coverings will be made of porcelain stoneware or high-end laminate floating floors.
High-quality "Made in Italy" sanitary appliances will be installed, with built-in fittings. The shower walls will be glazed, without visible frames, integrating perfectly into the general atmosphere of the bathrooms.
The lighting of the apartments will offer a modern and innovative solution: indirect LED lighting. This solution will create a homogeneous and uniform atmosphere. With indirect lighting, the source is not visible and creates a refined and warm atmosphere.
The interior furnishings of the project are designed by a team of architects whose activity is focused on the "Made in Italy" interior design. Thus, future owners wishing to acquire a property in a future state of completion will be able to benefit from a personalized development.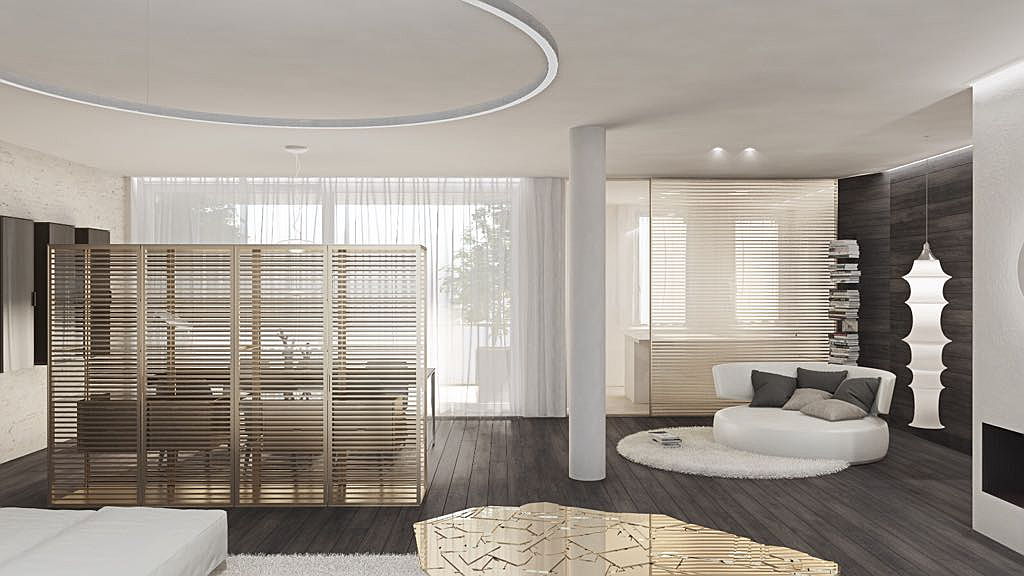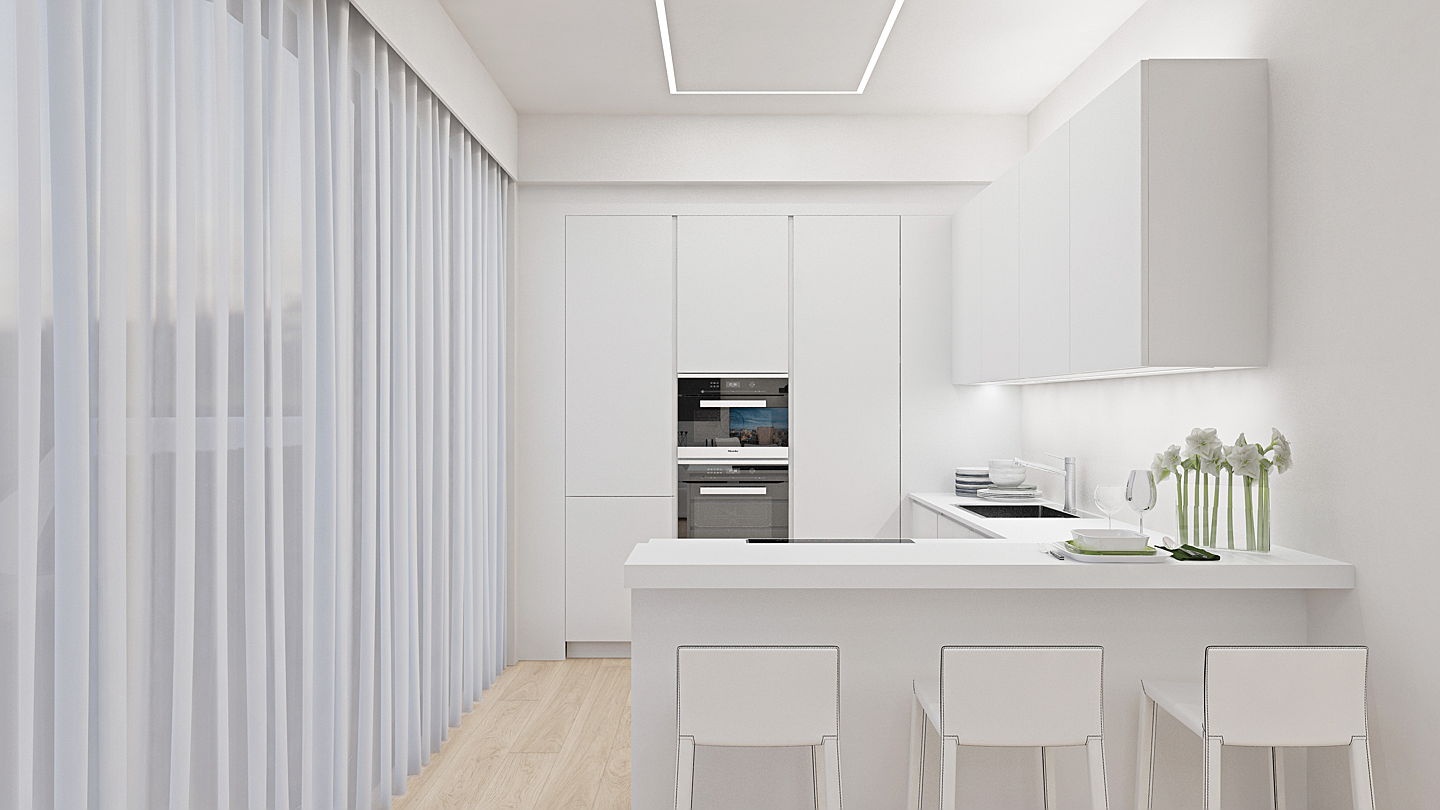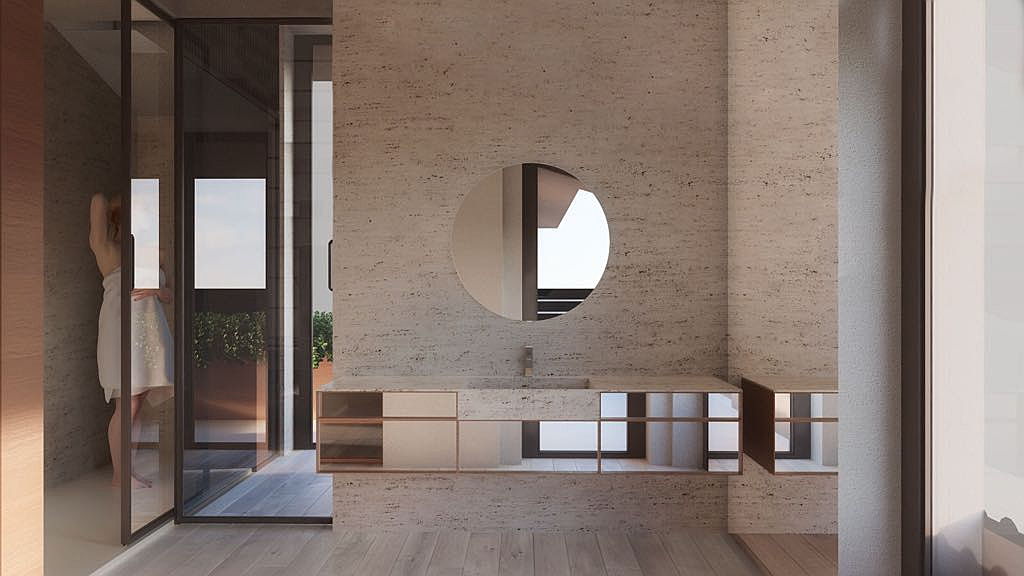 Project location
With a population of more than 8000 inhabitants and located near the capital, the municipality of Bertrange enjoys a privileged situation. Its direct access to major roads (A4 and A6 motorways, E44 road) makes it an ideal starting point to neighbouring countries such as France or Belgium. The municipality has many green spaces and houses the famous Luxembourg thermal centre, a jewel of popular architecture that includes various swimming pools, a sauna, restaurants and a fitness room.
The Monte Bertho project is located between the Route de Longwy and Rue An Ditert, in the immediate vicinity of the City Concorde and all its shops (supermarket, restaurants, various shops, travel agencies), and just opposite the headquarters of the Automobile Club du Luxembourg. Its location provides quick and easy access to public transport networks (buses), making it easy to reach Luxembourg City and its station. In addition, a school bus is available to take children to school free of charge. It is also close to all the services necessary for daily life (crèche, post office, schools, banks, sports clubs, beauty salons, petrol stations). Many health professionals are also located in the vicinity of the project (doctors, dentists, physiotherapists, pharmacy, paediatrician).
It also offers direct access to the "Ënneschte Bësch" integral forest reserve, its typical local charm and its paths lined with century-old trees.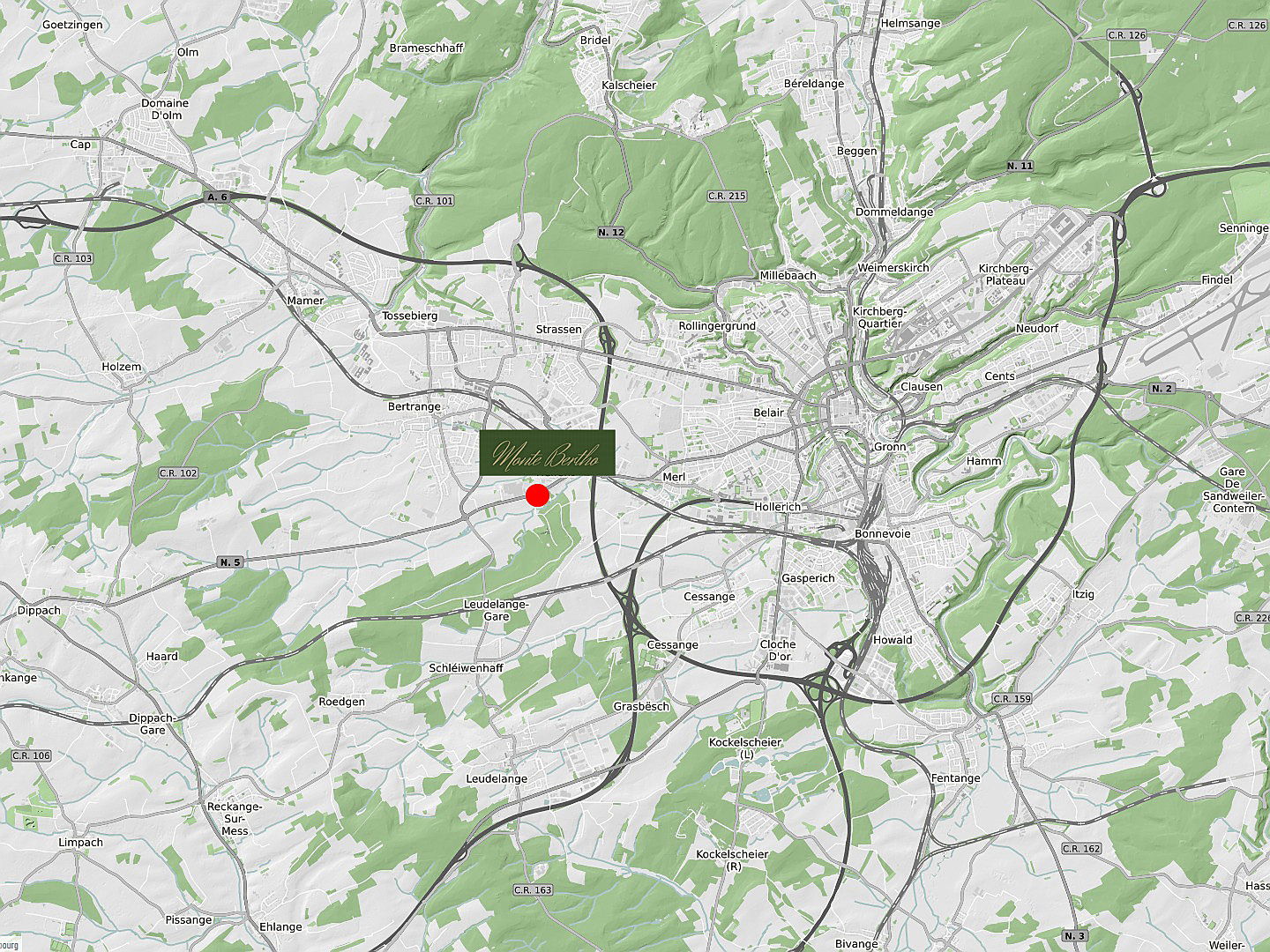 Contact us now
Engel & Völkers
Licence Partner Luxembourg