Year on year raging shack fires consume countless homes and destroy precious lives - Khusela ikhaya Project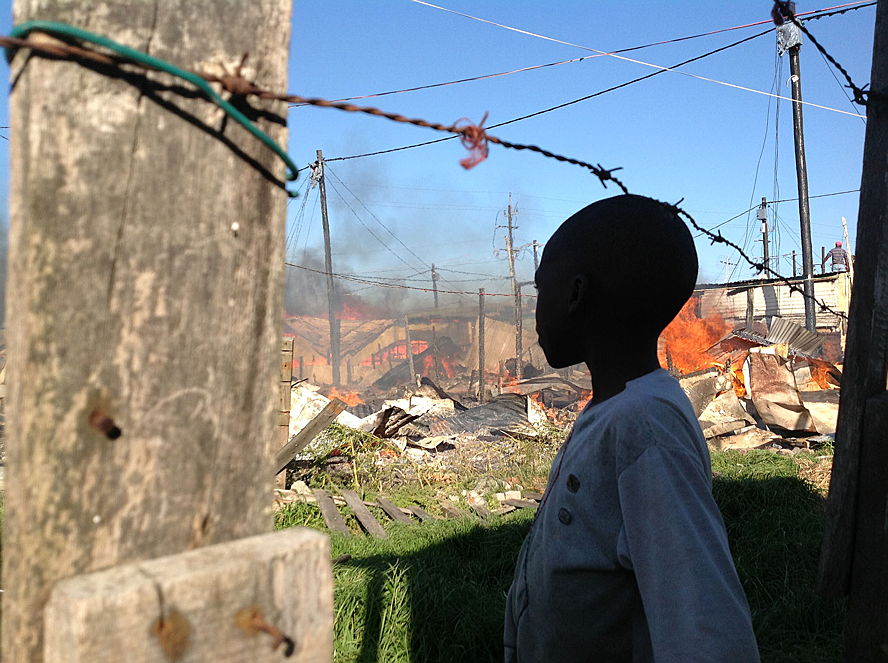 The Khusela Ikhaya Project uses a specially formulated intumescent fi re paint to retard rapid spreading shack fires.
The concept is the brainchild of Ashley Stemmett and was first presented under another name.
In April 2015 Ashley re-ignited his passion for this cause and partnered with Justin Zietsman.Shortly afterward they launched the Khusela Ikhaya Project ('protect your home' - a more readily understood name) and partnered with a reputable paint manufacturer to develop a more feasible product offering.
The Khusela Ikhaya Project would later be registered as an NPO. Since May they have succeeded in piloting the project, initiating EPWP (job creation) involvement, applying their first corporate client's logo across 90 roofscapes and obtained a directive to paint 3000 informal settlement homes in Masiphumelele and a further 750 around Cape Town. All the while maintaining the established dialogue with key public sector departments andbuilding momentum with a strong media focus and direct approach to corporate clients. Social enterprises survive by creating strong concepts that can drive themselves.
As such the Khusela Ikhaya Project will, in addition to painting (protecting) and beautifying environments, also encourage and implement education initiatives, skills development, community upliftment programmes and sports development platforms.
'As social entrepreneurs, we aim to impart this same mindful approach to solving social problems into the very communities we work with. If we can empower those around us,we would have succeeded in empowering ourselves.

10+ reasons why the Khusela Ikhaya Project will work:
1 Khusela Ikhaya Paint has been tested - has a 40-60 minute burn rating.
2. Pending SABS & Green Tag certifications.
3. Endorsed by Safety & Security, Disaster Management, Human Settlement & Fire Services.
4. Affordable – average cost per 'shack' is R1700.
5. Spray coating will ensure speedy coverage of entire areas in short time frames

6. Beautification - opportunity to implement colour to improve appearances- both on street level & aerial views.
7. Eco-friendly
8. Locally produced
9. Will offer skills training & job creation through EPWP.
10. Provide education/awareness through community dialogue, theatre,educational material,
11. Sustainable - by utilizing rooftops to create brand inspired visuals,corporates will effectively subsidize the cost of the paint over time.
12. Measurable – quantifiable and feedback driven through GIS platform.
13. Our drive to stay present and our focus on top of mind awareness through continued media exposure, will keep the campaign active toward 2020.
14. The Khusela Ikhaya Project is a registered NPO.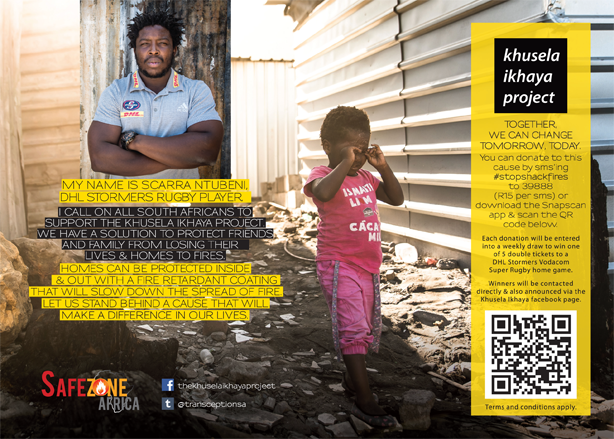 In addition to backing from local and provincial government and private sector involvement, we also intend to link with other like-minded organizations in order to create a 'larger cause' scenario called Project 2020 - a crowdsourced model involving the greater South Africa.
We believe that by connecting corporate social responsibility drives together with local and national government subsidization programs, as well as public funding campaigns under one 'umbrella campaign' – we can shift perceptions and grow our country while solving the crisis of shack fires.We aim to protect all tightly knit informal dwellings throughout South Africa by the year 2020.
'We call this vision Project 20/20' - a social initiative aimed at changing perceptions & outlooks toward otherwise overlooked communities.'Our vision is not only to prevent rapid spreading shack fires, but shift negative perceptions of 'townships' through the use of colour and imagery. We have combined this with community upliftment programs, education & the arts packages,skills development modules and sport development clinics.

<<
>>
<<Facebook>>