Engel & Völkers · Properties which can be used for tourism purposes
Home to the well-known town of Zell am See, the Pinzgau is one of the most popular and traditional tourist destinations in the whole of Austria. Guests appreciate what this region has to offer in the different seasons. In the winter, visitors enjoy doing winter sports on the 408 kilometres of prepared slopes in the skiing areas, as well as on the glacier. Besides being a paradise for Alpine skiing activities, this region is also attractive for those wishing to partake in skiing tours, cross-country skiing, and snowshoe hiking.

In the other seasons, the Pinzgau transforms into a region of relaxation and pleasure. Ski boots are exchanged for hiking boots, sailing shoes, or golf shoes. In this mountainous area, it is possible to enjoy unique scenery as well as the region's diverse cuisine. At the Tauern Spa thermal baths, you can forget your worries and relax, or you can experience exciting evenings featuring unique panoramic views at Zell am See's casino. In short, the district of Zell am See can be described as a tourist region which offers both warm hospitality and an array of leisure activities.


ZELL AM SEE · Properties with tourist use
TIROL · Properties with tourist usw
1. What do you need to consider when buying a property?

2. Properties which can be used for the purpose of tourism as a secure investment?
3. At Engel & Völkers, we are here to advise you.
As the Alpine region of Zell am See is highly attractive for tourists the whole year through, the requirements for property buyers are correspondingly stringent. There are special conditions for potential buyers from abroad. The municipalities in Salzburg and Tyrol do not want to sell land which is going to be used infrequently or properties which will be vacant for most of the year.


There is a high level of demand for holiday properties, particularly in Austria's western provinces like Tyrol and Salzburg, which is why particularly stringent laws have been introduced in these regions. There is a basic distinction between a main residence, the popular secondary residence, and use for tourism. The respective use of properties is regulated by spatial planning and recorded in the respective municipality's land use plan. Properties which can be used for the purpose of tourism may not be used in a conventional manner as a secondary residence, as the applicable laws (cf. Section 31b Paragraph 2 Z 1 of Salzburg's Spatial Planning Law of 2009) must be observed.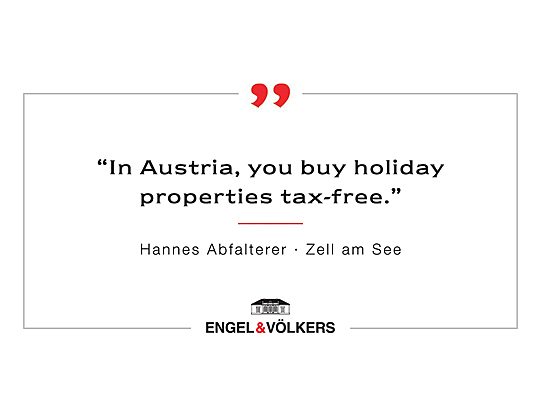 1. What do you need to consider when buying a property?

In general, according to EU law, all citizens of EU countries may acquire properties in other EU member states in line with the free movement of capital. However, when buying a property, it is necessary to consider exactly how it can be used. If the intention is to rent out a property to tourists, it is crucial to check the corresponding land use (designation).
Depending on the region, the minimum rental period required
per year is approx. 100-120 days
; if this rule is not adhered to, a fine will be issued by the tourism association or municipality. In practice, the owner can register themselves as a guest in their own property. This alternative to a secondary residence can be extremely interesting for you as a buyer, as you can decide exactly how long you wish to rent out your property to tourists for.
2. Properties which can be used for the purpose of tourism as a secure investment?

The advantages are obvious. Despite certain coordination activities, the permanent rental of a property cannot compete with a property which can be used for the purpose of tourism. In highly attractive tourist regions, like Zell am See, 2.8 million overnight stays were recorded in 2021, despite the fact that the pandemic was still ongoing. The municipalities of Zell am See and Kaprun are some of Austria's leading tourist regions and, as such, they enjoy permanent investment. This means that the
increase in value
or net proceeds following a strong year with a high level of tourism can be correspondingly high for a property in this region.
Owning a property in a tourist region is a secure and lucrative investment for making profits and preparing for retirement. By renting out such a property, high rates of return can be achieved from the rental income and a property which can be used for tourism purposes has the added value that it can be used by the owners themselves. By investing in a holiday home in one of Austria's most attractive tourist destinations like Zell am See, the capital you invest is protected from inflation and the property can be sold at profit.

Normally, holiday properties, such as chalets, can be sold and inherited in Austria without restrictions. You acquire a property at gross purchase price, which means that the 20 percent VAT can be deducted as input tax and the purchase is therefore VAT-free. In general, tax only needs to be paid on the rental income in Austria.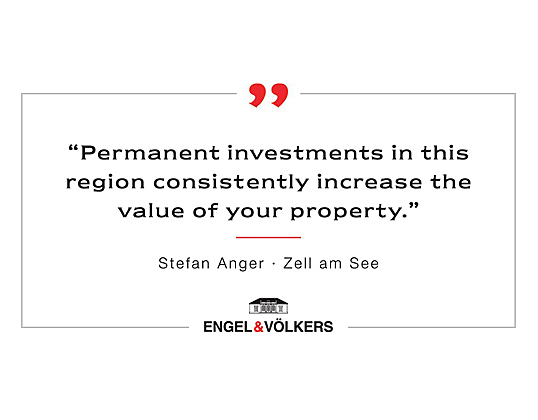 3. At ENGEL & VÖLKERS, we are here to advise you
At ENGEL & VÖLKERS, we know the market value and we also know about our clients' various needs. If you are interested in buying a property in Zell am See or in Salzburg Land, we are here to provide you with competent advice. We are looking forward to hearing from you. Please call us on +43 6542 47 47 0, complete our contact form , or visit us at our real estate shop located at Seegasse 9 in 5700 Zell am See.
We look forward to meeting you!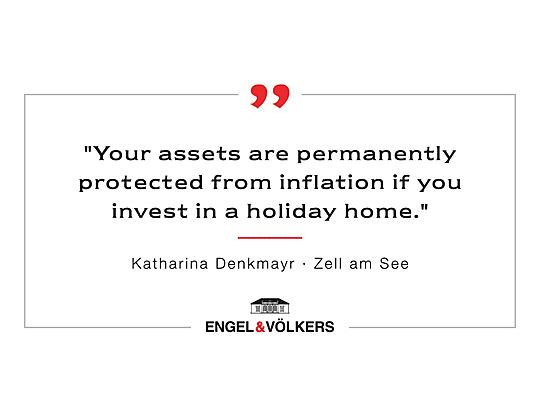 Contact us now
Engel & Völkers
Licence Partner Alpine Region Tyrol & Salzburger Land
Vorderstadt 11

Österreich