Welcome to Engel & Völkers Zermatt
Purchase and sale of real estate in Zermatt

Zermatt lies on the edge of the Matterhorn - probably the most famous mountain in the world. The car-free village lies at 1600 m. above sea level and is surrounded by a unique mountain landscape with a total of almost 40 four-thousand-metre peaks. Zermatt offers numerous excursion possibilities all year round and is therefore one of the most popular holiday destinations in the Alpine region.

Are you looking for a house, an apartment or a plot of land to buy in Zermatt? Or would you like to sell your property?

We are happy to be your committed and competent partner.

We look forward to meeting you personally in our shop in Zermatt and advising you.

You will find us in Zermatt at the following location:

Bahnhofstrasse 68
CH-3920 Zermatt
+41 (0)27 966 06 76
zermatt@engelvoelkers.com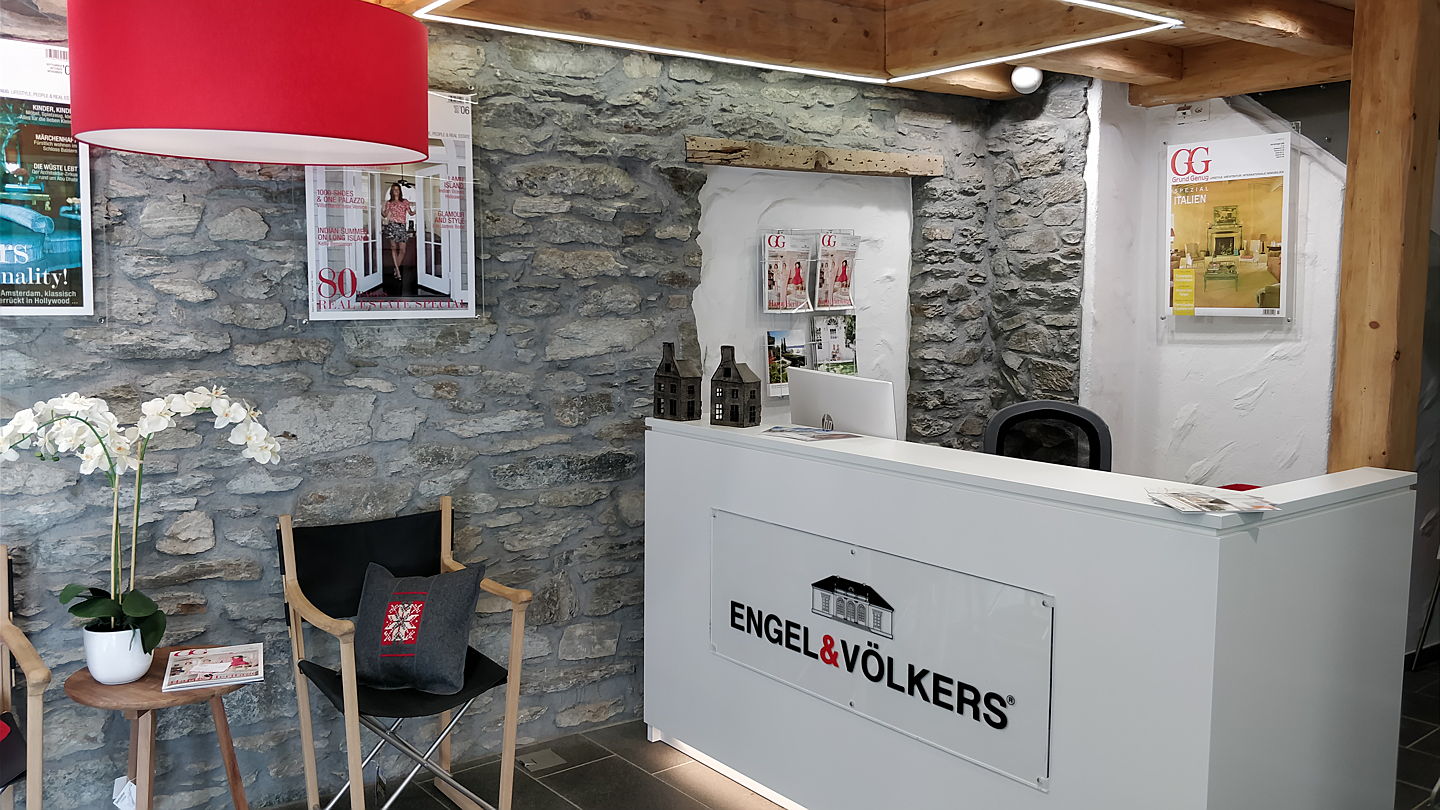 Contact us now
Engel & Völkers
Licence Partner Zermatt – Valais
Zermatt
The exceptional location of Zermatt, at the bottom of the Matterhorn and at the heart of the largest ski and hiking resort, makes this holiday site one of the most attractive villages. The region of the "Matterhorn glacier paradise" is one of the largest and highest regions of Europe to ski. The ski area possesses 54 lifts and up to 360 km of ski runs. Numerous national ski teams train there during summer season. Discover of nature or history, the 400 kilometres hiking trails will make you cross the Mattertal up and down. Enjoy a time travel on the partially paved paths from the 13th century.
The characteristics of the Matterhorn
The Matterhorn - mystical, majestic, the mountain of mountains. As the most photographed mountain in the world, it is also a landmark of Switzerland. There is no other mountain in the world like the Matterhorn. It is characterised by its unique and natural pyramidal shape and was formed 100 million years ago when Africa was drifting against Europe. About 40 million years ago, the continents of Eurasia and Africa collided. As a result, the entire mountain range was lifted and rocks were pushed upwards, exposing the Matterhorn in its present form.
Randa: the longest pedestrian suspension bridge in the world
Some consider the Europaweg between Grächen and Zermatt to be the most beautiful 2-day hike in the Alps. The view of the mountain panorama including the Matterhorn has made it famous all over the world. In July 2017 the "Charles Kuonen Pedestrian Suspension Bridge", another highlight measuring 494 m and spanning up to a height of 85 m over the Grabengufer, was inaugurated. On the bridge, one can enjoy a wonderful view of the Weisshorn and the wonderful mountain world of the Mattertal. Due to the transparent construction the view into the depth is always given and provides additional adrenalin. But there is no fear, as the suspension bridge is extremely stable.