Opt for the purchase of a house near the Hahnwald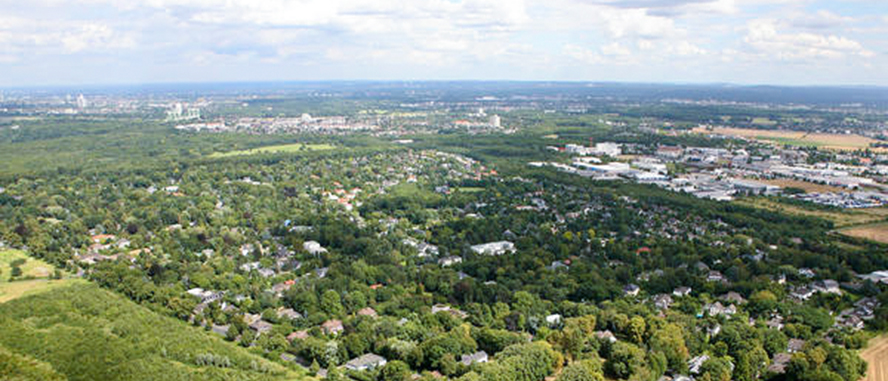 Buy a wonderful detached family home or a fantastic house in the Cologne district of Hahnwald. The experienced real estate brokers at Engel & Völkers Cologne advise you comprehensively and successfully implement your purchase project in a fast and simple manner. Get a first impression of our selection of high-quality single-family houses and villas in Cologne's Hahnwald.
Are you looking for yourdream property in Cologne? Would you like to live in a quiet but centrallocation? Then you should decide for the coveted district of Hahnwald! Here youbenefit from a quality of life that is characterized by a mixture of natural andurban surroundings.
Discover one of the most beautiful villas in Cologne
We would like to demonstrate why you should purchase a detached house or a villa in Hahnwald. The approx. 3 km² Hahnwald is located in the south of Cologne and is particularly popular with families as a real estate location. The name of this district refers to a woodland forest, which used to be here. In this tranquil district, one of the most exclusive villa districts in Germany, about 2,450 inhabitants are at home. A freestanding development is not possible in the Hahnwald under 1.000 m² of living space, there by securing the villa character of the district. Hahnwald is a purely residential area, there are no shops for daily needs here. In addition to a farm used for goose raising and a nursery, you will find exclusively residential properties here. Shops for daily needs can be found in the neighboring district of Rondorf, and Cologne city center, that is only a 15-minute drive away.
Exclusive living near the Cologne Hahnwald
With the purchase of a property near the Cologne Hahnwald you made the right decision. If you have any further questions regarding the purchase of real estate, please contact our competent real estate brokers for the Cologne area.
Köln-Rodenkirchen, Maternusstraße14b | 50996 Köln | Telefon +49-(0)221 29 94 50
Köln-Lindenthal, Dürener Straße 191 | 50931 Köln | Telefon +49-(0)221-5777 99 80
Köln-City, Mittelstraße 13 | 50672 Köln | Telefon +49-(0)221 25 88 310
Bergisch Gladbach, Schloßstr. 5 |51429 Bergisch Gladbach | Telefon +49-(0)2204-7675 20