Real estate market in Var, between Provence and French Riviera
The quality of life in Provence
Real estate in the Haut-Var and Var coastline: a prestigious location
Real estate in Saint-Raphaël-Estérel : la Dolce Vita
Real estate in the Gulf of Saint-Tropez and the top 12 villages of the Var




The quality of life in Provence
The Var department is one of the four departments that make up Provence and is part of the region Provence-Alpes-Côte-d'Azur. It is composed of eight natural regions and its surface area, which is approximately 5,980 km2, places it as the forty-fourth French department. The small coastal river that gives it its name marks the border with Italy as it was established during the French Revolution.
In 1860, the county of Nice was united with France and the district of Grasse, where the Var flows, became transalpine. Between Provence and the French Riviera, the Var is a territory deeply marked by Roman civilization and bears traces of human occupation dating back to the Paleolithic period. With both a Mediterranean and alpine landscape, it borders the Alpes-Maritimes (east), Alpes-de-Haute-Provence (north), Vaucluse, and Bouches-du-Rhône and (west), while facing the Mediterranean Sea to the south.
The territory has 153 townships with a total population of approximately 1,066,000 inhabitants. The second most forested department in France (more than 340,000 hectares of forest), it is also an evocative name for exceptional real estate on the Côte-d'Azur. The Saint-Raphaël-Estérel and the Gulf of Saint-Tropez regions are a perfect example.
The Var is a region that feeds one's imagination and captivates those looking to acquire an apartment, a house, or a prestigious property mixed between Provence and the French Riviera. Its landscapes alternate between mountain ranges and sandy beaches, and its climate guarantees a blue sky from spring to the end of the season, with a mountainous climate that prevails in the hilly northern territory and crisp Mediterranean air on the coast, the Argens valley and the inland coastal regions. The Var's coastline is home to a majority of populations concentrated in Cavalaire-sur-Mer, Fréjus, Lavandou, Toulon, part of La Ciotat and Saint-Tropez.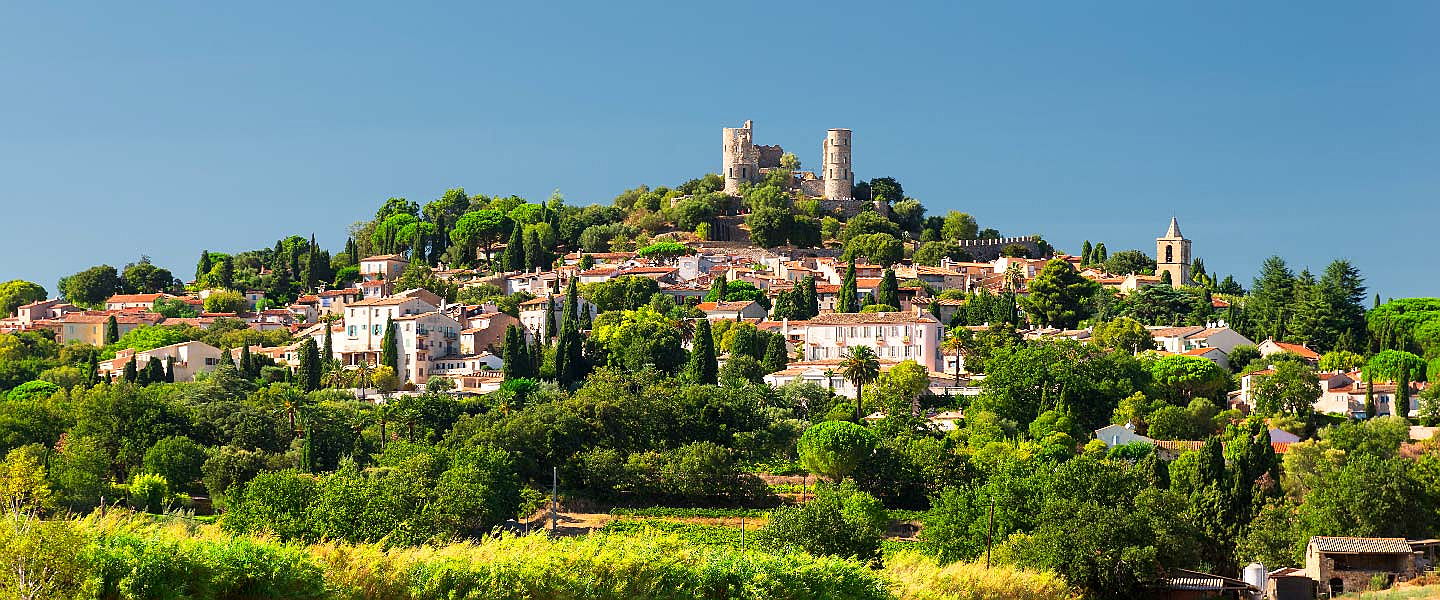 Real estate in the Haut-Var and Var coastline: a prestigious location
As one of the largest touristic destinations in France, the Var possesses a heritage that illustrates an impressive architectural, cultural, and historical past (Abbey of Le Thoronet, Basilica of Saint-Maximin-la-Sainte-Baume, etc.), and a natural patrimony of a rich and contrasting beauty unique in France (Gulf of Saint-Tropez, archipelago of islands, Corniche de l'Estérel, rocher de Roquebrune, gorges du Verdon, plateau of Moors and la Sainte-Baume, bay of Toulon, ...). Everything here is part of the natural beauty and exceptional location that will make anyone dream of settling down on a long-term basis.
From Saint-Cyr-sur-Mer to Agay, the 432 km of coastline hides splendid seaside cities (Sainte-Maxime, Saint-Tropez, Anthéor, Saint Aygulf,...) which are the envy of those who love swimming, relaxation, and water activities, while the Var countryside, hidden from sight, has a rural and provencal authenticity that remains unchanged. Located between the Mediterranean coast and the Verdon Regional Natural Park, the Haut-Var is an untamed territory that offers a decor that has been immortalized by many artists, and the most picturesque hilltop villages nestled in the Pays de Fayence.
This peaceful haven is complemented by majestic landscapes and keeps real estate properties protected by century-old olive and cypress trees out of sight , which are dream homes in the heart of the Haut-Var (Fayence, Seillans, Bagnols-en-Forêt, Callian, Rians, Salernes, etc.). Among the qualities of the Var, we can also mention what makes it famous: local products and hand-crafted markets, festivals, golf courses, the sumptuous villas from the Belle Époque, and the region's many treasures (vineyards, olive oil, goat cheese, honey, saffron, truffles...).

Located east of the Var, at the far end of the Gulf of Fréjus, on the border of the Alpes-Maritimes, Saint-Raphaël has a population of approximately 89,700 inhabitants. Its location at the foot of the Esterel Massif, on the Mediterranean coast between Cannes and Saint-Tropez, is often described as ideal. Saint-Raphaël consists of a historic city center with its labyrinth of narrow streets, five ports, and various remote districts: Anthéor, Boulouris, le Trayas, Le Dramont, Valescure and Agay.
Historically a small fishing village, this town is today one of the most popular seaside resorts in the Var and very well known for its prestigious properties such as its sumptuous villas, its high-end neighborhoods (Anthéor and Agay), its rich heritage, its water sports, climate, and wild and lush surroundings. It offers an incredible sight of jagged coastlines stretching over 36 km, with some thirty fine sand and pebble stone beaches, coves, and inlets of truly extraordinary beauty, against a backdrop of abundant vegetation and the stunning red rocks of the Esterel.
Discover the Saint-Raphaël-Estérel area in detail.
Points of interest:
- Agay
- Anthéor
- Fréjus
Recently viewed properties
Known as "Le Freinet" dating from the Middle Ages up until the French Revolution, the Gulf of Saint-Tropez is a contrasting region made up of twelve authentic Provencal towns with very diverse identities, including Saint-Tropez, a mythical place for those who dream of buying a villa on the French Riviera. It has some 56,000 permanent inhabitants, covers a total area of 430 km2, extends 26 km from east to west, and 30 km from north to south.
This almost island-like area runs on for several kilometers through the Var and is home to seaside resorts, and marinas that offer a breathtaking view of the bay, luxury sailboats and unparalleled sunsets. Its coastal strip is nothing more than a succession of capes, coves, and dazzling beaches under the same exceptional sun that is responsible for its international reputation and a significant share of prestigious real estate investments in the Var region.
As for its well-preserved hilltop villages, they are punctuated by narrow cobblestone streets, ancient wash-houses, and shaded squares where water from the fountains whispers, and highlight the many traditional ties of its population, which is very attached to their Provençal celebrations.
Discover the Gulf of Saint-Tropez in detail.
Points of interest:
- Gassin
- Grimaud
Discover the Provence Alpes Côte d'Azur region in detail.
Contact us now
Engel & Völkers
French Riviera
13, rue des Etats-Unis

France