Our prestige real estate agencies network in Paris
Metropolitan Market Center - Real Estate Center Paris 8
Property Lounge - Real Estate Agency Passy, Paris 16
Property Lounge - Real Estate Agency Le Marais, Paris 4
Engel & Völkers are real estate experts with a presence in all the Paris districts. Every agent is active and expert in a specific area. Over the years, he formed close relationships with all key influencers in the life of the neighbourhood (residents, shopkeepers, housekeepers, etc). Your Engel & Völkers consultant is the ideal partner to guide and assist you in all your plans for acquisition or selling property in Paris.
On the other hand, the varied profiles of our estate consultants and several nationalities of our team members are an asset that consolidates the visibility and the international aspect of our estate agencies. This is the main strength of the Engel & Völkers real estate network: strong physical proximity and local expertise within a network of international estate agencies.
Discover our Paris agencies below.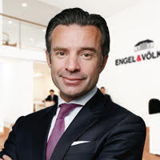 David Scheffler
President France - Member of the international executive board
Our Market Centre in Paris is in the heart of the Champs-Elysées district. Just a few minutes from the most beautiful avenue in the world, our real estate experts are on hand to guide you throughout your investment or selling projects in all the districts of the capital.
Our real estate agency in the 16th arrondissement of Paris is ideally located in the heart of the Passy district, in front of the Passy Plaza. Our local real estate experts have an active presence in the neighbourhoods of Passy, La Muette, and Boulogne Billancourt. If you are interested in purchasing or selling real estate in these sectors, do not hesitate to reach out to us!
The Engel & Völkers estate agency in the Marais enjoys a perfect location in this historic district of the capital. Close to the Saint-Paul metro, a few minutes from the Place des Vosges, we are ready to assist and advise you for all your investment or selling projects. Our real estate experts are available on all sectors of the 1st, 2nd, 3rd, 4th, 10th, 11th and 12th districts of Paris.